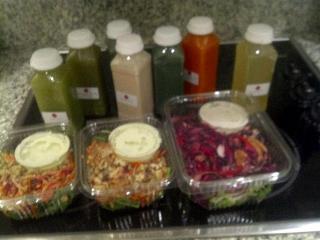 Day 4's "food"
I've literally just got back from the US after a health and fitness boot camp, something that certainly wasn't planned!
It was weird because they give you means and tell you what to eat and you wake up at 0530-0600 in the morning and start off with a nice 5km run! First of all I don't like waking up early. Second of all I hate running!
I always go on and preach about how good it is to exercise and do yoga and all of that but I obviously never actually do anything myself and a friend of mine rang me, who was playing in the Betfair LIVE London thingy and he said he wanted to go on a health and fitness boot camp and that I should go with him, and I was like "No, not really! I'm not coming, that doesn't sound like anything to do with me!" and I actually don't know what happened but three or four days later I was on a flight over to the US and somehow ended up in this food and fitness boot camp.
It was weird because they give you means and tell you what to eat and you wake up at 0530-0600 in the morning and start off with a nice 5km run! First of all I don't like waking up early. Second of all I hate running! Thirdly I hate when people tell me what to eat! Fourthly, that last point is even more annoying when they just give you absolute baby portions! So I had to tell them I wasn't there for weight loss I was actually there to get healthier, get in shape and actually put on muscle so then they changed my plan a little bit and it turned out to be quite good.
You were there with a bunch of people who you don't know some of them had been there a very long time like nine months. There was one guy who lost one and a half of me whilst he was there! There was another guy who went there unable to walk unaided and when I got there he was walking again. They specialise in weight loss but there were a few people there training for heptathlons etc.
It was a bit like school in that you got given your food then you went and found somewhere to sit down, you met new people and made new friends then you got given a schedule with all these different classes all of which started at 0630 until pretty much 1800! We did like an hour of boxing then spinning then an hour for lunch then half hour talk about hydration, all sorts of stuff not just about exercise. We even visited a grocery store and learned how to read labels on foods!
All That's Left Is Muscle!
Overall it was quite fun but the first few days I hated it and wanted to punch my friend in the face but now I actually wake up motivated to do something. Like not to eat bad foods because I owe it to my body not to because it is not doing it any good and it's just harming me. I think when you're in somewhere that intense for two weeks doing eight hours a day it makes it so easy to come back and do just half hour. I'm feeling so good now. When I got there they ran a load of tests and weighed me and I never thought I was out of shape but I was 26% body fat, which is not good, and my body age was 32-years old and I'm only 26! I couldn't believe it because I am conscious about what I eat but my midweek results I was down to 21% body fat and age was back to what it should be and by the time the week was over I had got down to 14% body fat and they said they had never seen such a drastic drop!
This week I have been on the raw food detox, which is essentially a vegan diet so there is no animal products at all. I've had meals that are vegan but not gone days being vegan! Generally speaking you do not heat anything over 30 degrees so you can cook stuff but they don't heat above that number because something in the food changes, it becomes denatured and all the nutrients are killed, so they keep the integrity of all of this so that the food is in its purest form for your body so it is easily digestible and good for your body. So I am doing that for five days!
All of this healthiness has left little time for poker but I am looking forward to getting back into the swing of things again but having two weeks off makes it really hard because you lose focus so I'll probably play a little lower than usual or less tables until I am feeling it again. I was also looking forward the the GSOP Domincan Republic but not sure how I feel about the whole thing right now because it looks like there are only flights with like a million stops or 12-hour layovers. The tournament is like for six days and it seems like a really long way to go just to be jet-lagged for six days of the tournament and the hotel is fully booked both sides so I cannot go early and I can't leave later so I don't really know what I want to do. My original plan was to play the GSOP then go to South America for a couple of weeks and see what the craic is. because if you're going that far it just makes sense to. I'll figure it all out in the next couple of days.
But until then I'm off to crunch on some celery!