A Big Online Win and the Kunku Wap Ambassador Challenge
Articles

/ John Tabatabai / 21 September 2011 /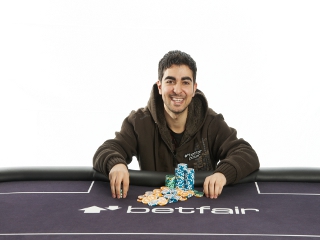 I am writing this blog as a newly crowned WCOOP Champion, after winning Event #43, the $320 rebuy Pot Limit Omaha tournament, despite not even knowing anything about Omaha! The funny thing is I wasn't even going to play in it because I wasn't that confident in playing in a rebuy as I don't play Omaha enough, but my buddy said he'd take my action so I was freerolling! A few hours later and I win it for $102,543!
As I say I wasn't even going to play it for the reason mentioned above but also because I thought the field would be really tough but most of the players were horrible and must have been players who had won a satellite and only had one life because they just kept folding to me and when people keep folding to you it is difficult not to win! I obviously ran really well too so whenever I got it in I won and that combination is pretty hard to beat. If you do watch the reply at some point look out for my mis-click where I put third of my stack in (900k) with complete trash and have to fold to two shoves!
Last week I also played in the Ambassador tournament and did my first broadcast during it. Things didn't go too smoothly due to some technical problems with it, but it worked and was good fun. For this week's tournament I was meant to be having a proper system installed but for some reason I can't get it running on my computer, which is annoying, but hopefully it will be sorted for next week. One problem I won't have this week is figuring out how to play poker with only one hand and hold the microphone in the other as the nice people at Betfair have provided me with a microphone holder!
I think that the whole broadcast part of these tournaments is what's going to make them really fun, but I need you guys to interact with me and ask me questions because talking non-stop to yourself for 20-minutes to half an hour is much more difficult than it seems! I did answer some questions like "what are you wearing?" "pineapples or apples?" "is Keith A gay?" and some others that were quite funny but I'm not sure that's what Betfair wants me to be doing! This week I might put on Spotify and be a DJ and in future weeks I'd like to get some special guests on too and really make a go of this because I think it could be great for the Betfair community and really good fun. It's one of those things that will take time to build and one that needs the technology in place but once it all comes together it will be great.
I've been looking into taking some cookery lessons lately and I've been experimenting in the kitchen, just throwing a few things together. I have found some courses that I am interested in but the ones I want to do are either really expensive or are like on every Tuesday for four months and I would miss so many of those being away with poker etc like at the upcoming Betfair Poker LIVE Dublin and the World Series of Poker Europe in Cannes. When I do get back from the WSOPE I'm probably going to take a week off and spend like 50 hours going through everything and my opponents and come back as King Kong!
Until then, I hope to see you in tonight's Kunku Wap Ambassador Challenge at 2000 and you can interact with me through the live audio broadcast here.
'.$sign_up['title'].'
'; } } ?>