Raising the ante
Poker Strategy

/ Marcus Bateman / 23 May 2011 / Leave a Comment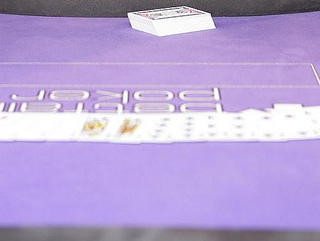 The ante and/or blinds is effectively what makes poker work. Without forced bets, every player would simply wait for aces, and it is the simple fact that you have to pay before you even get dealt a hand that makes all the complexity of poker happen. Because it is so fundamental to the game, it can often be taken for granted, but understanding the forced bets is crucial to success at the tables - particularly when confronted by high antes or ones on top of the regular blinds.
The higher the ante is in Texas Hold'em the harder you have to fight for chips. As the price per hand is significantly higher (usually as much as a whole extra big blind every rotation), it means that to stay afloat you have to win more pots than you do when simply confronted with just two blinds. Any-time in poker you have to fight harder for pots, good players increase their edge, weak players fall further behind.
This is simply because the edge in poker comes from each street of decision making, and every time you force weak players into making more decisions, you benefit. This is one of the core reasons weaker players often get deep in poker tournaments, but very rarely win them, as although they can play a semi-decent tag game when the blinds are low, they lack the ability to be able to fight for every pot possible when the antes kick in and the pressure cranks up late on.
Because of this, it is essential that you understand the very large difference between games that have small antes, those that have large ones and those that have none. Your playing style has to be very different in each case, as does your game selection in the case of cash games with antes, and this apparently small extra chip a pot can radically change how a game is playing.
You might be able to beat a fish in a short-handed cash game with four top class players and one fish without an ante, but throw in a big ante to this game and the edge you have against the fish will quickly be lost by the constant drain on you from the antes and the aggression of the good players. Conversely, if sitting in a very weak game of fish and bad rocks, you can drastically increase your edge getting an ante involved - often doubling your win rate if not more.
Most decisions you make in poker will have a great deal to do with the antes and blinds. It is a point that is easy to overlook, but one you should never forget, as they not only clearly dictate the action in many situations; but also provide the very lifeblood that makes poker work as a game, and as such, all roads lead to Rome eventually - something essential to remember when looking at the ante structure.
Choose and earn a $50, $250, $500, $1000 or $2500 poker sign up bonus. Turn Loyalty Into Cash and earn up to 40% Valueback in the Players Club.