Forcing the action
Multi Table Tournaments

/ Marcus Bateman / 25 May 2011 / Leave a Comment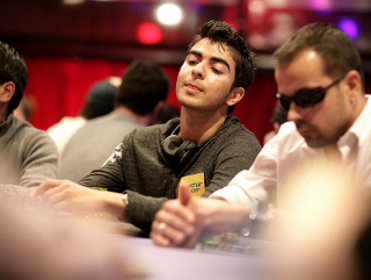 Most poker players will know the feeling well. A big chip stack, deep in a tournament, the big prizes looming, a need to try and take control of the table. Good, aggressive and dynamic play is essential late on in big tournaments - particularly when playing a big stack - but it is a tightrope on occasion, and avoiding forcing the action and throwing your stack away is crucial to long term success.
Many very skilled tournament players become renowned as the dreaded 'blow up artist', who despite being able to get deep constantly, simply tries to force the game late, usually ending up becoming desperate and overly aggressive, with the result that huge stacks of chips quickly disappear down the players around them. This is a big leak, as it is rare that you get deep in multi-table tournaments, and the prizes are exceptionally top heavy, so it is crucial that you play well in these late game scenarios.
There is an old adage in backgammon that sometimes you just have to 'ride the dice'; that is, simply play the best with what you are being given. Part of a big stacks value is that it allows you to overcome periods of poor cards much easier than those around you, and it is usually a huge mistake to just start blindly going after every pot late on if you have very little behind to back it up. Poker is primarily a game of balance, and although you should be erring towards aggression and loose play late on when stacked, it is a fine line between this and just throwing chips away.
Rome was not built in a day, and tournaments cannot be just won in a small flurry of hands. Winning players fear solid big-stacked opponents late on, but they lick their chops at the sight of someone who has suddenly decided a big stack is an excuse to enter every pot and bluff every street. Open up your game late on, but don't open the flood gates - it is the time of a tournament you really have to make count, and throwing your stack away is just as big a leak as playing too timid and just trying to ladder up a few places.
Choose and earn a $50, $250, $500, $1000 or $2500 poker sign up bonus. Turn Loyalty Into Cash and earn up to 40% Valueback in the Players Club.