What is "The Straddle"?
Live Cash Games

/ Dave Allan / 02 August 2011 / Leave a Comment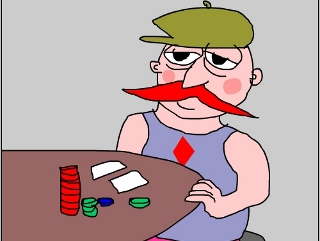 One of the features of that has become very popular on the televised cash games is the addition of an extra optional big blind, or 'straddle' added by the under the gun player. This is a feature most live cash players will have encountered before in a game somewhere, and it usually consists of an extra bet double the big blind from the first position player, and typically creates much more action, as it not only basically doubles the stakes of the game, but adds a third party to the pot who already has money invested before they even see their cards - which makes large, multi way pots much more likely.
So what should you say if asked to straddle in the game - is it a good way to get extra action, or simply a reckless extra that makes the game much harder? Like most things in poker, the answer is a complex one, with many factors to consider. One key point that people often forget about the straddle is that it halves the effective stacks involved. Shorter stack poker leaves much less scope for skill, and if you feel you have a considerable edge over the field in deep stack games, straddling will reduce a great deal of that edge.
That being said, some of the juiciest players in poker are simply action junkies who are there to gamble hard. These sort of players are not typically big fans of people not getting involved with additions such as the straddle, and often keeping them happy and in the game has to be a much higher priority than any other factor.
Another final point about straddling is that it increases variance a great deal. This can be good for players who can handle the psychological swings that come along with this, but bad for players who tilt easily or are playing off of a short bankroll.
When facing the choice to straddle or not, these are some of the key factors you need to consider. If there is a big fish in the game who simply loves to gamble, you are much better off going along with any straddle - keeping that player content and comfortable in the game is simply a bigger priority than any other one thing. However, if you are playing off of a short bankroll, have a sizeable deep stack edge over the field already, or are not feeling psychologically strong, you are usually better off not getting involved with the extra variance and lower skill that straddling brings - sometimes the extra action is just not worth the cost.