Isolating Weak Players
Poker Strategy

/ Matthew Pitt / 14 February 2012 / Leave a Comment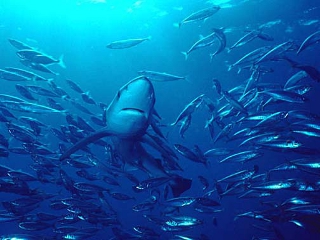 Chase the fish into a corner and eat them all yourself
Your main problem will be the fact other solid players will recognise your target's fishy tendencies and will also be looking to exploit him so you could find yourself having to share the fish and unless you are Jesus Christ who did miracles with fish and loaves there isn't going to be enough fish to go around
Whenever you sit down at the virtual felt on Betfair Poker or at the actual felt in your local casino you should be doing everything in your power to play hands with players that are weaker than you. Whilst this sounds ridiculously obvious, you would be surprised at how often players fail to capitalise on the fishes that frequent their tables.
The reason for wanting to play as many hands with weak players is simple, they make more mistakes that good players and as David Sklansky informed us in The Theory of Poker every time an opponent makes a mistake we actually win, even if we do not pick money or chips up in the actual hand. Therefore, every single time a weak player enters the pot you should be licking your lips with anticipation and thinking of ways to play a pot with him.
Your main problem will be the fact other solid players will recognise your target's fishy tendencies and will also be looking to exploit him so you could find yourself having to share the fish and unless you are Jesus Christ who did miracles with fish and loaves there isn't going to be enough fish to go around. This is where isolation plays come into their own.
An isolation play is exactly what it sounds like, a raise that is designed to get you heads-up with a weak player and usually done with a less than premium hand. The reason you can make the move with a non-premium hand is you will have the power of position on your side coupled with the fact your weak opponent will also be playing weak hands, almost certainly much weaker than those you are isolating with.
What Hands Should I Isolate With?
So what hands should you be isolating with? Like most questions in poker this is answered with "it depends." A lot of your value will come from your opponent going too far with second best hands so observe them like a hawk and see what they are entering pots with. If he is limp-calling with hands such as Jc6c and Ts7s then it makes perfect sense, in these examples, to isolate with better jacks such as J9, JT, KJ, QJ or tens such as T9, JT, QT, KT, AT because if we do pair the jack or ten our little fishy friend is likely to stack off or at the very least pay off a couple of streets of value to us.
These hands that regularly dominate our opponent can be added to our range of hands we would raise with anyway because against a weak player we would be raising or three-betting all of our premium hands, most of our pairs and probably a large percentage of our suited connectors too, depending on whether the fish is passive or aggressive. Just don't get carried away and start isolating with (using our Jc6c player as an example) Js4d and such because it takes away one way that we can win the hand and extract the most value.
Your position at the table should also have a major bearing on your range of isolating hands as we know that the value of our hands is magnified when we have position on our opponents, especially weak ones. If we are on the button we can isolate with a much wider range than we could if we were UTG+1 because the chances of being re-isolated drop significantly. When we have position we control the hand and reading our opponents because much easier to do indeed. That is not to say you should not try to isolate weak players when you are out of position against better players. Think if you were in a six-handed game with three good players to your left but two fishes in the blinds, here you can raise a wider range under the gun because the better players are likely to fold because a raise from UTG is likely to be perceived as strong, but the weak players in the blinds will likely call and you will no essentially have the button against them in a raised pot, a fantastic position to be in.
One thing to keep your eye out for when you are isolating weak players and have solid, thinking players that have position on you because they could make the powerful play of re-isolating you. If a weak player enters the pot and you isolate him your thinking opponents could make a play and come over the top of your own raise because they know you could be making this move with a less than premium hand. The only way to combat this, if it starts to happen frequently, is to come over the top of their re-isolating raise much lighter than you usually would.