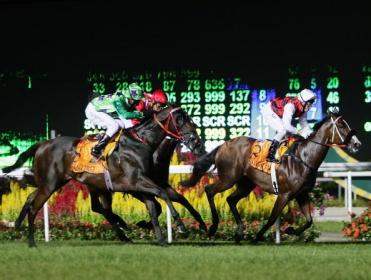 Gary previews the action at Kranji
The feature event tonight may be a peek into the training premiership finish for 2013, though a Kranji legend called Laurie could well have an elder statesman say in such a presumption...
Mark Walker holds a nice buffer of seven wins at the moment but ominously striding into second is Michael Freedman and this pair will slug it out over the next few months to see who blinks first...
Mark Walker holds a nice buffer of seven wins at the moment but ominously striding into second is Michael Freedman and this pair will slug it out over the next few months to see who blinks first; third in the training premiership at the moment is Laurie Laxon and he is there behind Freedman on countback only.
 
Laurie Laxon won the title last year by the cruel countback method over Freedman, who still has nightmares and cold sweats over losing when in fact he had the same number of wins. Don't mention the premiership of 2012 to Freedman as he did not train fewer winners than Laxon but officially finished second.
 
The feature event on the only meeting at Kranji this weekend is Race seven, a S$75K over 1400m for Class three on the short course D turf track.
 
The field is a nice nine runners at the moment and included in there are a trio of three-year-olds that could have some say in the latter legs of the Triple Crown for their age group.
 
Walker has come out of the gates in 2013 like a scalded cat and has always had a comfortable lead in the training ranks, so one can assume he is going for an all-the-way win. Here he has two good chances in the feature, namely Encosta Diablo and Warspirit, with each well situated here at 1400m on the turf.
 
Both of them have won at 1400m before but on straight up ability it is Encosta Diablo that gets the nod, but being a natural backrunner he of course finds trouble like a magnet. Tardy starts have hampered Encosta Diablo from winning since he has come to Singapore but gate four and a 2kg claim will see a best chance yet to salute the judge.
Encosta Diablo was a listed winner as a juvenile but his career-best performance was a fifth at G1 in the 2000 Guineas (1600m) at Riccarton. However, the gelding has had no luck whatsoever in four runs this time, being crowded or bumped in three of those outings and slow out the other time.
 
Warspirit has won five races since coming from New Zealand and has been very consistent too. Zuriman Zulkifli will ride Warspirit for the first time and claim 3kg, but I have no doubt Shafiq Rizuan, who will be atop Encosta Diablo and claim 2kg, had the choice.
 
Two runners from the Freedman yard in the feature field this evening. Super Shadow and Super Junior will both be competitive though the former looks the more likely plus he has Joao Moreira aboard.
 
Super Shadow blew away the older horses in Class Four under 53.5kg, so today importantly is third up at 55kg.
 
Super Junior is a half brother to a good filly/mare for Walker when he trained in New Zealand called Shikoba that was beaten a lip at G1 but posted seven wins (scored from 1200m to 2000m) in her career.
 
It would be no surprise were Super Junior a bigger force over 2000m, so maybe long term he is seen as Derby prospect
 
The turf and 1400m this evening do pose questions for some in the feature race field such as the mare Zenidekka, which was brave last start. She was so wide for so long in a sub 1:11 run 1200m on the poly that it was amazing the mare loomed halfway up the run home and still actually beat three rivals at the line. A good draw and on the minimum makes her a possible overs and the Takaoka and Munro pairing is a potent one.
 
Magical Talent is unbeaten since coming to Singapore after being a one-win from six starts galloper out the Bede Murray stable in New South Wales. Sonny Yeoh prepares and his team are firing at the moment with plenty of young guns in the ranks.
 
The 1400m will be the query tonight, as he has won on the turf since arriving, while the class rise is also a relevant factor.
 
Another runner in the feature this evening is the consistent Speedy Ahead for Laxon that has yet to win on the turf or at 1400m.
 
Do not let that fool you as the four-year-old two starts ago ran third at 1400m on the turf in a fast run race behind the rising colossus Super Ninetyseven and Bale Star, where he carried 58kg. Never let a Laxon runner under your guard.
 
It looks a Walker versus Freedman feature race with Encosta Diablo and Warspirit rumbling against Super Shadow and Super Junior.
 
Logic says you leave out a Laxon runner at your punting peril so Speedy Ahead the next best.
 
Enjoy the feature race battle in a battle (premiership war).
Off Time: Friday 14:20 BST
Get open access to Timeform data for just £2.50 a day with Timeform Race Passes. It's like a Form Book, Black Book & Race Card all in one! Find Out More!