Simon Rowlands: Life's a breeze as hope springs eternal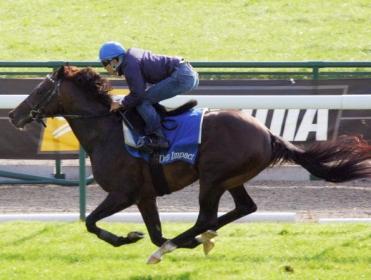 The Breeze-Up sales may prove to be a useful punting tool.
Simon Rowlands took himself off to the Sales in an attempt to find a different way of gaining an edge...
It is best to remember that any horse can run a slow time but only good ones can run a quick one...
Owners and punters pay into racing in roughly equal amounts, and between them keep the show on the road.

Their contributions are usually measured in terms of money, but the currency could arguably be defined as "hope" instead.
It is hope that keeps the owner paying the bills and it is hope that keeps the punter looking for that big payday through a bet.
Hope is seldom more apparent than at this time of the year, and nor is it manifested more obviously than through the triumph of hope over experience that leads to buying or backing an untried two-year-old.
Doing either need not be a case of shooting in the dark, however.
Punters have several important pieces of information to consider when weighing up a newcomer, such as pedigree, trainer and date of birth. Ways of evaluating these factors have all been dealt with on these pages previously.
If you are an owner, you can use all of these and may additionally even have an idea of how fast your horse can run before you have bought it.
In Britain, April is the month of Breeze-Up sales, at which youngsters are asked to strut their stuff over a few furlongs the day before being auctioned. These Breeze-Ups are public, and I have taken myself along to those at Doncaster for the last two years.
My theory, the first time round, was that if I could time these horses going through their paces there might be some advantage to be had by me as a punter if not as an owner.
Breeze-ups are a shop window in which horses are expected to show speed, after all. And, as with wider time analysis, it is best to remember that any horse can run a slow time but only good ones can run a quick one.
A couple of months on, the results were unexceptional. Horses with good breezes were not setting the world alight in terms of wins or Timeform ratings. In addition, it was difficult to keep track of horses which had been unnamed when I last saw them, and so I let things slip.
When I picked up things again at the end of 2011, I was aghast to discover that many of the best breezers had since stepped forward and won races, unbacked by me. Hence my return.
There seemed to be many more stopwatches in evidence at this year's Doncaster Breeze-Ups, but also considerably more rain, which made recording and comparing times difficult.
Still, my theory that a good breeze - which I defined as a sub-11.5-second final furlong, sub-24.0-second final two furlongs, or, ideally, both - allied to a reasonable pedigree should signify an above-average runner can still be put to the test.
The following are a quintet worth looking out for when named. Who knows, maybe there will be another Dream Ahead (133-rated multiple Group winner, sold at Doncaster in 2010) among them? We can but hope!
• Lot 20, colt, Holy Roman Emperor - Frippet: out of a dam who ran in the Oaks, and may need some time despite being a March foal, but breezed sharply and looks a value buy at £20,000 by Jeremy Gask.

• Lot 67, colt, Street Boss - Merit: a half-brother by a fast US horse to three fair types in the US, he showed he could run a bit and was knocked down for £120,000, his late-April foaling date the only negative regarding his success in the shorter-term.
• Lot 79, filly, Sakhee's Secret - Musical Twist: the 97-rated dam has been unspectacular at stud to date, but this daughter of a well-touted first-season-sire ran one of the quickest last two furlongs and looks a decent buy at £24,000.
• Lot 138, colt, Exceed And Excel - Wunders Dream: the sales-topper at £300,000 and a good bet to improve his 107-rated dam's modest record at stud to date. I had him running a smart 23.2 sec and 11.0 sec despite conditions possibly having deteriorated.

• Lot 177, colt, Captain Marvelous - Bratislava: a half-brother (by a sire at his best at two) to the useful and speedy Katla, and he posted times only slightly slower than lot 138 while selling for a fraction of that one's price at £24,000 to Adrian Nicholls.