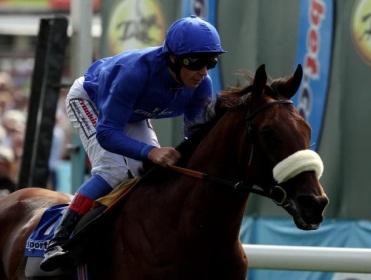 Rewilding: Would have been a contender in Jamie's alternative Arc.
The build-up to this year's Arc has been as much about the horses that are missing as are present. Though absent in body, they're all represented in some way, meaning this could still be the championship-defining race the Arc normally is. Jamie Lynch moves into the realms of parallel worlds with the hows and whys of who's representing who and what chance they've got...
"On Timeform ratings, in perhaps a substandard renewal, there's only one contender whose form already hits the level it normally takes to win an Arc, and that's Orfevre..."
Scientists, or at least some scientists, probably the wackier ones such as Doctors Emmett Brown, No or Evil, have come round to believing not only the existence of a parallel universe, but also the possibility of travelling to one.
It's now widely accepted amongst physicists that particles, which we're all made of, with the possible exception of Frankel or Ian Poulter, can, in some sense, be in more than one place at one time. This in itself is proof of sorts of other universes, all of which would appear to have the same properties, only in different combinations, following different paths.

While I'm just about buying into the rationale of a parallel universe, the concept of transporting to one is the point at which 'I'm out' as they say in Dragons' Den, as it's here we seemingly go from science to science fiction, with talk of black holes as portals, albeit a long-time theory of the physics pin-up boy, Stephen Hawking no less. When he speaks, I listen.
Then I try to do the voice, just like you do.
I wish it was easy to transport to another universe, as I'd happily board the bus to another of this year's renewals of the Arc, an alternative one, the alternative Arc in an alternative world where the field, and their profiles, is as follows:
DANEDREAM Ran like the 20/1 shot she was in 2011 Arc, but transformed this year and out to swamp her rivals.
FRANKEL Unbeatable at shorter, and seemingly a different horse now from when he failed to stay this trip in the 2011 Derby.
IMPERIAL MONARCH Aggressively campaigned since stablemate Camelot's reversal in Guineas and beat that one in Irish Derby.

NATHANIEL Won King George on the nod from Danedream and no shame in finishing second to Frankel in International at York.

PARISH HALL Has been busy all year, cementing his position as one of the best of his generation. Doubtful runner, according to Jim Bolger.
POINT OF ENTRY The top middle-distance turf horse in North America and intriguing contender, only the fifth in Arc history from the USA.
POUR MOI Beat non-staying Frankel in last year's Derby, then met with injury, but kept in training and has been building up to the Arc all season.
REWILDING Godolphin flagbearer, to be controversially ridden by Ballydoyle's stable jockey Frankie Dettori, who can't do the weight on 3-y-o Imperial Monarch.
SNOW FAIRY Delayed return but back-to-back Group 1s prove she's over her injuries and better than ever, repaying some of her €1.8m yearling price.
SO YOU THINK Retirement plans shelved to allow him another crack at Europe's premier prize.
All of the above horses, some unforgettable and some simply forgotten, could, under different circumstances, be lining up in the Arc in our world; an Arc in danger of being remembered as much for those who won't take part as those who will.
However, just as the many parallel universes are, according to science, inextricably linked, so too are the the parallel Arcs, and each of the outlined non-runners in the non-Arc are represented in kind by several who will be very tangibly seen and heard come 15:25 on Sunday. Let's have a look.
St Nicholas Abbey. Joseph O'Briencan do the advertised weight, but can St Nicholas Abbey handle the overweight, being heavily burdened with the weight of double representation, acting for both Frankel, who slammed him by seven lengths in the International, and Snow Fairy, who's 2-0 in match-ups with St Nick, finishing ahead of him by two lengths in the Irish Champion last month and half a length in the Arc last year.
One win (impressive in the Coronation Cup) in 2012 doesn't do full justice to St Nicholas Abbey, whose performance level is higher this year than last but has rarely had the opportunity to show it all for one reason (unsuitable scenarios) or another (unsuitable rides). Third is realistically the best he can hope for, less if the ground is in any way soft, but wherever he finishes, don't forget to add on 7l for Frankel.
Shareta. A fine representative, if not for class then certainly for dependability. Shareta ran to a Timeform rating of 122 when finishing five lengths second to Danedream in the 2011 Arc, and she ran to a Timeform rating of 122 in winning her trial, the Prix Vermeille, last time out. She'll run to 122, or damn near it, on Sunday, but that shouldn't be enough to win it, though her proximity will foster the 'what-if' factor for the laid-up, fed-up Danedream.
Sea Moon. This is where it starts to get tenuous, but not yet outlandish (which is still to come). For Point of Entry, see Sea Moon. When second to St Nicholas Abbey (literally a running theme) in the Breeders' Cup Turf, Sea Moon finished a length ahead of Brilliant Speed, the same Brilliant Speed who was six and a half lengths behind Point of Entry on his landmark performance in a Grade 1 at Saratoga in August.
Even now, three years and nine races into Sea Moon's career, there's still a sense of unfinished business about him. Joseph O'Brien (on St Nick) copped all of the flack in the King George, but Ryan Moore rode much the same chance-compromising race aboard Sea Moon, and the point to remember, reflective of his previous development, is that Sea Moon went off 2/1 favourite to beat Danedream and Nathaniel and co that day at Ascot. Besides the same connections, there are shades of Workforce- who redeemed himself in the 2010 Arc having finished an underwhelming fifth in the King George- about Sea Moon.
Great Heavens. Blood is thicker than watery formlines. The rest are ambassadors through form, but this one is through family, Great Heavens being Nathaniel's sister. It's misrepresentative to be honest, as Nathaniel had a big chance whereas late-substitue Great Heavens doesn't, despite her rapid progress through the fillies ranks, fillies being the operative word; this, against the best colts, is a different ball game.
Saonois. 'Unlucky not to win or at least go very close' was the Timeform Perspective entry on Imperial Monarch in the game of It's A Knockout which passed as the French Derby this year, won by Saonois who somehow skirted the hazards. A cosy follow-up in the Prix Niel proved the Derby win was no fluke, but if we think - and most of us do - that the British and Irish 3-y-os aren't up to much, then the French crop looks worse still, Masterstroke included.

Meandre. When Pour Moi won the Derby, significant for the beginning of the jockey's career and end of the horse's, he beat a field that included Coolmore coupling Treasure Beach and Seville; and, a month later, when stable-companion Meandre won the Grand Prix de Paris, he beat a field that included the same Coolmore coupling of Treasure Beach and Seville. Where Pour Moi might have flown, Meandre has meandered, and the only evidence that he's any better this year than last (when sixth in the Arc) is his dodgy win in the Grand Prix de Saint-Cloud back in June when he possibly caught Shareta and Danedream cold.
Camelot. Both Irish trained, Camelot and Parish Hall were rated the same - 117 - at the end of their 2-y-o season, directly linked by Astrology amongst others. Parish Hall was never going to be a Camelot, but then again Camelot was never going to be beaten in the St Leger, yet he was, an actuality that was overblown at the time but is seemingly overlooked now, finding himself favourite for the Arc. The point is that Camelot still has a point to prove. Several points, in fact. This is his biggest test yet, outside of his own age group, and an age group of dubious worth at that, for the first time. His Arc odds are those of a Triple Crown winner, not the best of an ordinary bunch, which is all he is right now.
Mikhail Glinka. We've had form comparisons, blood comparisons, and now for time comparisons. Outsider Mikhail Glinka is a poor representative, but given he's the only link I can find to the sadly-departed Rewilding, we'll carry on regardless. Both won at the Dubai Carnival, over the same course and distance, on identical ground, and a time comparison makes Rewilding a 49 lb better horse than Mikhail Glinka, equivalent to around 28 lengths! The only purpose of this is a reminder of what a top horse Rewilding was, and what he could have achieved. He had 'Arc' written all over him.
Orfevre. Eishin Flash, just over 3l off So You Think in the Dubai World Cup, was just over 10l off Orfevre in the Group 1 Takarazuka Kinen, the race that defines Orfevre, over and above his Triple Crown achievement the year before. It's the best form on offer in the Arc. And it needs to be, as he has the worst draw on offer in the Arc.
All the same, I'd rather have a horse with proven ability and a bad draw than a horse with unproven ability and a good draw, and, on Timeform ratings, in perhaps a substandard renewal, there's only one contender whose form already hits the level it normally takes to win an Arc, and that's Orfevre.
This whole exercise was to outline a means by which to help judge the conspicuous non-runners, alongside assessing the real runners, as, unusually, the puzzle of this year's Arc lies in the missing pieces of the jigsaw and not just the eighteen manifest segments. Who knows who'll win the Arc in a parallel universe (Frankel, probably), but Orfevre, even from stall 18, should be shorter than [5.5] to win the one in ours.
Comments, Ratings & Colours. Visit timeform.com to download racecards for Arc weekend at Longchamp