Simon Rowlands: A different angle on the 'Whip Debate'
Simon Rowlands

/ Simon Rowlands / 23 January 2012 / 3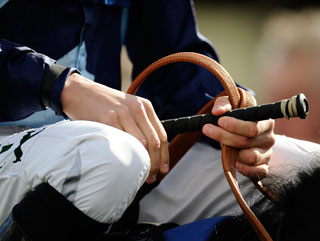 Has the whip had an effect on how races are run?
"One interesting thing that came out of the study was a change in predictability of winners from before to after the implementation of the new whip rules..."
The BHA's new man, Paul Bittar, has walked into a veritable firestorm over the whip, new rules regarding which were introduced in October. Simon Rowlands gives a different angle on the debate...
I stated at the time of their introduction that I was "relatively agnostic" about the new whip rules. I did not feel well informed about the reasons for them, or about the reasons why people might legitimately oppose them. I waited to become better informed.
Three months on, and I feel scarcely any wiser. There has been a chronic lack of clear communication from the BHA on the one hand and from many opposed to the BHA's new rules on the other. The media - with the Racing Post a creditable exception in this instance - has been particularly guilty of being light on fact and logic and heavy on fiction and emotion.
In among all this, some off-the-cuff theories have cropped up, such as that the changes to the whip rules have led to a fundamental change in the way in which races tend to be run. It is more difficult to make up ground now that one means by which jockeys might galvanise a horse (the whip) has been so severely limited, or so the theory goes.
I may not have much to contribute on "The Whip Debate" itself - other than getting irate that some journalists seem incapable of holding more than one side to account - but I hope I can contribute where proving or disproving theories go.
What I did was look at a comparable one-month period before and after the new whip rules were introduced and gauged how horses that raced prominently or were held up fared under each regime.
In order to do this, I used the in-play symbols that appear on Timeform Race Passes and measured how they performed in terms of percentage of rivals beaten. As I have stated before (and will doubtless state many times hence), too many statistics commit the cardinal sins of ignoring the effect of field size and of regarding racehorse performance as a simple binomial: "did it win - yes or no?"
Percentage of rivals beaten allows for both field size and the fact that there is a world of difference between finishing second in a field of 20 and tenth in a field of 10. To some, the horses in both outcomes are both losers, and that is all that matters.
For all-weather racing in Britain in December 2010, horses with in-play symbols of "m" (raced prominently) or "M" (led) beat 55.9% of their rivals; in December 2011, the figure had increased to 59.3%. At the same time, horses with in-play symbols of "h" (held up) or "H" (held up, well behind) went from beating 50.8% of their rivals to 50.0% of their rivals.
There could be something in the theory on all-weather, in other words.
However, for jumps racing in November 2010 (just before the cold snap which caused many cancellations), prominent racers accounted for 66.3% of their rivals, whereas this figure had dropped to 64.0% for November 2011. Held-up horses again remained fairly steady, down from 58.0% to 57.4%. For the purposes of this study, non-completers were ignored.
There is not a lot to support the theory over jumps, judged by these means anyway, in other words.
One interesting thing that came out of the study was a change in predictability of winners from before to after the implementation of the new whip rules. After normalising Betfair SPs for field size, the degree of predictability could be seen to have increased for both Flat and jumps, especially the latter.
Winners have, on average, returned Betfair SPs lower (compared to random for the field sizes under consideration) after the whip rules than before. The average Betfair SP for a "normal" 10-runner race on the Flat decreased from [5.8] to [4.9], while over jumps it went from [7.6] to [4.8], in the periods under review.
There may be good reasons to oppose the new whip rules, but that they have led to more unpredictable results is not one of them, while their effect on how races tend to be run can at least be disputed in some respects.
...........
Get unsurpassed levels of analysis and statistics for any race in Britain and Ireland with Timeform Race Passes. Click HERE to find out more.

'.$sign_up['title'].'
'; } } ?>