Simon Rowlands: Bigmouth Strikes Again
Timeform Debate

/ Simon Rowlands / 25 January 2012 / 3 Comments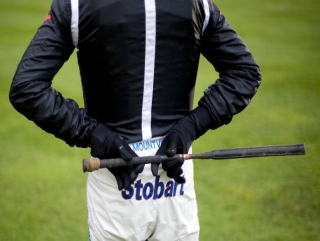 Punters need to adapt to new whip rules.
"Horses identified as responding don't get there, or near there, quite so much now as they used to in other words."

Some things have changed, some have stayed the same, as a result of recent changes to the whip rules. Head of Research and Development Simon Rowlands considers further evidence regarding the consequences for in-running punters...
My blogging life is like The Smiths' greatest hits at present. Last week it was a case of "Stop Me If You Think You've Heard This One Before" - as I chipped in with the 7,567th view on the new whip rules - while this week I have moved onto "I Started Something I Couldn't Finish".
There was some excellent feedback on the whip-rules piece, but only one direct comment on the blog itself. It's called "Timeform Debate" these days, and you are invited to take me to task or to fire questions at me. All you have to do is "Ask": I'll try not to "Panic".
Timeform Radio stalwarts David Cleary and Rory Delargy got in touch on Twitter (I am known to put in the occasional appearance there), with David asking "were there any significant differences in number of horses with M/m and H/h [before/after the change to the whip rules] and between stiff and sharp tracks?" Rory said "surely the most pertinent analysis would involve comparisons between f/$ horses and those designated r/R."
David first: the answer is "yes" and "sometimes".
I extended the survey over jumps to include the period from October 16 to November 30 in 2010 (before the change to the whip rules) and the same period in 2011 (the six-and-a-bit weeks immediately after the change to the whip rules). The percentage of horses categorised as racing prominently and of being held up both went up.
Having divided jumps tracks into "stiff" and "non-stiff", with the help of David himself, it became apparent that horses identified as racing prominently did slightly better - in terms of percentage of rivals beaten - on non-stiff tracks than on stiff tracks. However, this was the case both before and after the whip alterations.
Most other differences were small, but not that for "l" - in other words, "lazy" - horses. The figures were similar on stiff and non-stiff tracks in 2010 and on stiff tracks (51.6%) in 2011. But there was a downturn in performance for lazy horses on non-stiff tracks (45.9%, from 52.4%) in 2011.
You can put your own spin on this, but it is tempting to imagine that lazy (as opposed to downright ungenuine) horses finally get going on stiff tracks but need a whirling dervish - oscillating wildly, perhaps - on their backs to achieve the same on flatter courses.
This leads us onto Rory's point. There was little change - before or after, on stiff tracks or not - with horses categorised as "f/F" (faded or weakened quickly). But there was a change with the figures for horses given "r/R" (responded well or very well) and with horses with The Dreaded Timeform In-Play Squiggle ($).
Stiff track or not made little difference, but the percentage of rivals beaten by responding horses went hand in glove with changes to the whip rules from nearly 92 to under 88. Horses identified as responding don't get there, or near there, quite so much now as they used to in other words.
Horses identified as looking ungenuine in running have taken a downturn in performance, especially on stiff tracks (where their cowardliness in a finish is presumably more costly), on which they dropped from 48.9% before to 43.9% after.
So, what difference does it make? Unlike in the song, it makes some, clearly. But what we have got more than anything is a downturn - a slight downturn I would say - in the fortunes of lazy, ungenuine and late-responding horses. Is that really so strange? Or bad?
The important thing for punters is to be aware of changes in the betting environment and to respond accordingly. Adapt or die. Or at least go skint.
Leave the pontificating about how our sport has been "ruined" by the new whip rules to others and embrace the consequences, such as they are, of how races are now run differently.
......................
Timeform In-Play symbols are available as part of the Timeform Races Passes service, available from £2.50 per day. Click HERE to find out more.