Flat Season Preview: Back (or lay) To The Future
Jamie Lynch

/ Jamie Lynch / 08 April 2012 /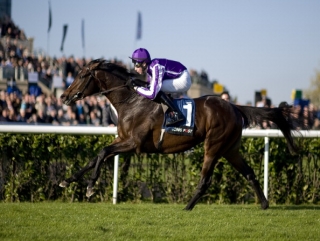 Camelot: Jamie's middle distance horse of 2012
"Whether it's a Guineas or Derby or both, in England or Ireland or both, Camelot definitely wins a classic in 2012..."
If it's 'never too late' to do something, then logically it must be acceptable to be never too early to do something, or at least Timeform Chief Correspondent Jamie Lynch hopes so as he hands out the big awards for the 2012 Flat season before it has really begun...
Mickael Barzalona, the number one rider in the world, has completed 24 unmarred winning-line glory poses, including one reverse handstand, and has commanded the English language to such an extent that he can now say 'get over it you stagnant gaggle of bourgeois curmudgeonly dinosaurs'; Frankel has already overtaken Sadler's Wells' record by siring 86 individual Group 1 winners, including Beluga Bobby (out of Black Caviar) who clocks a 7.84 sec furlong in the middle of the Middle Park; Newmarket has become so overcrowded that Rachel Hood leads the calls for a new housing development; bored in a field, The Tatling returns in a claimer at Bath; racing has gone the same sponsorship way as football, so Chester racecourse has been rebranded as the Koukash Coliseum, Ffos Las is now PlantHire Park, Towcester has become BAGS Bark Park, and Redcar an NCP Park; Andy Stewart still has very dark hair.
That's racing in seven years time, but what about in seven months time? Lacking in maturity, but noted for my prematurity, I'm going to put my overhasty tendencies to useful use for once by fast-forwarding to November and delivering, for your benefit, the 2012 Flat Awards well in advance, using my expertise, foresight and a time machine bought in good faith on eBay. Some are straight-laced, many aren't straight-faced, but I'm putting them out there for discussion, and maybe we can find a few long-range bets in the process.
HORSE OF 2012 Frankel. It was undersold at the time, and has hardly been referred to since, but one of the biggest revelations out of the Frankel story last year was when Sir Henry said after the Sussex Stakes that, despite the presence of Canford Cliffs, 'I did think he could win very easily'. Likewise, though publicly towing the unobtrusive line going into this season, I wonder whether Cecil ever privately thinks: 'we could have that Black Caviar any day of the week'.
Frankel will be the star of 2012 whichever races his campaign involves, but the races his campaign involves are absolutely paramount in a season that will forever define him. That's why I'm slightly puzzled by the comments of his management team, saying almost defensively, pitched as a ready-made excuse, that they 'have to do what's in the best interest of the horse', when, as far as I can see, what's in the best interest of the horse is setting him newer, bigger targets in order to let him shine as brightly as possible.
I speak as Frankel's biggest fan and believer that's he's the best I will ever see, and that's exactly the reason why I want to see him compete in the Champions League rather than just the Premier League, which in his case that means either picking up the Black Caviar gauntlet, if Peter Moody does indeed throw it down, or conquering America.....or ideally both.
As a Hartlepool-born, Halifax-based, rank-average bloke, my input possibly won't influence a Prince, a Sir and a Lord as are the triumvirate who'll decide Frankel's programme, but in fairness they've been bold enough as it is keeping him in training as a four-year-old. Frankel will be unbeaten again through 2012; the races in which he'll be unbeaten, and the horses who won't beat him, will determine whether he's one of the greatest of all time or the greatest of all time. Therein lies what's in the best interest of the horse.
SPRINTER OF 2012 The fact that we at Timeform keep banging on about Frankel is in no way ignorant of Black Caviar, who we rate as highly (at 136) as any of her sex in our experience, and she's much too good for the British sprinters when coming over for the Diamond Jubilee and July Cup. The domestic award, up for grabs with Deacon Blues out for the season, goes to Strong Suit, who can't quite match Frankel in the Lockinge nor Black Caviar in the July Cup but has his day in the Maurice de Gheest, and maybe the Sprint Cup as well. (If ever a horse was made for a race then it's Strong Suit in the 6½f Prix Maurice de Gheest - and that, my friends, is as close to a certainty as you'll get in racing, besides Jiwani).
MILER OF 2012 It's Frankel by rights, but we've been there and done him, and therefore the title is given to Discourse for her emphatic win in the 1000 Guineas. Discourse might never race at a mile again the rest of her life but frankly who cares because she'll have won us all bundles of cash at Newmarket, possibly under Barzalona, and possibly featuring the next instalment of his glory pose repertoire (number 3 of 24: The Mother Russia).

MIDDLE-DISTANCE HORSE OF 2012 It's Frankel by rights (we count 1¼m as a middle distance around these parts), but we've been there and done him, and therefore, partly because I need to shoehorn him in at some point in this 'review' of the year, Camelot gets his commendation here. Whether it's a Guineas or Derby or both, in England or Ireland or both, Camelot definitely wins a classic in 2012, and for my money, by the autumn, he'll be higher up the list than Black Caviar in the 'similar to you' feed on Frankel's Twitter homepage. If there was a market on it, I'd back Camelot to be the horse that runs Frankel closest this season.
STAYER OF 2012 You know when Paul Nicholls runs one of his former Festival contenders in a hunter chase and everyone thinks (if stops short of actually saying) that it's a bit unfair, well I kind of feel the same about Aidan running one of his former Derby favourites in the Ascot Gold Cup, but the Coolmore control comes to an end in the summer, courtesy of Saddler's Rock. Yes, it's blow struck by the point-to-point shopkeeper against corporate capitalism as a minnow trainer (John Oxx) produces the little-known Saddler's Rock (beat Opinion Poll by 4 lengths last September) to win staying's biggest prize at Royal Ascot.
CHAMPION JOCKEY 2012 People can get their knickers in a twist regards the jockeys' race by over-analysing who'll be riding for who and when and where, but 2012 provides proof that keeping it simple can pay dividends as Betfair columnist Ryan Moore - by far the best regular rider in Britain - emerges well ahead, but probably with the lowest winning total for a while given the greater spread at the top.
LADY CHAMPION JOCKEY 2012 People can get their knickers in a twist thinking of women riders with their knickers in a twist, but, despite Cathy's strong start, it's all about Hayley Turner in the end.
RIDE OF 2012 Anyone who can convince Bookiesindex Boy to win.

CHAMPION TRAINER 2012 The heart says Cecil, the head says O'Brien, the bit of my head that often (but always wrongly) thinks I'm onto something says Al Zarooni, the gut says Stoute, the brain says Hannon. I'll stop now - it's pretty clear I just don't know.
LADY CHAMPION TRAINER 2012 Mrs Karl Burke.
GAMBLE OF 2012 The bit of my head that often thinks I'm onto something says Future Impact. I don't know where, and I don't know when, but I've got a feeling that this is going to be big when it does go off.
'.$sign_up['title'].'
'; } } ?>