Craven Meeting Preview: 10 good things to combat 2 bad things
Jamie Lynch

/ Jamie Lynch / 17 April 2012 /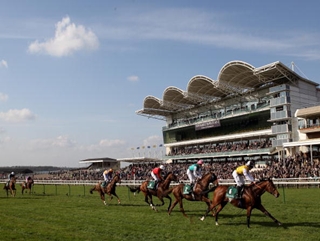 Newmarket means the Flat is really back
"Don't be fooled into thinking that the yard is still suffering a hangover from a substandard 2011, as firing a few short-falling arrows, as has happened so far this season, is the typical Stoute way, and he always moves up a gear or two for the Craven meeting."
Look up and not down, look forward and not back. That's part of the advice from Timeform Chief Correspondent Jamie Lynch as he skirts over last weekend to focus on the excitement to come at Newmarket this week...
Who'd have thought it on Friday, but alongside disposable cameras, loose leaf tea, Oasis, handwriting, a Barney Curley gamble, bum bags, Statto, teletext, and Michael Vaughan at the Masters, it turns out we can now add the Grand National and Frankel to the list of things we'll never see again.
I'm joking, of course, because there's no doubt whatsoever that we'll see another Barney Curley gamble, whether or not his is the name next to the supercharged horses.
The Grand National is a problem, and even as the turbulent tide ebbs out over the next few weeks, the two high-profile fatalities means the waves of remonstration will be bigger and stormier than ever come next April, lest racing makes more meaningful changes to the event that defines it in the public domian. I found Saturday hard to watch and harder to defend, in the prior knowledge that it was a trial as much as a showcase for racing. Like it or not - and it's a 'not' for me - we're stuck with the Grand National as the chief salesperson of our sport, which is akin to making Engelbert Humperdinck musical ambassador for Britain at the Eurovision Song Contest: it's a bit extreme, a bit outdated, it looks a bit gruesome these days, and generally it's unrepresentative of the true brand. Like Englebert, in this day and age, the National needs a makeover before being fit to fly the flag.
Then we discover that the would-be saviour of racing, the marvel that could rebuild bridges and single-handedly propel the sport to new populistic heights, is at best behind schedule and at worst finished. The overdriven rumour mill suggested on Saturday that Frankel had already been retired, but then again Kim Jong-un now seems okay after his assassination last week, likewise nourished on Twitter.
Racing needs Frankel, and in the shorter term racing needs a pick-me-up, but thankfully we've got one in the shape of the Craven meeting, which in the Timewarp dance to the start of the Flat season, after a step to the front and two weeks of steps to the left, is a huge leap forward. The future of the Grand National and the future of Frankel may be uncertain, but there are a number of certainties at Newmarket over the next two days. Let's take a look at ten of them.
1. MOST IMPROVED CAN'T BE ANY SHORTER FOR THE GUINEAS AFTER THE CRAVEN
As a rule of thumb, the prices you just can't get your head around - such as Camelot in last year's Racing Post Trophy or Catalyze in sellers at Lingfield - are best not preyed and laid upon, because the unfathomable odds turn out to be perfectly fathomable (and wholly justified) to people in the know in most cases, but I'm not sure Most Improved is most cases. Okay, so he'll probably win the Craven on Thursday - Most Improved is top on Timeform ratings and bound to be revved up - but he won't win it by six lengths, and anything less than that will invalidate his position in the Guineas market.
2. SHANTARAM WILL TAKE THE NEXT STEP ON HIS PROGRESSIVE PATH TO GROUP COMPANY
Here's a free nugget for those of you who don't already know: Shantaram is one of Timeform's Fifty To Follow for this year, on the back of the colossal promise of his only juvenile start. John Gosden has his string well forward, so say seven winners since the start of the season proper, and Dante and Derby entries indicate that he thinks as highly of Shantaram as we do. Watch him go at 17:20 on Wednesday.
3. VIEWING FIGURES FOR CLASSIC WESTERN 7th CAVALRY WILL BE HIGHER THAN EXPECTED
I've asked, and been asked, if Newmarket is on Channel 4 and apparently it's not. But yes of course it should be.
4. SIR MICHAEL STOUTE WILL HAVE HIS FIRST WINNER OF THE SEASON
Don't be fooled into thinking that the yard is still suffering a hangover from a substandard 2011, as firing a few short-falling arrows, as has happened so far this season, is the typical Stoute way, and he always moves up a gear or two for the Craven meeting. I fancy Zumbi in a weak Free Handicap at 15:35 on Wednesday, and if all else has failed there's Martin Chuzzlewit in the last on Thursday.
5. NOTHING WILL COME OUT OF THE NELL GWYN TO PUT ME OFF DISCOURSE
Regards the 1000 Guineas, my colours aren't only nailed to the mast, they're also superglued, taped with hardcore transpore, finished with varnish, then reinforced with those plastic strip things that strangle Ikea flatpacks. Discourse was - and hopefully still is - head and shoulders above this lot, the usual much of a muchness for the Nell Gwn and virtually impossible to pick a winner.
6. SIRIUS PROSPECT WILL GET BACK ON TRACK IN THE ABERNANT
Just about everything that could go wrong did go wrong for Sirius Prospect at Doncaster, but at least that will have blown away the cobwebs. He has to give weight away here (though then again so does Fratellino!!!), but it's not stretching it to say that Sirius Prospect will be holding his own in Group 1 sprints by the summer, and if that's the case then ought to be winning this. He hasn't yet raced on the Rowley Mile course but the uphill finish is tailor-made for his style.
7. MICK CHANNON IS THE MAN FOR THE 2-Y-O FILLIES' MAIDEN
Successful in 2005 (with Flashy Wings no less) and again last year, not to mention several near-misses in between, Mick Channon has targeted the race with one of his better early types, and his runner in the latest renewal (13:50 on Thursday), Graphic Guest, looks good on paper. The most costly of the ten runners at 80,000 guineas, Graphic Guest, by one of the top rookie sires of last year in Dutch Art, is a half-sister to two juvenile winners, and it's extra encouraging that the last five youngsters Channon has sent out have finished either first or second.
8. SWISS SPIRIT WILL OUTRUN HIS ODDS IN THE 6F SALES RACE
I'll level with you, I'm not at all certain about this one for this day, but I'm totally convinced that Swiss Spirit has far more ability than he allowed himself to show last year. The problem then was that he refused to settle in his races, and that's still the worry now, particularly first time out, but equally he could have matured and relaxed during his time off and, if so, he'll be a big threat to Balty Boys and Samitar who've been there and done that as far as these sales races are concerned.
9. THOSE WHO'VE HOLIDAYED IN DUBAI AREN'T AT AN ADVANTAGE
For anybody shouting Electrolyser at me, I'll raise you a Stephen Molyneux, who returned from his Timeform duty in Dubai a shell of a man. The key race at Newmarket as far as Dubai form goes is the ten-furlong sales race on Thursday (15:00), in which the Timeform ratings are headed by Mickdaam and Entifaadha, two horses that contested the UAE Derby just two weeks ago, and I'm literally betting that neither will be at their best in the face of a quick turnaround.
10. AIDAN O'BRIEN WILL BE LOOKING UP WHILE PLAYING DOWN
Ballydoyle is conspicuous by its absence in the Nell Gwyn and Craven, meaning one of two things: O'Brien has either got nothing to run, or he's got everything in hand. He usually sends at least one over to contest the British trials, if only as a marker, and the fact he's content to sit it out this year suggests he's seen enough already and that Maybe and Camelot are exactly where he wants them.
We'll see, and we'll meet again on Friday to discuss this further and look at what Newbury has to offer.
...........
'.$sign_up['title'].'
'; } } ?>