Jamie Lynch: The War of the Dubai World Cup
Timeform Debate

/ Jamie Lynch / 30 March 2012 /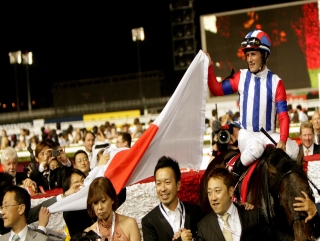 Can a Japanese runner win again for the Axis Powers?
"Like in warfare, each nation doesn't have to fight just for themselves, and we can divide the World Cup runners into larger, more defined superpowers..."
War, huh, what is it good for? Absolutely nothing apparently. Jamie Lynch takes Edwin Starr to task by suggesting that, rightly or wrongly, war sometimes has its place in framing sporting events, and the Dubai World Cup is one that could benefit from a little extra drama.
What it means to be Australian is no easy thing to define. But clearly two strong factors in our national identity are sport and war.
Those Aussies, what are they like!?
The above statement (the first one, not the second) can be found within the Australian War Memorial. That sport is mentioned in the same breath as war might seem outlandish or even immoral to some people, but then again eating a McDonalds is immoral for some people these days, and the Australian way of putting sport on such a high pedastel is to be appreciated rather than depreciated, as that very mentality has helped to make it the joint-eighth most powerful nation in the world according to the Group on Grand Strategy. But it still won't help Black Caviar beat Frankel.
Sport and war are closer related than you might think. Sport is a battlefield, and it releases the same kinds of tribal emotions of conquest that wars do. 'Sport is like a war without the killing' said Ted Turner (think of an American Rupert Murdoch), the same Ted Turner who has insisted that there would have been no World Wars had the Olympics not been boycotted, and the same Ted Turner who founded the Goodwill Games as an alternative to the politics-beset Olympics. By the way, can you guess which country won the most medals at the last ever Goodwill Games in 2001? Those Aussies, what are they like!?
At all international sporting events you'll hear a national anthem, which is essentially a jingoistic war cry. In today's tiptoeing, politically-correct, united-nations climate, it's amazing to think that national anthems are still so commonplace, especially in sport, and that some of them are as bad and violent as they are. The Hungarian one includes the line 'the spilt blood of the dead, and the tears of slavery burn, which the eyes of orphans shed,' while the Algerian one goes 'by the streams of generous blood being shed, the noise of gunpowder is our rhythm, and the sound of machine guns is our melody.' Beat that Sir Tim Rice.
In comparison, the Australian national anthem - Advance Australia Fair - is disappointingly tame. They'd be better off with a compilation of their finest cricketing sledges:
How's your wife and my kids,
I'll get you a piano instead, see if you can play that,
If you turn the bat over, there's instructions on the back,
There's some s*** on the end of your bat.
Sport and war do have some crossovers. Above that, the warring analogies can help make great sport, by enhancing the occasion and intensifying the drama with a bit of partisan partition, and that may be exactly what the Dubai World Cup needs. I don't know about you, but I haven't yet bought into the Dubai World Cup fully, as it's still more novelty than weighty for me, albeit viewing from afar.
Often for the better, nationalism penetrates all sports, increasingly so in the Olympics which has become less about individual athletes and more about the medal table, and the closest we in racing have to an international competition is the Breeders' Cup when it sometimes morphs into the Ryder Cup. The Shergar Cup doesn't work, but all the reasons that make the Shergar Cup concept interesting in prospect but inapplicable at Ascot are practically laid out at Meydan for the Carnival finale; representation, competition and high stakes means the battle lines can be drawn.
Let's take the Dubai World Cup itself. Like in warfare, each nation doesn't have to fight just for themselves, and we can divide the World Cup runners into larger, more defined superpowers, the countries arranged completely at random and in no way based on past events in a process that could be considered as stereotypical, narrow-minded or mildly objectional.
So, in the first group, and let's just call it the Axis Powers, we have Zazou (Germany), Smart Falcon (Japan), Eishin Flash (Japan) and Transcend (Japan).
In the second group, and let's call them the Allies, there is Capponi (GB/UAE), Game On Dude (USA), Master of Hounds (South Africa), Mendip (UAE), Monterosso (GB/UAE), Prince Bishop (GB/UAE), Silver Pond (France/UAE) and Royal Delta (USA).
Finally, representing the Neutrals, we have So You Think and Planteur; So You Think because Ireland was impartial during the past event which has absolutely no bearing on how the representative countries were divided up, and Planteur because he's in effect a one-horse Foreign Legion, being bred in Ireland, raised and raced in France and now trained by an Italian based in England.
Which supergroup would you back to win the World Cup war? By my reckoning, the odds are roughly [2.2] the Allies and [3.5] both the Axis Powers and the Neutrals. The Allies obviously have an edge in infantry, but war isn't always a numbers game, and the Axis Powers have a better spread of higher-ranking officers, while the Neutral pair include probably the biggest gun of all in So You Think.
It's not just about the personnel, though. What a horse race unequivocally has in common with a war is that it can be won and lost on strategy, and the tactics involved in the World Cup appear easy enough to read. Game On Dude and Capponi will be pushing the pace, but they won't have it their way as the Japanese take no prisoners (sorry!) in that department, with both Smart Falcon and Transcend pretty one-dimensional, and as such a strong gallop looks guaranteed.
It should be set up perfectly for So You Think. Ideally drawn in 4, So You Think will get into a rhythm in the slipstream of the leaders, surge ahead at the 400m pole, then repel the final challengers, propelled by the power and strength that has got him through many previous battles.
So You Think is a brilliant bet to win the World Cup, and I'll tell you why. It's not only because he's the best horse in the race based on Timeform ratings. It's not only because he's the pick of Timeform's Dubai expert Stephen Molyneux, whose Dubai Diary has fast become the stuff of legend. The main factor in So You Think's favour is that he learnt the Aussie way - the World Cup is a sporting war, and nobody does sport and war like the Aussies: it's what defines them don't forget.
........
Click this link to download a FREE Timeform card for Dubai World Cup night.

'.$sign_up['title'].'
'; } } ?>