Dubai Handicappers' Corner: Monterosso magnifico in World Cup
Timeform Debate

/ Stephen Molyneux / 02 April 2012 /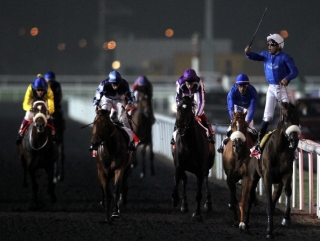 Monterosso wins the World Cup
"Monterosso has obviously improved, running to a rating of 130 (as opposed to 124 when third in the race 12 months ago)..."
There were some visually impressive performances at Meydan on Saturday night, but how do those victories actually stack up when it comes to Timeform ratings? Dubai Handicapper Stephen Molyneux has a closer look.
The Dubai World Cup is the obvious place to start given it headlines the meeting, and whilst it wasn't an outstanding renewal it was the best since Curlin in 2008, and there is foundation for what the first two have achieved. Monterosso has obviously improved, running to a rating of 130 (as opposed to 124 when third in the race 12 months ago) and those who doubt it should remember that this was just his fourth start since joining Mahmood Al Zarooni and that he'd been largely progressive during his time with Mark Johnston.
Capponi (127) had beaten Monterosso (needed the run) last time and wasn't far off that form in finishing a clear second. This was his fifth run of the season and he isn't the first horse to show that an extensive Carnival campaign and proven course form can sometimes be an able substitute for natural ability when it comes to contesting races on the big night.
Planteur (back to his very best of 124) emerged with credit in faring best of those held up, whilst So You Think (ran to same figure as he did when below form in America) would appear to be better on turf and would still come out top on Timeform ratings should the 14 World Cup runners line up against each other in the future.
The Dubai Duty Free is widely accepted as being more than a match for the World Cup itself and Timeform ratings again back that up, Cityscape running to 131 (the best since David Junior in 2006) in comfortably disposing of the solid pairing of Mutahadee and City Style. James Doyle deserves plenty of credit for taking the bull by the horns three furlongs out, and I am sure there will be people prepared to oppose him next time in the belief he was flattered, but remember his form wasn't far short of high-class anyway and he has only improved 5 lb in winning so decisively.
Mutahadee (now 128) and Wigmore Hall (remains on 122) deserve credit for finishing where they did having conceded first run, and the pair could well meet again on the continent with Hong Kong likely to be on the agenda next.
Cirrus Des Aigles and St Nicholas Abbey fought out the closest finishing of the evening in the Dubai Sheema Classic, the winner not needing to be at his best given this was a race that lacked depth and was run at a steady pace. Cirrus Des Aigles remains on 133 (ran to 126 here) but St Nicholas Abbey has been pushed up to 130 (from 126) given he would have benefitted from a stronger pace and conceded first-run to the winner. Their paths may not meet again this season given Cirrus Des Aigles does the majority of his racing over ten furlongs whilst St Nicholas is probably better over further, but if they did Aidan O'Brien's charge would have every chance of reversing the form.
The two sprints differ quite markedly in quality in Timeform's opinion, Ortensia running to 120 (in receipt of 4 lb) in winning the Al Quoz (five furlongs on turf) whilst Krypton Factor posted a figure of 129 in taking the more established Golden Shaheen. The Al Quoz consisted of some usual suspects and they finished well bunched and, whilst Ortensia probably did well in coming from the back, she did have everything pan out nicely for her. Sole Power (122) ran his usual honest race in finishing second and will continue to prove a threat over the minimum trip back in England and Ireland.
Krypton Factor has really thrived since reverted to six furlongs and he again advanced his form (from 126 to 129) in winning the race on tapeta. There are grounds for rating him above Rocket Man (130, a figure he ran to in winning the Golden Shaheen 12 months ago), who was two and quarter lengths back in second, but Krypton Factor (perfectly placed under Kieren Fallon) clearly benefitted from Rocket Man and Giant Ryan cutting each other's throat and wouldn't be sure to confirm the form next time.
African Story got the night off to a perfect start for Godolphin in winning the race bearing their name, advancing his form slightly in running to a mark of 129. This is traditionally a race that lacks quality, more so once Western Artistocrat was pulled up, and his rating reflects a rather low view of the form. That said, it is still the best that this race has seen and he can be a threat back in England as long as the chunk of improvement he has shown in Dubai this year isn't confined to tapeta.
The new race on the card, the Dubai Gold Cup, grabbed the headlines for all the wrong reasons. The initial running was voided after about one mile following the fatal injuries suffered by Fox Hunt in the home straight, whilst the second attempt to run the race at the end of the card was just as unsavoury. Four of the field failed to complete and whilst Opinion Poll (remains on 123) ran out a decisive winner, it told us little new about his merits and he should still be a threat on the cup scene back in England.
Daddy Long Legs gave Aidan O'Brien his first winner in Dubai when taking the UAE Derby. The classic generation have been a weak bunch in Dubai this season and the first three home were all having their first runs of the year. Daddy Long Legs (117) barely needed to advance his Royal Lodge form in winning, and whilst he's now beaten Wrote (118) on two occasions, the latter again had a sufficient excuse (raced wide) to suggest he remains the best horse. The one to take from the race, however, is Mickdaam (now rated 116+) who could easily have been bang there had he not had to wait for a run as the winner committed.
'.$sign_up['title'].'
'; } } ?>