Simon Rowlands: Don't stop me if you think you've heard this one before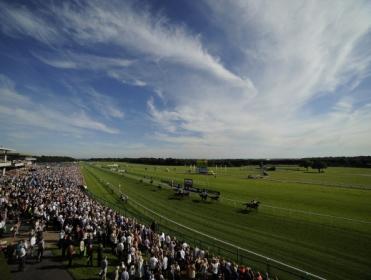 The first nursery of 2013 takes place at Haydock.
Simon Rowlands returns with his latest blog, this time focusing on possible weight advantages in nurseries...
"Better horses do not get penalised by the handicapper as much as they should do..."
You may be heartily sick of old has-beens banging out hits from their back catalogues, following a week in which The Rolling Stones were one of a number who did just that at the Glastonbury Festival. But you are not going to be let off lightly, as I intend joining in with this week's blog. 
There may be a change in a guitar lick here and there, and a slightly funkier riff, but this is essentially my "(I Can't Get No) Satisfaction". You may know it as "Highly Weighted Horses In Nurseries (Extended Disco Remix)". Sing along if you like.
Firstly, for those not aware, a nursery is a handicap for two-year-olds, and they begin in the UK in early-July, prior to which youngsters contest maidens or stakes races of various kinds. The first nursery this year is at Haydock on Friday evening. 
The idea with a nursery - with all handicaps, indeed - is to offset differences in ability between horses through weight. The better horses get more weight, the worse get less. The BHA itself states their handicappers "try to give each horse an equal chance of winning" in these races.
Try, they may, but succeed they do not, especially where nurseries are concerned.
For several years, the first nursery coincided with my writing a blog pointing out that certain types of horses - highly weighted, lightly raced horses, ideally with a win already to their name - repeatedly did well in them in the early weeks. The record was in danger of getting stuck, but it is now four years since I last tackled the subject here (Click HERE to read), so it can probably withstand an encore. 
In summary, better horses do not get penalised by the handicapper as much as they should do. This is in part because that is the nature of competition, whereby horses are asked to win races and not to run to their highest possible rating, and in part because the pounds-per-second/pounds-per-length used by the official handicappers is insufficient. This is particularly obvious when, as with nurseries, the horses concerned had until recently been competing at or near level weights despite being of widely varying abilities. 
I had a look to see whether the basic principle still held true. It does. As the following table shows, lowly weighted horses fare worse than mid-weighted horses, who in turn fare worse than highly weighted horses. Percentage of rivals beaten is used, again, as it takes into account field size and does not treat all losses alike. The figures in brackets show the sample sizes. 

The only thing that surprised me about the findings was how enduring the bias is, well beyond the opening weeks of the nursery season. The figures are broadly similar for nurseries in Ireland over the same period. 
I do not recommend that readers back blindly according to the principle that highly weighted horses (perhaps those that have already won without running often) are advantaged in nurseries, but it is a very useful thing to bear in mind before adopting a more discriminating approach. 
Corncockle has to give her rivals quite a bit of weight in that Haydock nursery, but the evidence is that she deserves to, and possibly more besides. Her win at Newmarket in a decent time reads at least as well now as it did then and her two defeats since have come in hot company. 
Lanark, who was originally entered in the same race, is a similar sort and holds a nursery engagement on the same course on Saturday, a race in which Oasis Town also catches the eye. 
The next few weeks will tell whether followers of this particular "trend" are calling for "more, more!", or pelting the writer with rotten fruit... 
Get open access to Timeform data for just £2.50 a day with Timeform Race Passes. It's like a Form Book, Black Book & Race Card all in one! Find Out More!

Discover the latest articles