Sectional Debrief: Kempton, Wednesday September 25
Racing took place on the polytrack at Kempton.
Simon Rowlands returns with his latest sectionals update...
"Perhaps more interesting is that times and sectionals in unison point to the runner-up, Speedfiend, having put up a much-improved performance..."
The Sectional Debrief from Kempton's Wednesday evening meeting to a large degree goes into the category "there's nothing to see here, ladies and gentlemen, please move on". For a change, the majority of the races were truly-run, or close to it, and most of the sectional adjustments are small.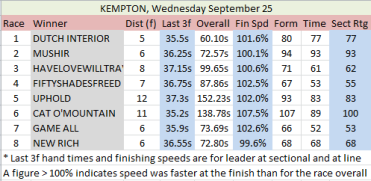 The exception is the race won by Cat O'Mountain, who came home fastest of any runner on the card in 34.9s for the last 3f, despite racing over 11f. By comparison, the next-fastest closing sectional was 35.05s, recorded at 5f by the opening winner, Dutch Interior. Cat O'Mountain gets marked up plenty, enough to turn a modest overall timefigure into a respectable sectional rating. What's more, sectionals suggest he is worth rating about 3 lengths better than the bare result in form terms. 
But sectional mark-ups are not what all time analysis is about. Sectionals and analysis of overall times go hand in hand, with information from one shedding light on the other. In this respect, there is one contest which particularly catches the eye, and that is the second race, won by the well-backed newcomer Mushir.
This was one of three events at 6f on the card and comfortably the quickest of them despite being contested by two-year-olds, unlike the two later handicaps. Races like Mushir's (six runners, only three with rateable form) can be difficult to assess, but time analysis suggests strongly the form is bordering on useful. Sectionals confirm the race was run at a good pace and that the winner came home almost bang on par in 35.6s and 102.0% finishing speed. 
Perhaps more interesting is that times and sectionals in unison point to the runner-up, Speedfiend, having put up a much-improved performance, one which should see him win a maiden or a nursery (his current BHA mark of 81 is unlikely to go up by enough) in the weeks ahead. Speedfiend was in front at the sectional and not surprisingly slowed a bit, but was beaten by just a nose. He gets a 95 sectional rating and is the only horse to be added to the sectional "to follow" list from the card. After four defeats, he may be underbet next time.
The full sectional lists are:
"To follow": Arabian Flight, Bowstar, Charles Molson, Crown Pleasure, Extrasolar, Fantasy Gladiator, Festival Theatre, Fiducia, Glorious Protector, Hidden Belief (runs Thursday), Hot Bed, Levi Draper, Magic Hurricane, Mission Approved, Pleasure Bent, Respect Me, Sakhee's Rose, Sequined, Sole Power, Speedfiend, Spiritoftomintoul, The Wizard of Aus (runs Thursday).
"To oppose": Mubtadi, Our Obsession 
Record of the lists since launch in mid-April: 89 bets, 34 successes, +25.36 (risking 1 pt per bet) before commission at Betfair SP, +28.5% ROI
Have you checked out our new, improved Facebook page? It's the place to go for our features & tips!