Sectional Debrief: Kempton, Wednesday October 9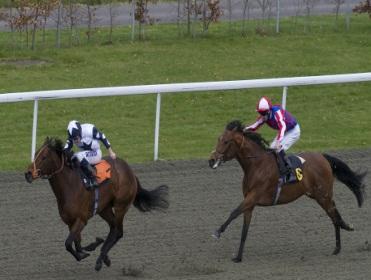 Simon has looked at the Kempton sectionals
Simon Rowlands examines the latest Kempton card using sectional times...
"Other notable runs in defeat were recorded by Restaurateur, who came from last to third in Mr David's race and can be rated second to that horse..."
The uniformity of the all-weather, so abhorred by some who delight in the diversity of racing in Britain, has its advantages. Such as when there are five races at the same distance on the same card, and on a surface that varies little if at all, as was the case at Kempton last night. Ready comparisons between one race and others are much easier in the circumstances.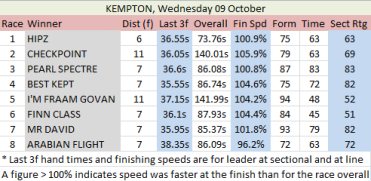 Those five races were all run at seven furlongs but came in a variety of guises in terms of how they unfolded, as illustrated by the all-important finishing speed %s. 
There was the solidly-run first division of the two-year-old maiden won from the front by Pearl Spectre, resulting in a decent overall time but no sectional mark-up. There was the steadily-run second division won by Best Kept, who came from mid-field and deserves a fairly substantial increase to his unexceptional timefigure as a result. There was a steadily-run nursery won by Finn Class in a surprisingly poor overall time. A handicap, won by Mr David, which should have slightly favoured those near the front turning in, and in which the overall time was respectable at best. And there was the other handicap, won by Arabian Flight, in which the winner went hard from the outset and still managed to come home well in front. 
That last race requires a bit of further explanation. Strictly speaking, Arabian Flight went faster than ideal, so how did she prevail? It is probably because she was a notably well-treated horse, something hidden by bare form but identified by sectionals on this track the time before, when she had gone even faster and still finished a close fifth. Whatever the explanation, we know for sure that Arabian Flight's overall time will have been affected by how she raced, and, indeed, that overall time was below what we would expect of a horse with her ability. Sectional adjustments, in line with previously explained methodology, neatly account for the difference between her expected and actual times.
Arabian Flight was much the best, and she will merit plenty of respect even off a fair bit higher mark, while fourth-placed Bladewood Girl comes out second-best on sectionals and is worth considering for place purposes at least next time. 
Other notable runs in defeat were recorded by Restaurateur, who came from last to third in Mr David's race and can be rated second to that horse, and Sea Defence, fifth to Pearl Spectre and just about the pick of a number of promising types making their debuts in that race. 
Sectionals suggest Checkpoint can be rated 4 to 5 lb better than the result in winning the 11-furlong claimer by seven lengths, and that Saoi was possibly unlucky to be beaten narrowly by I'm Fraam Govan in the 11-furlong handicap. Winner and second came from a bit off a steady pace in the latter contest, but the overall time is poor even after due allowance has been made, so it is probably best to treat the whole result with caution. 
There were no additions to the sectional "to follow" or "to oppose" lists from this card, but the success of the aforementioned Arabian Flight at a Betfair SP of 22.79 means that the running totals nearly six months in stand at: 100 bets, 37 successful, +50.88 at Betfair SP (risking 1 pt back or lay) before commission, for a return on investment of +50.88%. Sweet.     
Have you checked out our new, improved Facebook page? It's the place to go for our features & tips!

Discover the latest articles