Sectional Debrief: Kempton, Wednesday 18 & Thursday 19 September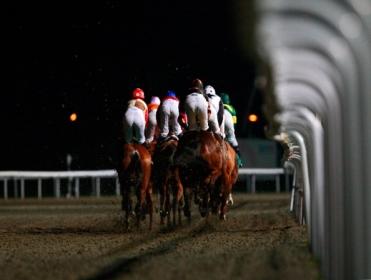 Simon Rowlands has been busy taking sectional times
Simon Rowlands has identified a number of horses to follow based on the sectional times they clocked at Kempton...
"It should, however, always be remembered that pace, and the effects of pace, can vary on a by-race basis, so pace analysis should be on a by-race basis also..."
Racing on consecutive days at Kempton on Wednesday and Thursday enables us to look at both in conjunction and make comparisons across 16 races, though it should first be noted that the surface on day two was quicker than on day one to the tune of about 14 lb.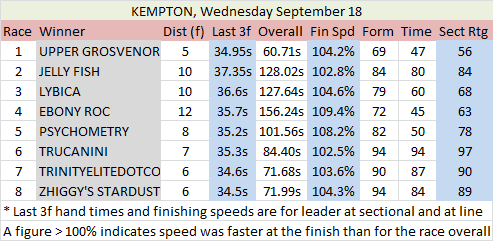 Decent overall times (compared to the horses' abilities) were put up by the winners of races 2, 6 and 7 on Wednesday, but individual sectionals suggest neither Trucanini nor Trinityelitedotcom, who both led at the sectional, was best in their race. The three closest behind Trucanini all ran the last 3f quicker than that horse, with runner-up Hidden Belief (34.7s) posting a 90 sectional rating from a BHA mark of 75, while Mission Approved (34.1s) could not quite overhaul Trinityelitedotcom but emerges superior on sectionals to that horse with a rating of 96.
Other eyecatchers on the card were The Wizard of Aus, comfortably the quickest late on in the falsely-run race won by Ebony Roc and worth rating as winning by about 3 lengths, and Sequined, who came third on her debut to Psychometry. A last-3f sectional adjustment for Sequined is encouraging enough but misses the fact that she took another furlong or so to get organised and deserves marking up even more. Sequined can be rated at least second-best on the day and should soon make amends. 
Steadily-run races and quite quick finishes were in the majority overall. It should, however, always be remembered that pace, and the effects of pace, can vary on a by-race basis, so pace analysis should be on a by-race basis also. The idea that a track is miraculously suiting front-runners or hold-up horses on a particular day regardless of pace is a myth, if a useful myth for those prepared to think for themselves.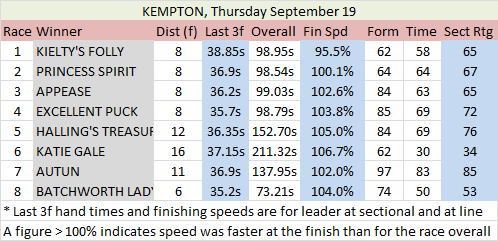 One figure in the above stands out, and that is the finishing speed of the opener, which is remarkably slow compared to the optimum of about 101% for the distance: I can find only one finish that has been slower at Kempton this year (race won by Attraction Ticket at 12f on May 25). It is possible that wind played its part, but if so it was nothing like so evident in other races.    
There was a pace collapse late on in the race, but, interestingly, Kielty's Folly still hung on despite being third at the sectional and leading from over 1f out. Those are indisputable facts, but explaining them is not so easy. This sort of thing happens rarely on the Flat (Cape Blanco's Irish Champion win is another example) but more often over jumps, and it seems to be the case that when the entire field goes quicker than ideal even held-up horses end up out of their comfort zones and are likely to close less than might be imagined. 
Either way, Kielty's Folly's time suffered as a result of going fast early, but his overall time was still good enough to view his performance positively. The same can be said, if more so, about Arabian Flight, who set the pace and still managed to finish fifth, posting the joint-best sectional rating in the race. She goes into the notebook, though the fact that she has been placed 10 times since last winning may encourage her supporters to consider a place or each-way bet next time. 
Race 2 was run at a strong, if not overly-strong, pace but the winner Princess Spirit still deserves marking up a bit for coming from quite so far back at the sectional (second-last, over 8 lengths in arrears). 
Promising efforts were in short supply otherwise on Thursday, but a special mention should be made of Sakhee's Rose, a well-handicapped filly who finished strongly into second in the closing race and can be rated the winner by a length or two. She could easily go one better at this sort of level. 
"To follow": Hidden Belief, Mission Approved, The Wizard of Aus, Sequined, Arabian Flight, Sakhee's Rose
"To oppose": none
Mecca's Angel runs for the in-profit "to follow" list today (Friday) and is also entered on Saturday, as are fellow listers Kingdom's Call and Dawn Calling.
Have you checked out our new, improved Facebook page? It's the place to go for our features & tips!

Discover the latest articles