Sectional Debrief: Kempton, September 23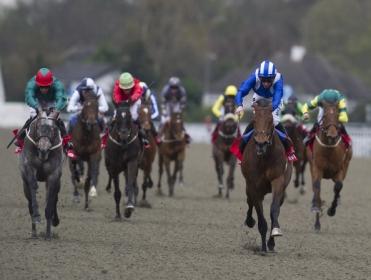 Racing took place at Kempton on Monday.
Simon Rowlands assesses the sectionals on the polytrack at Kempton...
"Third-placed Pleasure Bent raced closer than ideal to the strong pace, leading for much of the closing stages, and can be rated at least the equal of the winner..."
Four two-year-old maidens to start proceedings made for more interest than normal at Kempton on Monday, and time and sectional comparisons shed plenty of light on what went on.
A respectable overall time and a useful turn of foot to come from behind in a steadily-run race mark Devilment down as above average for a winner of a maiden at the track. His last-3f sectional of about 35.35s suggests he was value for more like 7 lengths than the 4 lengths by which he won, though the fact that he is already competing at 10f limits his potential somewhat. 
The next three races were all at 7f, with Queen's Prize recording easily the best winning time, and in a come-from-behind style which strongly implies more than normal improvement will be forthcoming (can be rated a couple of lengths better than the result). That said, Spritual Flame's win was not far behind on sectional ratings, as she came home in a swift 34.1s compared to Queen's Prize's 35.05s. Third-placed Maria Bella and sixth-placed Terhaab did quite well in Spiritual Flame's race also, while front-running fifth Serena Grae may prove to have been rather flattered. 
The weakest of the three maidens on time/sectional analysis was that won by Ninety Minutes, in a race marred by a fatal faller and two horses being brought down. The winner should have been suited by being close up, and runner-up Desert Society plus fourth-placed Red Cossack get the biggest sectional mark-ups. But, all in all, it is a race to treat with caution. 
The race won by Hoodna was run at just a fair gallop for a sprint, with second and third in second and first positions at the sectional, and the winner can be rated a length or so better than the result in quickening sharply to lead late on (last 3f in about 33.65s).
Prospera's win illustrates that simple assumptions about position and pace sometimes come undone. She came from last at the sectional, with eventual second and third not far ahead of her at that point, but it was emphatically not a case that the pace suited held-up horses. The winner broke 35.0s for the closing sectional, which would not be out of place in a race of half the distance. It should always be remembered that steadily-run races test acceleration and the ability to settle and not just a horse's positioning. 
The final race was run in contrasting fashion, with William Buick getting the prize for best-judged winning ride of the day on Cornrow, who came from about 8 lengths back at the sectional in the only race on the card which resulted in a sub-100% finishing speed. The race provides the one addition to the profitable sectional "to follow" list. Third-placed Pleasure Bent raced closer than ideal to the strong pace, leading for much of the closing stages, and can be rated at least the equal of the winner. With just five runs to his name so far, further improvement would be a possibility even without this promising effort.
To Follow: Pleasure Bent 
Have you checked out our new, improved Facebook page? It's the place to go for our features & tips!

Discover the latest articles