Sectional Debrief: Kempton, October 15-17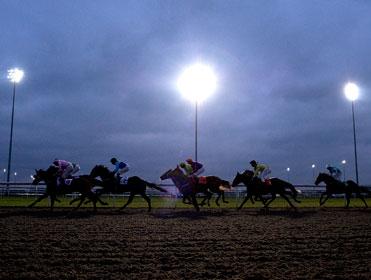 Simon assesses the action at Kempton.
Simon Rowlands returns with a bumper edition of his sectional debriefs...
"Sequined, a winner for the profitable sectional "to follow" list, quickened well to land the opener and, along with runner-up Swan Lakes, is better than the result..."
With three Kempton AW cards on successive days to catch up on, let us cut to the chase. For greater detail of some of the principles involved, newcomers to this Sectional Debrief series are encouraged to refer to earlier blogs. 
Helpfully, the three cards were run on surfaces of very similar speeds, as deduced from sectionals and overall times. One-on-one comparisons across all 23 races are unlikely to be far out, though the following observations have taken each evening's card as a separate entity.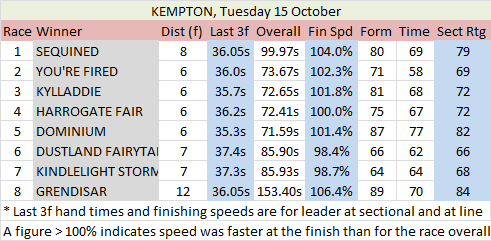 The majority of races on Tuesday were run at true paces, as indicated by the finishing speeds being close to the 101%-102.2% optimums depending on overall race distance. The most notable exception was Grendisar's 12f race, which was steadily-run. Individual horses within those races ran closer to or further from par, however, which accounts for most of the sectional mark-ups of overall times (sectionals have additionally been pitched at a level slightly higher than the timefigures). 
Sequined, a winner for the profitable sectional "to follow" list, quickened well to land the opener and, along with runner-up Swan Lakes, is better than the result. You're Fired quickened even better (final 3f of about 34.75s) and has what was a lesser overall time performance marked up slightly more as a result.
 
Readers looking for one horse to take from the card could do worse than Jay Bee Blue, who finished a never-nearer second to Kylladdie in the 6f handicap. The winner ran the race close to par, coming from just behind the leaders at the sectional, and Jay Bee Blue made up several lengths from that juncture. Jay Bee Blue can be rated best in this race by a bit less than a length.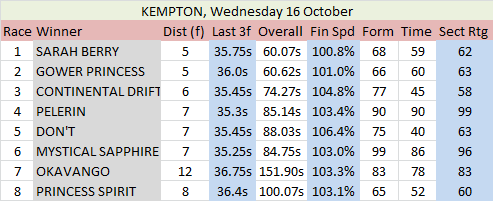 Races on the Wednesday were a bit less truly-run in general than on the Tuesday, with none of the finishing speeds returned at less than 100%. One performance really stands out, and that is the win of Pelerin in what was one of three races at 7f on the card. Pelerin's race represents the best overall time performance, once age and weight carried has been allowed for, but the winner can be marked up a fair bit even so, having come from three lengths back at the sectional and run the last 3f in under 35 seconds. A sectional rating of 99 suggests Pelerin can make her mark at a higher level, and she is added to the "to follow" list. 
Continental Drift was impressive earlier on the card, but her finishing sectional was only fractionally quicker than Pelerin's and her overall time was much less impressive. Similar comments apply to Don't, who had an individual finishing speed of over 108%. But the real message to take from that race is that second and third, Billowing and Cameo Tiara, ran even quicker later on and come out superior fillies to Don't on sectionals. All in all, this race is not one to take at face value. 

There was a much wider range of pace profiles represented by the races at Kempton on Thursday, from Poitin's race (run faster than ideal, with the winner coming from a few lengths back) to Gone Dutch's (a sprint finish, in which the winner turned in a close third). The runner-up to Poitin, Caerwyn, passed beaten horses late and comes out only third-best on sectionals, but the overall time is good enough to think that he was only slightly flattered.
Gone Dutch might have been luckier, in that second and third, Sweet Deal and Majeed, did a fair bit more running than him from the sectional. Majeed comes out strictly best on sectionals but did not impress with his attitude early on (may benefit from headgear) and Sweet Deal looks a safer option as one to follow hereafter. Sweet Deal (34.0s final 3f) has not had much racing yet and could soon be back in the winner's enclosure. 
Spiritual Flame, Meritocracy and Merletta all posted quite impressive closing sectionals and can be considered more superior to those they beat than the bare result, though the run of their races compromised their overall times somewhat. 
To Follow: Pelerin and Sweet Deal 
Running totals for sectional "to follow" and "to oppose" lists since launch in mid-April (horses are followed or opposed for next run only unless specifically retained): 105 bets, 38 successful, +47.85 at Betfair SP before commission (each horse risking 1 pt), +45.6% return on investment.
Have you checked out our new, improved Facebook page? It's the place to go for our features & tips!

Discover the latest articles