Sectional Debrief: Kempton, Monday June 17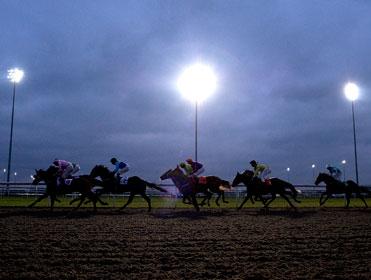 Simon has examined Kempton's card on Monday
Simon Rowlands looks at what the clock had to say at Kempton on Monday.
"Choral Prince... did well to come from second-last at the sectional." 
This is a short Sectional Debrief, not because I am preoccupied by Royal Ascot like everyone else, but because there really is little to say about Monday's Kempton meeting from a sectional point of view. WYSIWYG (what you see is what you get) is again the acronym of choice.

As can be seen from the headline figures, the majority of races were run in close to efficient style, in the 101% to 102% finishing speed area. The notable exception was the race won by Choral Prince, which was steadily-run and in which the winner did well to come from second-last at the sectional. 
If there is one horse to follow from this race, it is the winner, who broke 36.0s for the last 3f, but third-placed Frederick Alfred did nearly as well in coming from about five lengths back. Neither horse's overall time was quite good enough to make the list, however: there should be better candidates another day.
The leader went a bit too fast in the final race, won by Great Crested in remarkably efficient style. But that leader, Indigo Moon, ended up being beaten 12½ lengths into sixth, so it would be a bit of a flight of fancy to put her up as one to follow, for all that she should run better than this another day. 
Elsewhere, the overall race times are a fair reflection of the achievements of the principals, and those times point to Zhiggy's Stardust and Poyle Thomas being the most meritorious winners. 
Ascot has been a rich source of sectional information over the years, though it is not at present clear whether reliable electronic sectionals will be forthcoming in a timely manner, and hand-taken alternatives are more difficult since the relaying of the course.
"To follow" horses Toronado (Tuesday) and Hillstar (Thursday and Friday) and "to oppose" horse Universal (Saturday) are all engaged at the Royal meeting. Elsewhere, "to follow" horses Labienus and Masquerading are in at Kempton on Wednesday and Ghasabah has an engagement at Warwick on Thursday.        
Royal Ascot Special Offer: Visit timeform.com and get up to £40 free credit. We'll treble your first deposit!

Discover the latest articles