Sectional Debrief: British Champions Day 2012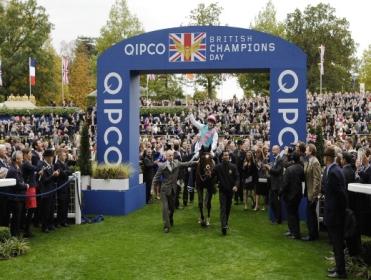 Frankel returns to the winners' enclosure.
Simon Rowlands analyses some of the sectionals from British racing's big day...
"Rite of Passage came home quite quickly, for a stayer, in the BC Long Distance Cup, and third-placed Askar Tau came home more quickly still in a race run in a decent overall timefigure..."
The final meeting in 2012 for which sectionals were made available, as part of TurfTrax's arrangement to cover The British Champion Series, was QIPCO British Champions Day at Ascot on Saturday 20 October 2012.
Unfortunately, no figures were provided for the second race - the British Champions Sprint - and there were gremlins with the live display of sectionals on-screen. Given previous technical problems at the track, I validated the last-three-furlong times separately and will restrict discussion mostly to those figures.
Heavy rain turned the ground "soft" all round, by Timeform's reckoning, though it was arguably close to "good to soft" on the straight course, which usually drains more quickly.

A more extended discussion of Frankel's Champion Stakes performance, and an overview of his career, from a times and sectional point of view can be found by clicking HERE. Suffice to say that his sub-37-second last-three furlongs showed impressive speed, even by his standards, though the round course/straight course going differential does complicate matters slightly.
Cirrus des Aigles led three furlongs out and recorded a pretty sharp 37.58 sec from that point; Nathaniel posted 37.95 sec and, according to TurfTrax, was only just slower than Frankel in the final furlong (12.98 sec, compared to 12.92 sec).
Rite of Passage came home quite quickly, for a stayer, in the BC Long Distance Cup, and third-placed Askar Tau came home more quickly still in a race run in a decent overall timefigure and in which no major mark-ups are required.
The principals all came from the rear in the BC Sprint, and hand-taken sectionals confirm the early pace was at least sound. Maarek's last three furlongs were in the region of 0.7 sec slower than Excelebration's at a longer distance later on the card.
Even allowing for the steady pace in the latter's race, and Excelebration's greater innate ability, that is quite a disappointing sectional and sits alongside a surprisingly poor overall time for the Sprint.
Sapphire and Shirocco Star separated from their rivals late in the BC Fillies' And Mares' and possibly deserve a bit of extra credit given that the pace was not exacting before that.
As mentioned, Excelebration's finishing effort was every bit as impressive on the clock as visually, though a steady pace early on suppressed the overall timefigure. The TurfTrax sectionals for his last four furlongs of 12.08 sec, 11.81 sec, 11.88 sec and lastly 12.72 sec were almost Frankel-like. Almost.
Sovereign Debt looks to be the horse to take from those behind. He ran creditably in fifth despite being set plenty to do and came home third-fastest in the field (behind the first and second) in 37.4 sec. He could well have a Group race in him at seven furlongs or a mile.
The presence of an apprentice race at the end of the Champions Day card did not meet with the approval of all, but it did ensure there was one strongly-run contest on the card. The leaders' closing sectional was 38.96 sec, resulting in a finishing speed (expressed as % of average race speed) of 98.4% when 101.2% could be considered "par", and it was no surprise that first and second came from the rear.
The standout performance among the principals was from third-placed Lightning Cloud, 0.03 sec behind the leader three furlongs out before leading outright for a while but completing the final furlong eighth-fastest in the field, according to TurfTrax, and yet still first home on the stand side.
He should be as effective at six furlongs as this seven when conditions are like this and can probably win off a bit higher than this mark of 91 all being well.
Timeform's Horses To Follow for the 2012/3 NH season is out now! Get an interview with Donald McCain and ante-post advice as well as 65 horses to follow from Britain and Ireland. Get your copy now!

Discover the latest articles