Myth-busting: York is a front-runners track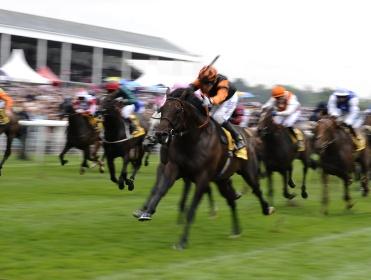 Is York really a front-runners track?
Simon Rowlands busts the myth that York is a front-runners track...
Summer Saturdays at York races are with us again. As a result, you can rely on a few certainties to go with death and taxes: traffic jams; a drunken brawl, or maybe several; and some pundit, somewhere, will trot out the line "York is a front-runners track". 
The traffic jams and fights are no myths, unfortunately, but the perception that York favours horses close to the pace is. It was not true when I wrote about it five years ago and it is not true now. The main difference is that I now have more evidence at my disposal to make my case. 
In particular, Timeform now measures a horse's run-style through early position figures (EPFs), which range from 1 for a horse on or near the lead through to 5 for a horse at or near the back. Every horse in every race, Flat and jumps, gets a figure. A picture emerges over time, not just about individual horses, but about individual jockeys, surfaces, distances and courses. 
For instance, the figures for UK handicaps since 2011 show that horses with an EPF of 1 - front-runners or nearly front-runners - beat 58.7% of their rivals at 5f, 52.9% at 8f and 47.5% at 12f. They fared better on fibresand (57.7%) than on polytrack (50.1%, which is almost exactly what you would expect by chance). The Newmarket July course ranked sixth-best of 37 for horses with an EPF of 1, while the Newmarket Rowley Mile course ranked only thirtieth. Handicaps only are used as non-handicaps can be uncompetitive enough to give a misleading impression. 
And there, bottom-but-one of all UK Flat tracks, is York on 46.4%, anything but "a front-runners paradise" taken overall.
York can be divided further into distances at which prominent-racers have done middling or better and those at which they have done badly. It was only slightly worse than the national average at 5f and 6f combined (56.0% against 58.1% more widely), over-performed at 7f (though with a smallish sample), and did badly at 8f and more. Horses with EPFs of 1 beat just 34.4% of their rivals at 10.4f and 12f together, whereas almost exactly 50% was recorded at around those distances throughout the UK. 
For good measure, York was seventh-best of 37 for UK Flat courses, on 45.4%, for horses with an EPF of 5. In other words, there was precious little difference at the course, taken overall, in the performance of horses who raced behind early and those that raced close up, despite the "bias" in favour of pace-forcers more widely. 
The reason why "bias" is in inverted commas there is because the bias is primarily a selection one and not somehow mystical. Horses who are unsuited by the conditions, outclassed, or having an off day, are more likely to be towards the rear than towards the front, come what may, even at an early stage.
In any analysis of these things, the punter should always be aware that the tendency of a track to result in over- or under-performance by front-runners is a generalisation, and one that can be rendered meaningless by specific circumstances, such as the presence or absence of a strong pace.
You may be wondering which track managed to surpass York in terms of its history of under-performance by front-runners. That is highly relevant with next week in mind, for it was Ascot, which possibly does merit the title "a front-runners graveyard". Most of the time, at least. 
Get open access to Timeform data for just £2.50 a day with Timeform Race Passes. It's like a Form Book, Black Book & Race Card all in one! Find Out More!

Discover the latest articles