Handicappers' Corner: Nothing flat about season's return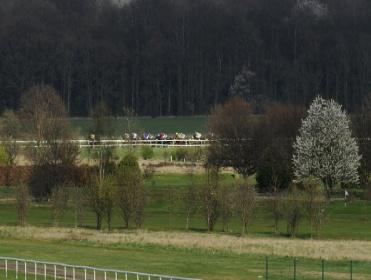 The British Flat season got underway at Doncaster
Keith Melrose looks back on the first weekend of Flat turf racing in Britain this year.
"Ocean Tempest's new rating entitles him to a try in a higher grade, perhaps Group 3 level in the right circumstances. There are a couple of others behind that will also be interesting near to hand."
Few things are sworn in as prematurely as your average British summer. Like an eager Roman waiter or Ibizan bar rep we'll usher summer through the door, bemused and unready, at the slightest suggestion: temperatures in the low-teens; sunlight after 5pm; the Lincoln.
There's a lot of warming up to do, both physically and metaphorically, before we can call this Flat season truly underway. But there's something about the Lincoln card, especially in its current, condensed form, that draws us in with a smile and an aperitivo.
The appeal of a good old British summer clearly does wonders for Ocean Tempest, winner of Saturday's big handicap. He had quickened his progress towards the end of 2013 and, following a cool winter in Dubai, came back as though he'd never been away.
Ocean Tempest's new Timeform rating is 116. Given some of the circumstances- his margin and manner of victory, as well as the fact that it came against a faint draw bias- you'd be forgiven for thinking that rating could be higher, or at least the credit for a more emphatic success given.
Be warned, though: Ocean Tempest's winter in Dubai probably gave him a couple of big nudges. Firstly there's the fitness, which he had in common with two of the three placed horses, then there's some give in his mark. Ocean Tempest was only 7 lb higher than for a wide-margin success at Chester on his most recent British start: it's doubtful that would have been the case had he not run half a dozen times at Meydan without success.
That said, Ocean Tempest's new rating entitles him to a try in a higher grade, perhaps Group 3 level in the right circumstances. There are a couple of others behind that will also be interesting near to hand. Off Art (99p) is chief among them. He has the profile of a traditional Lincoln winner, that of the unexposed four-year-old. Perhaps too unexposed, as Off Art almost certainly suffered for either lack of a recent run, lack of run in a big-field handicap or a combination of the two in finishing fifth. He's one to bear in mind for handicaps, the likelihood being he's better than his current BHA figure of 93.
Former Lincoln winner Brae Hill had been rated too low to make a fourth successive appearance in the race, though he was again cherry-ripe for the day and it proved not to be in vain as he won the consolation handicap, the Spring Mile. His performance on the day, rated 106, is identical to the figure that he achieved when winning the 2012 renewal of the main event.
The most immediately informative race at Doncaster on Saturday besides the mile handicaps might be the Brocklesby. The convincing winner, Cock of The North, looks above-average for the Brocklesby, his rating of 93p suggesting he's more than just a forward type, not to mention the way he went about things promising he'll be suited by six furlongs once that option opens up.
The Brocklesby tends to throw up winners most years, the fact that the most forward two-year-olds are sent to contest the race normally fulfilling its own prophecy in the weeks that follow. Of this year's crop, the strong-travelling Magic Florence (64p) and well-bred Escalating (-P) appeal as being among the likelier candidates.
Over at Kempton, there were a couple of races that could prove significant either on Good Friday or further into the season. The listed Magnolia Stakes probably represents muddling early-season form all told, though Contributer had been well backed beforehand and beat the in-form and very useful Modernstone well enough to think he's improved. Contributer has always had a fairly sizeable reputation, one better reflected by a new career-high rating of 113. A little more will probably be needed to justify a return to Group races.
The Rosebery Handicap is arguably a better race. Or, at any rate, provides a more solid result. Given it was fit and in-form horses that completed the frame behind him, there's little reason to credit Salutation with anything other than full credit for his six-length, all-the-way success.
Salutation is now rated 108 (had been 94+) and his future chances will depend on two things. More obviously there's the BHA handicapper's reaction, which could conceivably range from the incredulous to the draconian. A second concern would be the surface: this was just Salutation's second start on the all-weather, a first since his debut, so there is a possibility that this improvement is surface-related. If both those fears prove to be unfounded, though, Salutation could have a fruitful summer in prospect.
Discover the latest articles