Cleeve Hurdle: Buck with a bang?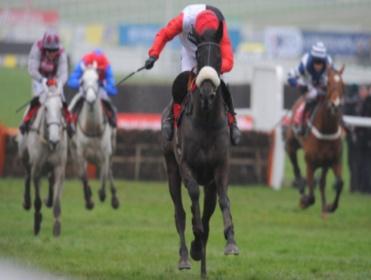 Will the outstanding Big Buck's be able to reproduce his best?
Ahead of the Cleeve Hurdle, where Big Buck's is due to make his eagerly-awaited return, Michael Williamson provides a statistical analysis of horses' records when returning from long absences...
"In other words, an absence does have an effect in that a horse is less likely to perform to expectation, and, generally speaking, up to a point, it follows that the longer the absence the greater the effect..." 
When Big Buck's lines up in the Cleeve Hurdle at Cheltenham on Saturday he'll do so with a well-earned, well-established Timeform rating of 176+, which puts him upwards of a stone clear of the opposition. If only it was that simple. Big Buck's is usually that simple, but not this time.
The Timeform rating is an expression of what a horse is capable of under its optimum conditions, with an in-built assumption of well-being. Throughout his remarkable sequence of 18 hurdle races unbeaten in Britain, the well-being of Big Buck's has always been a given...until now. 
This time, and for just about the first time in his hurdling career, Big Buck's has a question to answer regards his ability, namely how much of it he retains, at the age of 11, following a lengthy, injury-enforced absence. 
There are many variables to take into account when trying to establish how likely a horse is to return to their previous best after a lay-off. Each horse presents a unique case, but similar horses have encountered similar circumstances to Big Buck's and a consideration of how they fared - through analysis of 20 years of criteria controlled jumps data - can provide some sort of a guide.  
Most of these variables are staple influences on a horse's fortune regardless of having had an enforced break. As a four-time World Hurdle winner, trip and course are obviously optimal. It's also no surprise that the more frequently a horse has previously competed within 5 lb of their pre-race rating, the higher the expectation is of it running to form (RTF) subsequently. Therefore, the normal rules of suitability of conditions, allied to the trainer's skill - which Big Buck's scores highly on both counts - still apply, but is it to the same extent?  
It seems not, because the data suggests that the relationships aren't so strong for horses returning after lengthy absence compared to the general horse population. Although still a factor, correlation with age, the trainer's total RTF% and whether or not the horse ran to form on its last run is noticeably weaker. To put it simply, the usual influences on performance remain but are less pronounced. In other words, an absence does have an effect in that a horse is less likely to perform to expectation, and, generally speaking, up to a point, it follows that the longer the absence the greater the effect. 
By grouping the 20-year data into discrete pots, this effect can indeed be seen below. On Saturday, Big Buck's will be returning from a 420-day lay-off.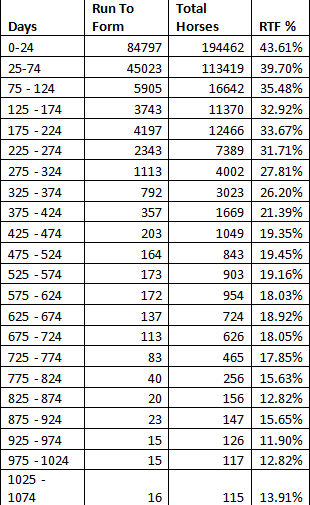 The most significant drop off in RTF% is around the 275 day mark, significant in that, by that stage, it's fair to assume the absence is no routine matter, entering the realms of presumed setbacks and injuries. There are those who will say, with some justification, that the absence, however long, is largely irrelevant because this is Paul Nicholls we're dealing with. True, Nicholls is one of the best exponents of getting horses back firing straight away after a long break, though even with his runners in such cases (returning from a year or more) it's only just over a third who hit the ground running to form (23 from 65 qualifying examples). 
Alongside advancements in training in 'getting one fit at home', as the saying goes, sits the scientific element of greater veterinary understanding and input, resulting in the wide(ish)spread belief that a horse has more chance than before of coming back from an extended break at full power. What the crunched-numbers tell us, however, is that while more horses are coming back from lengthy lay-offs, as opposed to retirement from whatever was behind the absence, there is little evidence to say they're any likelier to return on song compared to ten years ago. The proportion of the total horse population qualifying for the study increased with time but, meaningfully, the percentage of them running to form in a given year hasn't changed in the decade under review. There's more chance of getting a horse back to the track, but there's seemingly no more chance of it getting back on form.
'The Cleeve is only a stepping stone to the main target of a fifth World Hurdle, so we shouldn't put too much store in what happens on Saturday.' That's a logical assertion which will be aired when it comes to Big Buck's, but is there supportive evidence from the past? Not as far as the Timeform data in this specific area is concerned. Examining horses returning from upwards of a 12-month absence, those who make a creditable reappearance have a 36% chance of running to form on their second start back, compared to just 11.4% for those whose underperform on their comeback. This disparity is almost twice the gap for those making a more orthodox reappearance (i.e. less than a year) and serves to highlight just how important Saturday is to Big Buck's in the grander scheme. 
Of course, the main difficulty with such analysis is that the various factors are not independent of each other. In the above scenario, when looking at the average age of the horses in the two samples, those running after a break are on average a full year older which is a negative of its own accord.
To account for these interdependencies and to weight the factors accordingly, data modelling is a powerful ally. Following Timeform's switch to a digital platform last year, data models are in development to try to put more concrete numbers around a horse's chance in a given situation.
Although still in its infancy, the current algorithm suggests the likelihood of Big Buck's returning to the level of form he showed with such regularity pre-injury is far from high, even with meticulous planning by Paul Nicholls. Then again, Big Buck's does have one thing in his favour that no statistical analysis can account for: he's Big Buck's.
Discover the latest articles