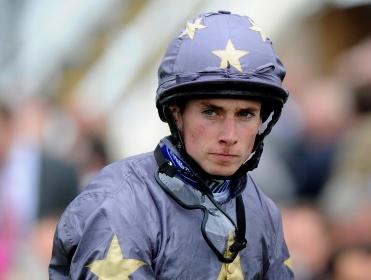 Ryan hits back at his critics
After the piece in the Racing Post today, Ryan Moore responds and details the reasons behind why he declined a Racing UK interview after winning on Regal Realm at Glorious Goodwood. And he isn't happy. He tells his side of the story here...
I don't know whether being Racing Journalist Of The Year means Lee has to get more controversial, but I am of the opinion that he is bang out of order here... The only job I care about – and should care about - is the one that I do for my trainers and the owners.


Many who read Lee Mottershead's piece in the Racing Post today - it's the second last paragraph if you haven't read it - will rightly assume that he is referring to me when he says that "during Glorious Goodwood many in the winner's enclosure witnessed one top jockey decline a Racing UK interview."
He then went on to add that this was "not so much miserable behaviour, more inexcusably rude."
So quite why he hasn't got the balls to name me, I don't know.
It wouldn't have bothered me in the slightest if he had. Provided he had told the full story.
What did annoy me is that the Racing Journalist Of The Year didn't have the courtesy to check his facts, and the background, with me before going into print. It was presented in a very black and white, uncomplimentary, manner.
If he didn't have my phone number, I am sure Hughsie would have given it to him.
I don't know if Lee was privy to what happened first hand at Goodwood, or if someone has been telling him tales out of school.
But this is what I would have told him had he bothered to ring me.
Everyone was aware that I had a bad fall on the Tuesday and I was very sore and not feeling 100 per cent during the week. So after Regal Realm won the Oak Tree, I went straight in to the weighing room afterwards as neither her owner or trainer were present.
But I came straight back out and fulfilled my duty to the sponsors Oak Tree by accepting the prizes in the absence of connections.
Now, between all races at Goodwood since the fall, I was having treatment on my injuries and that involved re-strapping my thumb and wrist. That alone was taking 4 or 5 minutes. So I didn't have any time to waste before going out to ride in the last.
After the prize giving, Lydia Hislop from Racing UK approached me. I was clearly rushing but she asked me for an interview.
Clearly very keen to get my injuries seen to and re-strapped, I told her that I was not feeling up to it, and didn't want to go on TV.
She then pressed and said they needed someone because no-one else was there. I told her I wasn't well and that I was going.
If being professional and getting myself prepared to ride the favourite in the concluding handicap is "miserable" or "rude" then Lee is entitled to his opinion. As long as he gets himself in full possession of the facts before voicing it.
I don't know whether being Racing Journalist Of The Year means he has to get more controversial these days, but I am of the opinion that he is bang out of order here.
And comparing a Racing UK interview to a BBC interview with Olympians is utterly ridiculous, though I would have done the interview at Goodwood if Michael Johnson had asked me!
Firstly, Racing UK is more Eurosport than BBC given its viewing figures. And secondly I don't think the Olympians - and by the way last night's closing ceremony was superb and cheered me up after a bad day - would agree to an interview if they had go for treatment and run in another race in the next 15 minutes, do you?
I will give interviews as and when I can, and when I believe it is appropriate.
Why only yesterday, after I came off Havana Gold, did I speak to the Racing Post. Scott Burton was sent over to interview me at a clearly tricky moment after the fall. I initially told him, no. But I felt sorry for him being asked to do that, and because I had the time and it was justified, I came out and did it. I had something worthwhile to communicate, so I did.
I felt I could have ridden Excelebration - I know my body but the doctor saw the swelling from my Goodwood fall and played it safe - and I obviously wasn't too happy at the time.
But I spoke to the Racing Post guy, no problem.
However, there are times when interviews with the media simply aren't on for a number of reasons, of which they know full well why.
For example, after coming back from winning on Gospel Choir at Haydock on Saturday, I was asked by Lydia if I felt if he was a Melrose horse.
I think I said something like "hope so", walked on, and left it at that. But I gather that my response was communicated on air in a not-so-positive light.
Well, I will let Lee and Lydia into a secret. The only job I care about - and should care about - is the one that I do for my trainers and the owners. The only reason I am responding in my Betfair column today is that I have the day off, and the time to do so.
Do you think it would really be appropriate and respectful to talk about running plans for horses just after I came in after winning on them, having not even spoken to the boss?
Well, I don't.
Would they speak, in a live interview, to journalists about the editorial and commercial direction the Racing Post or Racing UK are taking without speaking to their editors and chief executives?
No, I don't think so.
Everyone knows what kind of a character I am, and my priorities as a jockey. I'm not easy, I know that.
And if that doesn't sit well with some journalists, then that's fine. I know they have a job to do.
But part of their job is getting their facts straight, and presenting the story in an informed and balanced manner, before putting that opinion in print.
Especially in the Racing Post. Everyone reading the trade paper today only gets half of the Goodwood story, and that angers me.