Ryan Moore Exclusive: A great year, but I'd give 2014 about an 8 out of 10 so far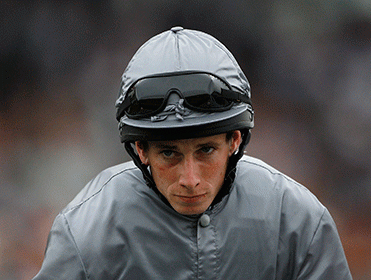 Ryan Moore would give himself 8/10 for 2014 so far
Betfair ambassador Ryan Moore is now enjoying a seven-week riding stint in Japan after a tremendously successful season that saw him win Group 1 races around the globe. Here he gives his own inimitable take on 2014...  
"Jockeys should never be scared to make mistakes for the right reasons. I have made loads of mistakes this season but I genuinely can't remember them. Honestly. You can't afford to."
My seven-week riding stint in Japan started last Saturday, and I was fortunate enough to have two winners over the weekend. 
 
I am based in a place called Tsukuba just outside of Tokyo, and we only race on Saturday and Sundays, so I have got plenty of time on my hands to keep fit. It can get a bit boring sometimes - I even went for a 2 ½ hour walk today - so even doing this piece is half-way enjoyable for a change...
 
It is always good to expand your horizons though, and you get to ride some beautiful, top-class racehorses.
 
They may only race twice a week at the main track but there are 12 races a day, and even the maidens are worth between 50k-60k.
 
They do race at the country tracks in midweek though, and when I went to a meeting a couple of years ago I was amazed at the prize money on offer.
 
The tracks themselves tend to be 7f dirt tracks and probably wouldn't be the best. But the meetings are well-attended, with big grandstands, and a Group 2 at the meeting I went to was worth more than the Eclipse. That is what we are talking about over here.
 
Monday and Tuesday tend to be quiet days for me, but I do ride work on Wednesday and Thursday, and on Friday morning I travel to Tokyo and go through all my weekend rides with my local agent. 
 
I get to the jockeys' quarters at 8pm on Friday night, and from then on we are pretty much in lockdown until the end of racing on Sunday.
 
The racing starts at around 10am on Saturday, there are 12 races, and it can be a long day. For example, last weekend I had seven rides at 55kg, which is near my minimum, and that can make for a long day with little fluids or food during the day. There is no overweight allowed here. If you put it up, you aren't allowed to race. Everyone knows where they stand.
 
So it's a long-stint here away from my family - the last day I ride is on December 21st - but I am not complaining, especially after the season that I have had. 
 
It had its disappointments, as there will always be in racing, but I stayed injury-free and 2014 has undoubtedly been a great year so far. But you won't find me resting on my laurels, or basking in any glory.
 
And as for this "best jockey in the world" talk, I find it all a bit embarrassing to be honest. Of course it is flattering but it is a very hard label to put on one jockey, if at all possible. 
 
It's just a matter of opinion. And without the best horse in the race, you aren't going to be riding too many winners, trust me. 
 
And there are no end of top-flight jockeys around the world. The likes of Douglas Whyte in Hong Kong, Tommy Berry in Australia, Velazquez and Rosario in the States, and Moreira and Purton and McDonald, to name just a few, are all world-class. 
 
And it is easier for me to drop into these top-class races around the world when the form, pace and run-styles of the horses are all well-known, than it would be if I were riding lesser-known horses in handicaps on the cards.
 
No, there are plenty of world-class jockeys out there who do a job day-in, day-out. It is just that they only arrive on people's radars once or twice a year at the big meetings. And the likelihood of them coming over to ride for so little prize money in the UK and getting that deserved, widespread recognition - in the absence of big retainers, anyway - is so unlikely.
And I am lucky enough to get the rides in more big races around the world than most, and be in a position to accept them. The boss is brilliant on that front. And, hopefully, it will continue to be the case, fitness and injuries permitting.
 
I don't know of too many top-level sportsmen who let praise or criticism affect their performance. And, anyway, racing is unique in that jockeys don't have time to dwell upon failure.
 
A striker can have a week to reflect on a missed chance in football, but there are no such luxuries in our sport where there are races coming every 30 minutes. You can't have anything else on your mind apart from the next race. Ours is a very dangerous business, as we have seen again recently.
 
And that is why I tend to dismiss praise and criticism in equal measure. You don't have time to dwell on either in horse racing.
 
I have been pleased with a few rides this season, and been disappointed and annoyed with many more, but you have to let that moment pass and get on with the job. 
 
That is why all this talk of me putting ghosts to bed by winning the Melbourne Cup was misplaced. Not least because my previous two rides wouldn't have won if I had ridden them seven different ways.
 
Of course, it was great to win the race. There isn't a jockey around - well, one who knows about the importance of the race anyway - who doesn't want to win the Melbourne Cup. And Protectionist was a very good winner indeed, and one who wouldn't be out of place in Europe's best middle-distance races. 
 
But to me - and this may surprise some people - it wasn't any more important than winning the Cox Plate on Adelaide. 
 
And that winning ride probably highlights what I was saying earlier about praise and criticism, and how you shouldn't be overly-concerned by either.
 
Now, obviously I got heavily criticised for getting beaten on the horse in the Niel. But would I have changed the way I rode him that day? No.
 
Sometimes you don't mind making mistakes - and he should have won, I admit - if they were made for the right reason. And before the race we sat down and decided to drop him in. It just didn't pan out ideally on the day but we learned plenty about him.
 
So while I got criticised, it didn't bother me one bit. And nor did I find the praise I received from some in winning the Cox Plate particularly deserving, either.
 
I just made the correct decisions at the right time in that race - moving when the pace was at its weakest, then giving him a breather, was the crucial move there, at the same time keeping the horse in his natural rhythm - and it paid off. Next time it may not, but that is racing. Small margins. 
 
Jockeys should never be scared to make mistakes for the right reasons. I have made loads of mistakes this season but I genuinely can't remember them. Honestly. You can't afford to.
 
So it has been a great year, of course it has. And jockeys like myself are helped by the fact that the big meetings come thick and fast at the end of the season.
 
But should they?
 
On a selfish level, I am all for them. But do I think that something like British Champions' Day at Ascot is a touch artificial and softens up the end-of-season Group 1s? Yes, I do. Of course, it makes the big match-ups more unlikely to happen.
 
This season we had nine runners in the Champion Stakes. If we got that number of runners in the Derby or Guineas, we would view that as a big disappointment.
 
And, for me, seeing six runners in the Dewhurst and Middle Park - and on the same day, too - just can't be right either.
 
I can see why some want this Breeders Cup-like meeting here as an end-of-season showcase - and it has clearly been a success so far - but I don't think we need one. Especially as we already have about 10 such days, anyway.
 
Our champions will be made and crowned from June to August - in the Guineas, at Epsom, in the five days of Royal Ascot, and at York - not on one day at Ascot in October, where international competition is so strong elsewhere at that time of year.
 
But that's just a personal opinion.
 
So what does 2015 hold for me? Hopefully more of the same, and for me to keep myself in the best shape possible. 
 
My brother Jamie tells me that he is fitter than a Premier League footballer and just a notch below a Tour de France cyclist, but then again probably he needs to be. He can be pushing one for 4 miles, and I can get away for doing it for 400 metres.
 
So, touch wood, it'll be more of the same in 2015.  But continuing to improve as a jockey is obviously the number one priority. 
 
I'll just be hoping that some of our horses can develop into potential champions - and no stand-outs like Kingman, Australia, Camelot or Frankel amongst the 2yos have shown their hand this season - and for me and my family to stay fit and healthy. 
 
And I'd like to congratulate Hughesie on winning the jockeys' title again. He put in the work, and fully deserved it. 
 
So, what mark would I give 2014? 
 
It hasn't finished yet, but about an 8 out of 10 so far. There is always room for improvement. 
 
It could get worse, or it could get better if Gentildonna wins the Japan Cup again, and Hong Kong in December goes well.
 
So we'll see.