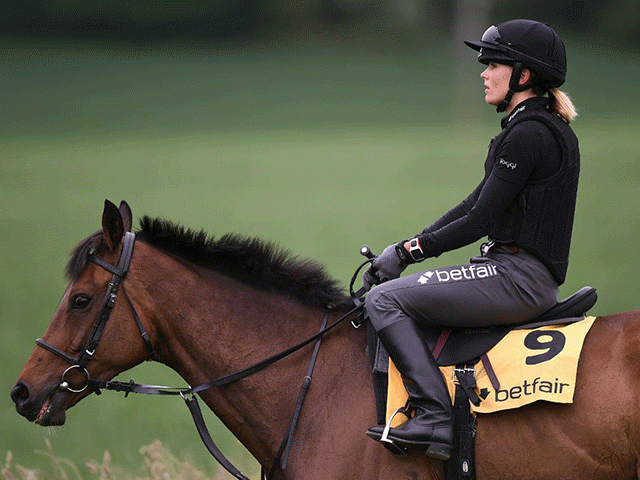 Victoria finished second aboard Royal Etiquette at Ripon in her first ride as an amateur jockey
The incredible transformation from decorated track cyclist to fully fledged amateur jockey was completed today when Victoria Pendleton finished second aboard Royal Etiquette in her first race since being granted a Category A Amateur Rider licence last week...

"The excitement grew with just three furlongs to run when Pendleton sent the Lawney Hill-trained Royal Etiquette for home, holding a clear advantage as the chasers started to close."
The two-time Olympic champion, who less than six months ago announced that with the help of Betfair would train to become an amateur jockey, had her first ride under Rules in the 17:30 race at Ripon on Monday afternoon, the Betfair sponsored Novice Flat Amateur Riders' Handicap.
Drawn wide in stall 14 aboard eight-year-old gelding Royal Etiquette, Pendleton started slowly over the 1m3f contest, but within a few furlongs had raced to the front alongside Chocolate Diamond.
The excitement grew with just three furlongs to run when Pendleton sent the Lawney Hill-trained Royal Etiquette for home, holding a clear advantage as the chasers started to close.
Bold Henmie was the first to challenge, but Royal Etiquette kept finding extra under an excellent ride from Pendleton, and entering the final furlong it became a three horse race as outsider Jordaura mounted a challenge between horses.
And it was the latter who prevailed in the final strides, getting up right on the line under his jockey Mr Tom Greenwood to deny Pendleton a fairytale start to her amateur riding career.
Pendleton's stylish riding performance saw her take a significant step forward in her quest to fulfil her ambition to ride at the 2016 Cheltenham Festival.
After the race Pendleton commented, "That was amazing, it was such a thrill, to finish second is beyond what I expected at the start. Everything happened quicker and it was all much more intense than the charity race I rode in at Newbury. Since partnering with Betfair on my journey to become an amateur jockey I have worked on all aspects of riding but nothing comes close to that - the experience of riding in a race is almost impossible to replicate. Holding my own against the other riders at that speed has boosted my confidence. It makes all the early starts and the hours of training worthwhile and my thanks go to Yogi Breisner and Alan and Lawney Hill, who have all been amazing."
Before adding, "I've experienced a great deal and I'm proud to have got this far but I now want to keep developing in my training so I can be competitive in any race that I ride in en-route to achieving the ambitious goal of competing at the Cheltenham Festival next year."
Barry Orr, UK & Ireland PR Manager at Betfair, added: "Victoria's dedication and commitment to this challenge has manifested itself in the most positive way, the ride she gave Royal Etiquette today is testament to that so it's on a confident stride that she now meets the next phase of the challenge."
The next phase of her journey will be her preparations to ride in Point to Point races over steeplechase fences, the season for which starts in November. It is not yet confirmed whether she will ride on the Flat again this season.
James Hutchinson, MD and clerk of the course, commented: "It's been a great Bank Holiday Monday here at Ripon for the Betfair Amateur Flat Series. Despite the rain, there's been a fantastic turnout and everyone here was delighted to see Victoria do so well in her first race as an amateur. She looked really strong out there, alongside some experienced amateurs, and I'm sure she'll be on that start line at Cheltenham next year. Everyone at Ripon wishes her the best of luck on her remarkable journey."

Full Result
1. Jordaura (Mr T. Greenwood) - 33/1 (BSP 70.0)
2. Royal Etiquette (Ms V. Pendleton) - 14/1 (BSP 26.06)
3. Bold Henmie (Mr Ross Turner) - 2/1F (BSP 3.36)