Victoria Pendleton awarded amateur licence and will head to Ripon for bank holiday ride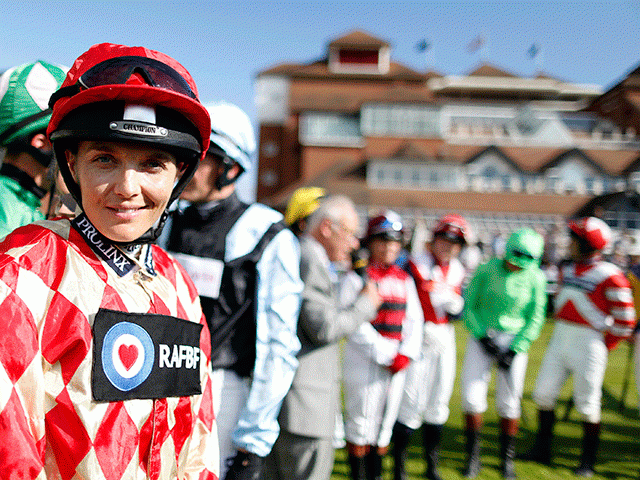 She was eighth on racecourse debut, can new amateur jockey Victoria Pendleton better that at Ripon on August 31?
In less than six months Victoria Pendleton has risen impressively from a complete novice to qualified amateur jockey. She can next be seen in action at Ripon on Bank Holiday Monday.
"The experience has been life changing; I can't imagine my life without it now."

Victoria Pendleton
Less than six months after Betfair announced they would be helping Victoria Pendleton to train to become an amateur jockey, Britain's most successful female Olympian has acquired her Category A Amateur Rider licence following a thorough assessment last week at the British Racing School in Newmarket.
Pendleton now has her sights set on her first competitive amateur race, the Betfair Novice Flat Amateur Series race at Ripon Racecourse this coming Monday (August 31). The flat race, sponsored by Pendleton's backers Betfair, will serve to give the former track cyclist further race riding experience following her debut in a charity race at Newbury last month.
The Olympian turned amateur jockey was put through her paces last week in the two day Category A Amateur jockey assessment at the British Racing school in Newmarket. The programme consisted of assessments of a rider's ability schooling over fences and coming out of starting stalls, as well as the individual's race riding technique on a simulator. There were also lectures on rules and regulations, racecourse procedures and a rigorous fitness assessment. The course was a stern test of the skills and techniques learned over the past six months as well as her knowledge of the sport. The assessment is mandatory for any aspiring amateur jockey.
Since Betfair announced the 'Switching Saddles' challenge ahead of Cheltenham this year, stating their wish to shine a light on the sport of horse racing, Pendleton's transformation from total novice to amateur jockey has been remarkable and well received by fellow jockeys and industry experts.
Pendleton's dedication to the challenge and drive to succeed have been evident throughout, achieving a respectable 8th place finish in a Newbury charity flat race, riding out on a daily basis at trainer Lawney Hill's yard and schooling regularly with Team GB Equestrian Director Yogi Briesner.
Pendleton said: "I'm delighted. Since Betfair first approached me, it's been a hugely challenging, yet unbelievably exciting six months. I have been working extremely hard with Lawney and Alan Hill and Yogi Briesner to prepare for this and couldn't thank them enough.
"The experience has been life changing; I can't imagine my life without it now.
Pendleton added; "There's still a long way to go to achieve the ambitious goal of riding in the Foxhunters Chase at Cheltenham next year, but I'm more than happy with my progress so far. Next up is Ripon on 31st August in the Betfair Novice Flat Amateur series, which will be my first time racing with an official licence, I can't wait."
British Racing Schools' Senior Jockey Coach, Richard Pernham, said; "Victoria's progression from when we first welcomed her for her two weeks of intensive training is incredible, she has dedicated herself to Betfair's challenge like a true professional and that showed during her fine performance throughout the assessment. It's always a pleasure having Victoria with us at the British Racing School and we wish her the best of luck for the future and will be delighted if she achieves her ambitious goal of riding in the Foxhunters."

Read past articles