Paul Nicholls: The reasons why Sam Twiston-Davies will be riding Big Buck's this season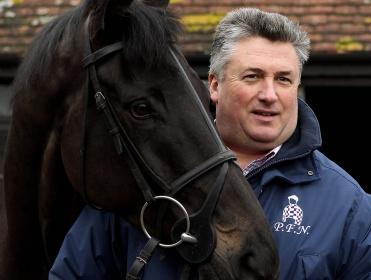 Paul Nicholls and Big Buck's
Betfair Ambassador Paul Nicholls explains why Sam Twiston-Davies will be riding Big Buck's this season, and not number one stable jockey Daryl Jacob...
"For those who think that this is a big snub for Daryl – and plenty obviously do – then they should read this and think again."

I wasn't going to comment on the fact that Sam Twiston-Davies is going to ride Big Buck's this season, but having heard of some ill-informed comments doing the rounds I felt that I had to put the record straight here.
The big question for me was how keen was Daryl to ride the horse?
The simple fact is that Daryl has never given me the impression that he was mad keen to ride Big Buck's.
If he had, then he could have been on the horse in the Cleeve Hurdle. End of story. And with Andy's full blessing and agreement. 
So there is no need for anyone to feel sorry for Daryl, or read anything wider into this decision.
 
Tough and difficult decisions have to be made in this game, and I won't shy away from them.
We have obviously been discussing Big Buck's' comeback for a few weeks at Ditcheat and it became clear to me that Daryl had doubts about riding him in the Cleeve, and that immediately put a big doubt in my mind.
It was the lack of him being positive more than anything else.
So we talked it over at length and Daryl explained how he viewed the ride, almost as if he saw it as something of a poisoned chalice.
He explained that, in his opinion, Big Buck's was part of a past generation here at Ditcheat - the last remnant of the Kauto Star and Denman era, if you will - that he has never been part of that, and his focus was on the future. 
It was as if he regarded the ride as being in a no-win situation. If Big Buck's won, it was all down to the horse. If he lost, and that phenomenal unbeaten run with it, it was down to him. 
That is no way to approach any race.
Daryl has his eyes set firmly on horses of the future and that means continuing to ride the likes of Zarkandar, whom he gets on with so well. And if he had committed to Big Buck's, then who is to say that my other owners wouldn't have seen that as a snub.
So it was his mind-set that actually made up my mind up for me. If there is any negativity or doubt in a jockey's mind, then in my book he effectively rules himself out of the reckoning there and then.
I then approached Ruby and AP, who have both won on the horse, but neither would or could commit. 
So myself and Andy talked it over at some length these past few days, and on Friday I rang Daryl and Nick to tell them of our decision. 
It wouldn't surprise me if Daryl didn't feel a sense of relief at the news. And late on Friday we then told Sam that we would like him to ride the horse.
For Sam it is a totally different scenario, and in many ways a win-win situation. He is really looking forward to riding Big Buck's, which is what we want.
For those who think that this is a big snub for Daryl - and plenty obviously do - then they should read this and think again.
And don't forget that he isn't the retained jockey at Ditcheat, he is our main jockey. There is a difference. 
He will never ride all of the horses, and at no point did he think that he would. And nor will anyone in the future. For example, Nick rides Irving and Noel rides Silviniaco Conti. This kind of decision is nothing new.
But Daryl will still ride a lot of good horses for us, and ride them well, too.
And if people say that Nick should have been the next choice of jockey for Big Buck's, then they are barking up the wrong tree there, too. 
Nick knows that he is our second jockey for the second meetings, and he is doing extremely well. And I imagine that the prospect of riding our horses at Doncaster on January 25, if needed - in the Skybet Chase, and possibly Hinterland and others there too - suits him just fine. 
So it would be wrong to blow this out of all proportion, and feel sorry for anyone.
There has been no falling out - Daryl will continue to ride for Andy and has the confidence of all our owners - it is just simply that a decision had to be made. And we made it. 
I am not saying any more on this subject, and now I just want to focus on getting a wonderful racehorse back on the track. 
That's the most important thing.