Paul Nicholls: I am raring to go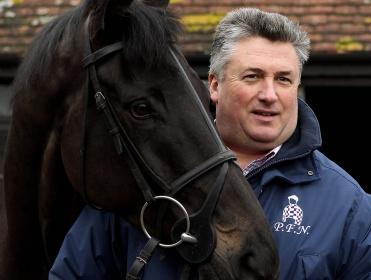 Paul with flagship performer Big Buck's
Betfair Ambassador Paul Nicholls can't remember looking forward to a season as much as he is this one. Here, the master trainer tells us about the firepower in his stable and which horses you should look out for...
Winning the trainers' title is not what gets me out of bed in the mornings. Winning races for my owners does that. I love winning, day-in, day-out, and having good horses competing in the all best races.
We cantered 123 horses here on Tuesday - the most I ever have in a single morning in my 20 years here.
And those record numbers are matched by my enthusiasm too. I honestly don't think I have looked forward to a season more than this, and quite a few people have said that they can hear that appetite in my voice and my manner.
I am raring to go.
Things will be different this year, with no Denman, Master Minded, Neptune Collonges - and what a story that was, winning the National as an 11yo having made a winning debut over hurdles for us as a 4yo at Chepstow in November 2005 - and with a decision on Kauto Star's future still to be made.
And when people say that I am up against it with Nicky for the trainers' title this year, I am reminded of Alan Hansen's famous quote all these years ago that Manchester United couldn't win the title with kids. Well, we know what happened there - and we will see what happens this season.
Every year, at this stage, I am asked about retaining the title and I say that it is not foremost in my mind - and every year people think I am talking rubbish!
But I can tell you here and now that winning the trainers' title is not what gets me out of bed in the mornings. Winning races for my owners does that. I love winning, day-in, day-out, and having good horses competing in the all best races.
And if I don't win the title, then so be it - it is has never been as competitive out there as it will be this season. And United can't and don't win the Premier League title every season, do they?
But it will be a good double if I can retain my title, and United can regain theirs!
It will be bloody hard this year, make no mistake.
Nicky clearly has plenty of established stars across the board - almost certainly the best team he has had in recent years (but I did think that last year too!) - and my fellow Betfair columnist Donald clearly has a very powerful team this year too, amassing the kind of "frightening" (his word not mine) strength in depth that I began to amass maybe 10 years or so ago.
But we have a team to go to war with ourselves, make no mistake.
Big Buck's is obviously our flagship performer and I am very excited about our next generation of horses. I have horses earmarked against all of the big races this side of Christmas.
I have 16 chasers in the yard rated 150 and upwards, three hurdlers rated 160 or higher, and no end of promising novices and youngsters. We have bought nine juveniles in the past month or so, and I think I have about 40 new horses in total, and a few babies in the pre-training and satellite yards ready to come in and replace the summer horses when they go for their break.
As for the early season targets for the big races I have Silviniaco Conti pencilled in for the Charlie Hall, Join Together and Cristal Bonus for Down Royal, and likes of Sanctuaire for the Tingle Creek.
I could name you at least four possibles for the Betfair Chase next month, dependent on their form and fitness and the ground - Tidal Bay, Silviniaco Conti, Join Together and Cristal Bonus - and any of those could be aimed at Kempton on Boxing Day too, along with the likes of Kauto Stone and Al Ferof (who could possibly start off in the Peterborough Chase).
And don't forget the likes of Tataniano (set to reappear in a fortnight in the Chepstow race he won last year), and the 5yo Edgardo Sol (a Haldon Gold cup possible along with Toubab), who proved a revelation last season after being beaten off 128 first time up in a five-runner handicap at Newton Abbot!
Pacha Du Polder is being considered for the Old Roan and he could be a big improver this season. Anyway, let's hope he progresses half as much as Kauto did when winning that race at Aintree in 2006!
And Harry The Viking is being aimed at a £100,000 handicap chase at Ascot on November 3.
And then there are hurdlers such as Zarkandar and Brampour, novice chasers like Poungach and Hinterland, ex-pointers with potential such as Come On Ginger and Keppols Hill, hopefully some handicappers with a bit in hand - now, you don't expect me to name them at this stage of the season, do you? - and you can't help but be fuelled by optimism for the season ahead.
Harry Fry has now set up training in his own right, and we have had the usual staff turnover in the summer.
But the core Ditcheat team remains - in fact, I think it is as good a team as we have ever had here, and if anything Clifford is as keen as me to see the new season get under way proper at Chepstow on Saturday - and we are looking forward to the battles ahead.
We may not have the public horses, the heavy guns, of previous years - the Household Cavalry if you will - but we still have a lot of firepower. As you may have noticed.