Paul Nicholls: Kauto Star is heading in the right direction
Latest News

/ Paul Nicholls / 05 March 2012 / Leave a Comment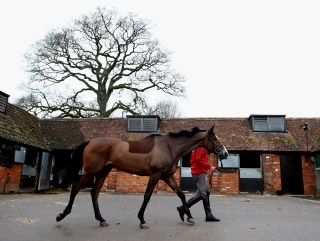 Kauto Star is regaining fitness at Ditcheat
Paul Nicholls provides an update on the fitness of Kauto Star following the fall he sustained in schooling...
Again, nothing major to report on the Kauto Star front this morning, though we stepped up his work as we said we would.
He had his physio and an hour on the walker, as per usual.
And then he had a 10f canter with Five Dream.
But, in addition to that, he had a canter up the hill with the same horse.
We will keep adding to this workload and tomorrow he will do the same, but have two canters up the hill instead of one.
Again, he is fine and we are heading in the right direction at the moment.