Timeform Racehorses of 2011: Frankel the best for 39 years
News

/ Timeform / 09 January 2012 /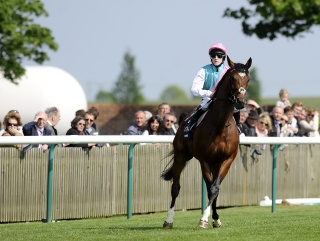 Frankel: Out on his own.
"Frankel's annual rating of 143 is the highest since 1972..."
2011 was The Year of Frankel in Flat racing terms, a statement that is supported by Timeform's ratings of the leading performers, released today in advance of the publication of Racehorses of 2011 in March.
Frankel's annual rating of 143 is the highest since 1972, the year in which Brigadier Gerard posted 144. Sea-Bird (145 in 1965) and Tudor Minstrel (144 in 1947) are the only other horses to have been rated more highly than Frankel in Timeform's long history.
Frankel is a remarkable 8 lb clear of the next-highest horse, Black Caviar, and 10 lb ahead of the next-highest in the Northern Hemisphere, margins unprecedented in recent times.
The Sir Henry Cecil-trained colt is unbeaten in nine starts, including the Two Thousand Guineas, the Sussex Stakes and the Queen Elizabeth II Stakes in the latest year.
Any of those successes would have qualified Frankel for Horse of The Year status. Timeform rated him 142 after the first of those wins and edged him up to his current figure after the Queen Elizabeth.
The Guineas was Frankel's most breathtaking performance, and it was also the race in which he recorded easily the best timefigure (136) by any horse in the campaign.
Timefigures, which measure performances strictly in terms of the overall race time, tend to lag behind form ratings by a few pounds. Frankel's time performance in the Guineas was the best of the 21st century so far, despite the fact that he slowed after going a long way clear.
The Sussex saw him dismissing leading older miler Canford Cliffs (rated 133) hands down, and the Queen Elizabeth saw him give handsome beatings to fellow three-year-olds Excelebration (133) and Immortal Verse (126).
The Australian-trained mare Black Caviar is unbeaten in 16 starts and posted several 130+ ratings among her eight appearances on home turf in 2011. Her rating of 135 has her behind only Allez France and Habibti (both rated 136, in the 1970s and 1980s respectively) among fillies/mares in Timeform's history.
Talk of Black Caviar and Frankel meeting on the racecourse in 2012 seems speculative - for all that they both stay in training and Black Caviar may travel to Britain - but it should be remembered that Black Caviar would have a sex allowance (thus narrowing the apparent gap between them) if they did.
Leading ratings in Racehorses of 2011
143 Frankel
135 Black Caviar
133 Dream Ahead
133 Excelebration
133 Canford Cliffs
133 Cirrus des Aigles
Click HERE to see a breakdown of the leading performers in each distance divison.
Ratings for all horses that ran in Britain in 2011, plus for all the best ones from farther afield, will appear in Timeform's Racehorses of 2011, along with extended essay treatment of all the star performers - Published: March 2012.
...........
SPECIAL OFFER: Pre-order Racehorses of 2011 at timeform.com/shop by Jan 31st and we will send you Racehorses of 2010 FREE! Read how excited we were about Frankel as a 2-y-o while you await your copy of racing history!

'.$sign_up['title'].'
'; } } ?>