Kevin Blake on the Ayr Gold Cup: Gulliver can defeat Buffer Zone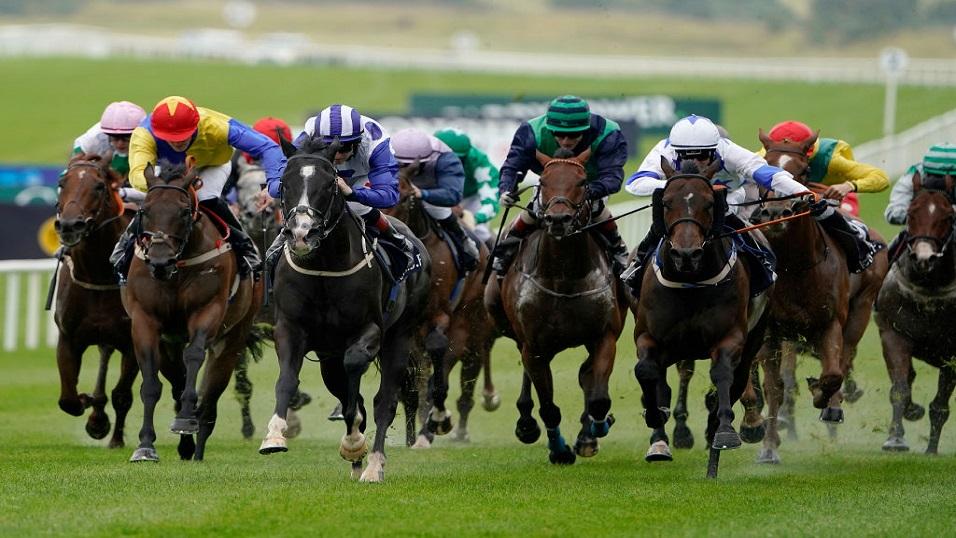 Buffer Zone (blue and white silks) winning at Curragh last weekend
Our new racing columnist Kevin Blake looks ahead to Saturday's Ayr Gold Cup and explains why he thinks Gulliver is the one to back. He also discusses the return of racing at Dundalk...
"While Gulliver isn't the most prolific of winners (5/38 lifetime), he has dropped back to a fair mark and is just 3lb higher than when gaining his latest win in a valuable handicap at York in June. By contrast with Buffer Zone, he has both won and run well when backing up within a week of a previous run in the past."
Having been spoiled for choice of what to cover by a feast of Group 1 action last weekend, the fare in the coming days isn't quite of the same class. But there is still plenty to get stuck into.
The big betting race of the weekend is of course the Ayr Gold Cup. One can usually rely on there being some cut in the ground at this time of year at the Scottish track, but this year's renewal looks set to be just the fourth since 2010 that will be run on ground officially described as good or firmer.
While it only took place last Sunday, the Bold Lad Sprint Handicap at the Curragh could well prove to be a highly-significant piece of form for this race. On the day, it was the Ger Lyons-trained Buffer Zone that emerged as the authoritative winner. Despite dwelling slightly at the stalls, he showed excellent pace to take a prominent position. Having travelled well, he always looked in control and prevailed by 1¾ lengths.
The four-year-old has improved 21lb in just four starts since joining Lyons from Roger Charlton and will be officially 3lb well in here under a 5lb penalty. The Bronze and Silver Cups will offer some clues of how the draw is playing, but that he is drawn beside one of the likelier pace setters in Major Jumbo is a positive.
Gulliver gets the nod
All told, Buffer Zone looks to have excellent claims on paper. Though, one note of caution is that this is by far the fastest that he has backed up from a run in his career thus far, so his ability to do so and show his best is unproven. With that in mind, preference is given to one that finished behind him at the Curragh, the David O'Meara-trained Gulliver.
Now, one wouldn't have needed to be Sherlock Holmes to spot him that day given how eye-catching he was, yet the market still seems to be underestimating his chance. On the day, Gulliver had an absolutely rotten run of luck. Having coming off the bridle in mid-division at halfway, he began to make headway when meeting traffic just inside the three-furlong pole.
However, that was only the beginning of his woe, as he found himself locked up with nowhere to go between the two-furlong pole and the one-furlong pole, leaving him with what looked in the region of eight lengths to make up on the eventual winner. The manner in which he sprinted home to get within 1¾ lengths of Buffer Zone was very taking indeed and he was clearly unlucky not to go much closer if not win.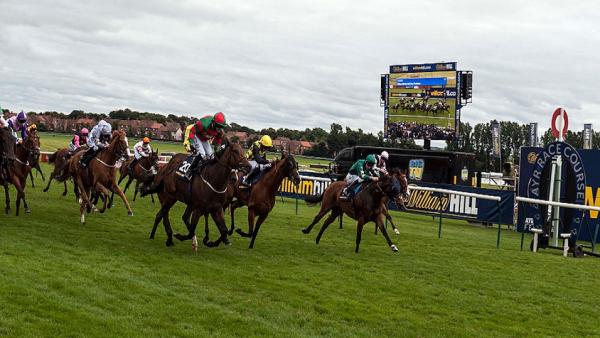 While Gulliver isn't the most prolific of winners (5/38 lifetime), he has dropped back to a fair mark and is just 3lb higher than when gaining his latest win in a valuable handicap at York in June. By contrast with the winner, he has both won and run well when backing up within a week of a previous run in the past. In terms of his draw, he is drawn in between Hey Jonesy and Louie De Palma, with Air Raid just a few stalls away, which should ensure there is good pace in front of him.
Such was the promise of Gulliver's run behind Buffer Zone, I am slightly surprised that he isn't challenging him for favouritism on 4lb better terms. He'd be a fair price at 9.08/1 and should make a bold bid granted more luck in running than he got on Sunday.
This Friday is notable for seeing the return of the Friday Night Lights racing at Dundalk. The Louth track hasn't raced since May 3rd, as their traditional mid-summer fixtures were taken off them by HRI following a significant controversy over the state of the racing surface.
There has been long-standing discontent from horsemen that the surface, which has been in use since 2007, needs to be replaced. With runner numbers having been lower than usually expected during the last winter season, the issue came to a head when a deputation of trainers and jockeys inspected the track both before racing and after the first race on a card on April 17th due to concerns over how the track was riding.
The pressure has led to Dundalk confirming that the Polytrack surface will be fully replaced after the conclusion of the upcoming winter season. In the meantime, they have added 54 tonnes of fibre to the surface in a bid to replenish it for the upcoming winter season.
In terms of how that will affect the surface from a form analysis point of view, the objective of adding it is to increase elasticity in the surface. The main reported issue with the surface during the last winter season was that horses were coming home jarred up from it, especially those that have a preference for an ease in the ground on turf. Thus, if one wished to speculate before the event, the hope will be that the introduction of fibre into the surface will make it sufficiently sympathetic for horses that want an ease in the ground to let themselves down it.
'Wild swings'
In terms of a broader point, while Dundalk tend to report their surface as riding "standard" every time they race, the reality is that there are often significant differences in the speed of the surface which are revealed by analysis of the race times. It is likely to come as a surprise to many regular Dundalk punters, but such analysis reveals that there are often wild swings in how fast the track rides, sometimes even on a week-to-week basis.
In terms of what causes these differences, the speed and depth of the surface can be impacted by natural means and human intervention. Rain tends to speed it up, while hot/dry weather breaks down the wax in the surface which leads to it riding deeper and slower. As well as that, the track management can effectively dictate how the surface rides based on how they work it with harrows and rollers.
It will be fascinating to see how the track rides tomorrow evening after the introduction of fibre into the surface. Regardless of how it does, if I had one wish for the forthcoming winter season at Dundalk it would be that the track takes a more proactive approach to attempting to accurately describe how their surface is likely to ride. That could take the form of much more specific updates being issued to the IHRB detailing how they think the track will ride based on the weather and how they have worked it in the days leading up to the meeting. That is information that would be valuable to both racing professionals and to the betting public, so it is something that should be encouraged.
**
Hear more from Kevin, as well as Gary O'Brien and the team at Timeform on Racing...Only Bettor, our new weekly podcast. First episode is here:
Read past articles