Hugo Palmer: Exclusive views on my four Saturday Runners at Newbury and Kempton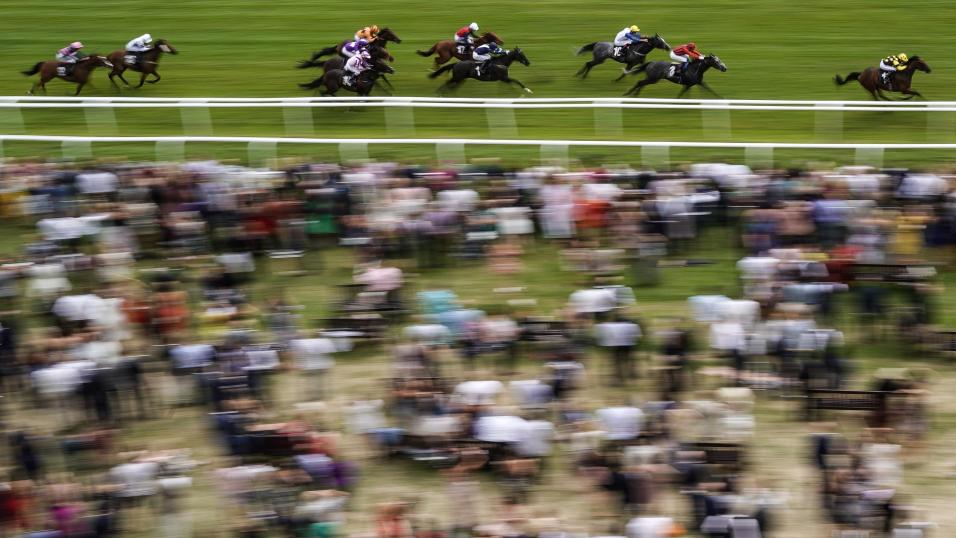 Hugo has some interesting runners at Newbury
The flat racing season is nearly at an end but Hugo Palmer still has horses out and here offers his thoughts on runners at Newbury and Kempton...
"There are a few useful but exposed runners in this contest, and then some like Almufti who are stepping up from wins in maiden or novice company. I think he's of the sort of quality that he can bridge that gap, but you don't really know until you try."
Form is promising for 'good horse' Almufti
14:50 Newbury - Almufti
Almufti is a gorgeous-looking colt who, from the moment he arrived here as a yearling, has had a certain swagger about him that good horses tend to have. I've always had it in mind that he was a good horse, and his work has suggested likewise.
So I rather blame myself for the fact that he disappointed on his first couple of starts, and I was too keen to run him on Lockinge day here in May, on a card sponsored by his owners. With hindsight, the ground was too fast for him that day, and he came back with a sore shin. He was absolutely fine subsequently, but when I ran him at Newcastle six weeks later, he again came back a little sore, so we had to take our medicine and give him the time that he'd twice told us he needed.
His first two runs, therefore, weren't terribly meaningful, but he got it right third time at Kempton when beating Alfurat River by three-and-a-quarter lengths with a bigger gap back to the third. I'm not sure how strong that form was at the time, but the runner-up and a couple of those further back in the field all won next time, so it's beginning to stack up nicely. His work since Kempton has been very pleasing and I think softer ground at Newbury will suit him very well.
There are a few useful but exposed runners in this contest, and then some like Almufti who are stepping up from wins in maiden or novice company. I think he's of the sort of quality that he can bridge that gap, but you don't really know until you try.
Well-bred Zofelle ready to impress
15:55 Newbury - Zofelle
She is a filly who rather caught us by surprise in the spring - there isn't much of her, but she rather suddenly announced herself as ready to work, so we worked her and were pleased with what we saw. It was no great surprise that she was able to make a winning debut at Doncaster, and the filly she beat comprehensively there, Accordance, won next time and was runner-up in the Group 3 Prestige Stakes at Goodwood afterwards. Unfortunately, she also suffered from sore shins after that run, and it was more serious than with Almufti, and hence she has been absent since July, although thankfully she has come back sound and looks to have improved.
I would have liked to have got more experience into her with a view to aiming her at races like the Rockfel and the Fillies' Mile, but those have passed us by, and her enforced break means we are having to step her straight into Listed company here.
Zofelle is a light-framed filly who doesn't take much graft to get her fit, but the downside to that is that in not having to do very much work, she hasn't had the opportunity to learn in her work and that inexperience could count against her. She shows some knee action, and gives the impression that she will handle cut in the ground, as offspring of Zoffany tend to. She's got plenty of ability, as she's already shown, and I'd love to think she can earn herself some black type, while she will be a much nicer filly next year.
Zofelle is owned by Lady Mimi Manton, who is the twin sister of Evie Stockwell, John Magnier's mother, and she was bred by Peter Magnier. She's out of a daughter of leading broodmare Brigid, who produced Fillies' Mile winner Listen and Moyglare Stud Stakes winner Sequoyah. I also trained a filly out of another daughter called We Are Ninety to win the Listed Fillies' Trial here a few years ago in Lady Manton's colours, and it's lovely to have such well-bred fillies. I'm very sweet on Zofelle, and hopefully she can do her family proud.
Newbury's long straight should suit Dukhan
16:30 Newbury - Dukhan
Dukhan's early season form is very solid, and maybe we rushed him a bit too much in the spring, wanting him to be good, while he probably came back too soon after being gelded as well. Anyway, he ran well at Ayr in July, and proved himself on easy ground in the process, so we gave him a break with end-of-season targets in mind. He's not a very big horse, and I could have run him at Doncaster on Friday, but there was quite a big difference in the weight he would carry compered to here, so that has shaped my decision. He is drawn wider than I'd like, so he's going to need luck, but it's a good long straight at Newbury which will help, and I hope that Jason (Watson) gets on well with him.
Trip may be an issue for El Ghazwani
20:45 Kempton - El Ghazwani
Trainers are always moaning about race planning, but it's a frustration that while there are currently plenty of 0-85 handicaps on the all-weather for mile-and-half horses, there aren't the same opportunities at ten furlongs, and that's where I would prefer to be running El Ghazwani if I could. I've quite a few horses in that category who I'd love to run on the all-weather before the sales, but there haven't been the opportunities to do so for a while. Thunderbolt Rocks clearly didn't stay a mile-and-a-half when we ran him at Newcastle recently, and I'm not entirely sure whether El Ghazwani will here. He didn't really handle the ground at Nottingham the other day, which is the case with plenty of other horses, and he'll be happier on polytrack, so if he does stay the longer trip, he should go well.

Discover the latest articles
Read past articles