Hugo Palmer: Exclusive views on my runners this Saturday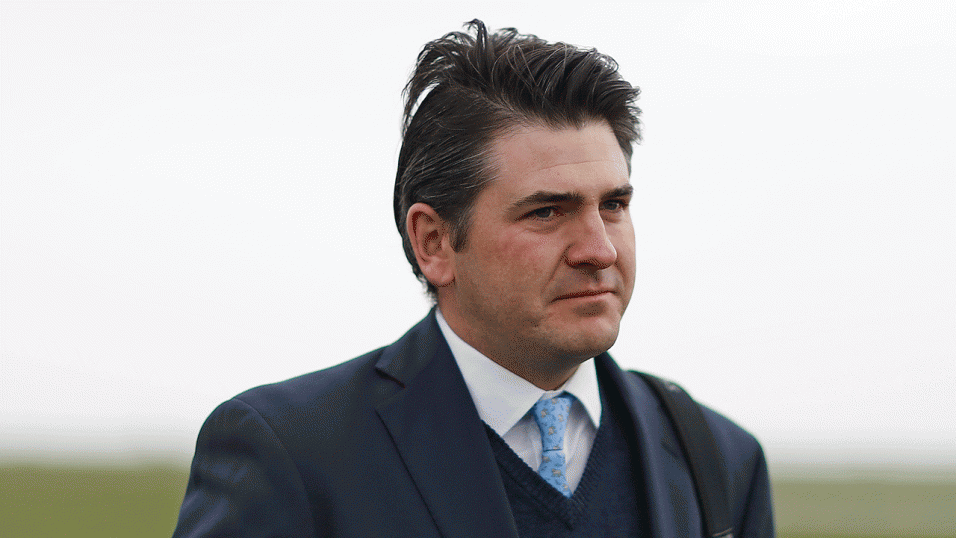 Hugo Palmer has two horses at Kempton on Saturday
Hugo Palmer has a host of runners around the U.K racecourses this Saturday. Hear what he has to say about them...
"That was very annoying at the time, although I accept that the atmosphere at the track is something good horses must prove they can handle, which is part of what makes the Derby the ultimate test of the thoroughbred."

- Hugo Palmer on Rashdan
She should be better than her rating
14:40 Kempton - Deira Surprise
I've always liked Deira Surprise, and she ran very well when second to Princess Margaret Stakes winner Princess Hideaway on her debut. I was excited by her chances there despite a big price, and thought it would take a good one to beat us, which is how it turned out.
She went to Thirsk where she disappointed when favourite, but she scoped dirty after that race, and we gave her time to get over that. She then came here the other day and almost certainly bumped into another smart one in the shape of Ralph Beckett's Sand Share. She's been a bit unlucky not to win, and while she isn't as good as her half-sister Unforgetable Filly, I've always had her pegged as better than a 78-rated filly.
I'd love to be running her in this sort of race on fast turf, but we can't always choose our opportunities; she's in good nick, shows that she acts on the surface and stays the trip, and I'd hope she won't be far away from a nice draw.
Positive about Rashdan
15:55 Ascot - Rashdan
We had really high hopes for him at Chelmsford last time, but he got very upset prior to the race as a result of the between-race entertainment conducted by the track and broadcast over the public address system. It certainly seemed good fun for the crowd, but proved a bit much for a few of the horses, including Rashdan, who got very hot and bothered, and had effectively run his race before it started.
That was very annoying at the time, although I accept that the atmosphere at the track is something good horses must prove they can handle, which is part of what makes the Derby the ultimate test of the thoroughbred.
I'd expect the atmosphere at Ascot to be less of a challenge, although I'm now glad that we didn't put him in the Shergar Cup, which would have been a real test for him. He will wear earplugs in the preliminaries to help keep him calm, and while he needs some rain, we are due showers tonight and tomorrow.
If there is not enough rain, we would reconsider running him, but as long as it is no quicker than good then he'll be ok, and he is a big horse with a very light weight in a valuable handicap, so I would be fairly positive about his chances.
Tenedos toughened up
17:00 Kempton - Tenedos
Tenedos has been a rather odd horse to train; his home work as a two-year-old was initially very good, but then he stopped working well in the autumn, but we thought we might as well give him a run for experience; he surprised us by absolutely bolting up at Kempton from Richard Hannon's Maaward, who Richard couldn't envisage being beaten, and who has won both subsequent starts.
We were starting to get a bit excited about Tenedos, but he's then had rumbling issues throughout this year, none of them remotely serious, but enough to disrupt his training, and any idea of running him in a novice before a shot at a classic trial went out the window.
He returned at Ripon in May, and it rained just before the start on fast ground, making it a bit slippy and he didn't enjoy the contours of the track in such conditions, and was brought home in his own time. He disappointed last time at Newmarket on fast ground, but pulled up a little sore and has needed time to get over that.
His work has been pleasing since, and he shapes as if he'll stay this far, as you would expect of a son of High Chaparral. His debut win came at this track, and so we're trying to align the stars as much as possible to get it right with him.
He's still very lightly raced and things haven't gone right for him this year, but he's posing more questions than he's giving answers at the moment, and we'd like to remedy that, so we can make some progress with him in the autumn. He's also been gelded since his last run, and I'm a firm believer in gelding for colts when their stallion potential is limited, as it is for most who haven't proven their pattern-race credentials by mid-summer.
It's rather counter-intuitive to say that gelding makes a man of them, but colts can be very sensitive and highly-strung, and gelding tends to remove those tendencies.
Tenedos has, touch wood, been more straightforward for the operation; a lot of the issues he's had would have been water of a duck's back for other horses, but the smallest thing would have had him walking round like his leg was about to fall off. Thankfully, he seems to have toughened up a bit since being cut, so I hope and pray we can get a clear run with him.
Bad draw
19:45 Wolverhampton - Delsheer
Delsheer is another who has had a slightly frustrating season, but he showed that he stayed at Wolverhampton last time, and while we've been looking for opportunities for him on soft turf, it's been one of those summers where the ground hasn't come for him at the right time. He needs to win this year, and we're coming back to Wolverhampton, where he ran well to be second to Sir Michael Stoute's Comrade In Arms in July. He had a bit of a cough after that, so had a couple of weeks in a field before we brought him back.
He's now ready to go again, and if the great British summer ever ends there should be plenty of opportunities for these soft-ground horses later in the autumn.
He's definitely hindered by being drawn nine of nine here, and we seem to be enduring a run of poor draws with our horses at the moment. I recall a time a couple of years ago when all my fancied runners kept getting perfect slots, and it was only the ones with no real chance, or starting out in maidens who got stuck out wide, but I suppose that's just the rub of the green, or rather the luck of the draw.

Read past articles