Hugo Palmer: Epsom reflections, this week's entries, and Royal Ascot running plans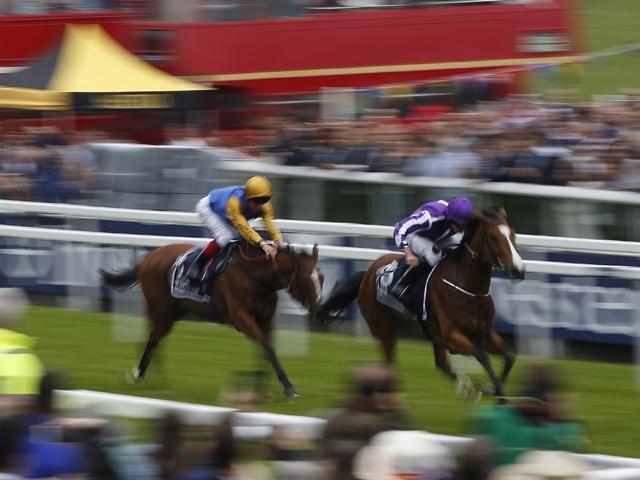 Architecture delighted Hugo Palmer when finishing second to Minding in the Oaks
In his weekly column Betfair Ambassador Hugo Palmer reveals his delight at Architecture's performance in the Epsom Oaks, tells us what's next for Hawksmoor, and talks about this week's entries plus next week's Royal Ascot running plans...

"She had a canter this morning, has barely lost any weight and has come out of the race remarkably well, so I have not totally ruled out the Ribblesdale at Royal Ascot next week for her."
Architecture ran the most wonderful race when second in the Oaks. She was given the most magnificent ride by Frankie, and for a moment she looked like winning.

We were just unfortunate to bump into what is quite clearly an exceptional filly in Minding, and they were eight lengths back to the third, and a further 14 lengths back to the fourth.

She is an enormously exciting filly to have in the yard, and we are all very proud of her, and now the question is where to go next.

You should never be afraid of one horse, but I would be lying if I said I wouldn't be keeping one eye on where Minding was going next. To do what she did on Friday after meeting trouble in running marks her down as an outstanding filly.

Any horse that wins two Classics is remarkable and we may have our work cut out if we try to prevent Minding achieving a third. That said, the Irish Oaks is an obvious target for Architecture.

She had a canter this morning, has barely lost any weight and has come out of the race remarkably well, so I have not totally ruled out the Ribblesdale at Royal Ascot next week for her.

It is odds-against, and unlikely, but it remains a possibility, and looking further ahead other options for her include the German Oaks, over a furlong shorter at 1m3f, in early August and the $1,000,000 Belmont Oaks over 1m2f on July 9, which is also a possibility for the Ribblesdale-bound We Are Ninety.

The German Oaks is worth 500,000 euros, 100,000 more than the Irish Oaks, which is quite remarkable when you consider the state of racing there and their funding problems.
Back up to Group 1s the likely step for Hawksmoor
Hawksmoor's win in the German 1,000 Guineas at Dusseldorf on Sunday was a dream start for the yard, having a first winner for her new owners Lael Stable.

It was a fantastic win in the circumstances. It felt like she was in the stalls for 10 minutes, maybe longer, beforehand and it was a warm, close and muggy day and she was running with sweat. Obviously, there was no wind in the stalls to cool her down, and James got very worried about her.

But in the race itself things panned out like a dream - or rather they did after one of the German runners nearly cut her in half early on - and she travelled with consummate ease before grinding it out close home.

I think she is very genuine, and she wears very small blinkers to help her concentrate. She is not the extravagant type who will win by four or five lengths, but she does try.

She has now won a Group 2 to add to her Group 3 and, as she will have to carry a penalty in Group 2 races I imagine we will go back to Group 1s with her. She will be entered in the Group 2 Kilboy Estate Stakes over 1m1f at the Curragh on Irish Oaks weekend on Wednesday morning, though.

Other obvious targets for her would include the Falmouth Stakes, and then you have races like the Matron Stakes, Sun Chariot and the Nassau, which could also be an option for Architecture.
More Epsom reflections
Banish was a head-scratcher when finishing a very disappointing last in the 1m2f handicap on Saturday. He was checked out by the vets afterwards, and they reported that he had an intermittently irregular heartbeat.

We will run all the tests we possibly can and look to see if there is a problem we can identify. If we cannot, we will run him on a more conventional track next time.

My bet is that he simply hated the track and, having walked the course for the first time on Friday morning, I can tell you that I probably had an intermittently irregular heartbeat afterwards, too!

Perhaps he got a fright coming down the hill but Oisin (Murphy) looked after him and I can tell you that he has been in screaming good health at home since. All in all, slightly frustrating.

There was nothing disappointing about Hyperfocus' fourth in the Woodcote, though.

After William (Buick) won on him on good to soft first time out at Leicester, he said he would prefer it faster, so Friday's ground was a doubt, even if Intense Focus' best son to date, Astaire, won a Gimcrack in the soft.

He coped with it well enough, and was only beaten under 3 lengths, but James (Doyle) said the ground definitely blunted his speed. The important thing is that James also said that the horse felt up to that grade, so we will look for quicker ground, and it was great to give his syndicate of owners an exciting day out.

We will go back to novice races with him now - if he had won then we would have gone to the Coventry next week - as he only carries a small penalty in them as it was a median auction at Leicester. And if he does well, then maybe we will think about the July Stakes.
A quiet week ahead
It wouldn't be one of the busier weeks for us, but we have Gimlet in at Newbury on Thursday. He wants rain if he is to run, but there are thunderstorms around and I didn't want him standing in his box if they arrive.

Peru won't run at Sandown on Friday but Extremity hopefully will in the 1m2f handicap on the card.

He has been working with Covert Love and working more like a 1m2f horse, so we are giving him his first shot at the trip. He is from the family of Shoot A Line, and hopefully he can start to erase the horrors of last year. If he doesn't stay, then we will bring him back to a mile.

Sacred Trust may well run at Sandown on Saturday. He bumped into two well-handicapped horses when fifth at Leicester last time, and was only beaten a nose and a head for third, so hopefully he will go well. Let's hope all of the handicap hotties will be running at Ascot next week.

On Sunday, Marshall Aid may go for a maiden at Doncaster, but our main runner of the day could be Twitch in the Munster Oaks at Cork.

However, Ireland have already had the "heatwave" that we are currently experiencing and they have pretty fast ground there. But I spoke to Chris Stickels at Ascot this morning and he said the wettest day they are expecting is on Sunday, so hopefully that rain will arrive via Cork on Saturday!

It is an expensive trip to Cork via Liverpool and Dublin, so I will keep an eye on the weather. She doesn't want it fast. If we didn't go there then it will be the Pontefract Castle on June 19, a track that she won at last July.

Ecureuil will run in the maiden at Salisbury providing there is rain. She doesn't want fast ground but she has come on well since her promising debut there and this race has been the plan ever since.

On the same card, Secret Insider is entered in the 7f handicap, and she has been scanned in foal in Helmet, so let's hope that helps.
Royal Ascot running plans
My running plans for Royal Ascot next week are as follows, but more of them next week.

Tuesday: Galileo Gold (St James' Palace Stakes), Copper Knight (Windsor Castle)

Wednesday: Gifted Master (Jersey Stakes - possible first preference at moment), Covert Love (Prince of Wales' Stakes providing there is no "soft" in the going description)

Thursday: Wall Of Fire & Zodiakos (Britannia), We Are Ninety (Ribblesdale Stakes, where Architecture is also a possibility, albeit odds-against at the moment)

Friday: Gifted Master (Commonwealth Cup - second preference as it stands)

Saturday: Spanish Squeeze (Wolferton)
Discover the latest articles
Read past articles