Hugo Palmer Season Preview 2017: The views on my star three-year-olds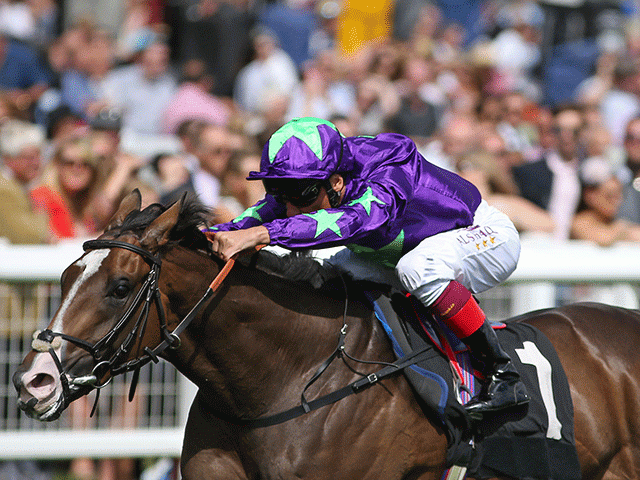 Hugo Palmer's promising 3yo colt Escobar will go straight to the 2,000 Guineas
It promises to be another exciting season ahead for Hugo Palmer and here the Betfair Ambassador talks exclusively to Betfair about his talented crop of three-year-olds...

"He looks a proper stayer in the making, and will be starting off over at least a mile and a quarter, bringing the Derby trials into play, and the Derby itself is the ultimate aim."

Hugo Palmer on Best Of Days
Escobar
3-y-o b c (Carmichael Jennings)

Some horses give you the impetus to dream, and this one has always fallen into that category. He's already won two races, so with him the dream is of going to the next level, and he is going straight to the 2,000 Guineas next month. We are following very much in the footsteps of Galileo Gold with him, and plan to take him for a racecourse gallop at the Craven meeting.

Given his ability, there isn't a three-year-old in the yard who could realistically lead him in that kind of gallop, and it's important to find the right horse for the job, so I'm very grateful to the owners and to Jessica Harrington for supplying a good older sprinter called St Brelades Bay, who arrives today to fulfil that role. Jessica owns a half-share in St Brelades Bay, so it's a very generous gesture on her part. Frankie will ride Escobar, and I very much hope he gives Frankie the same feel Galileo Gold did a year ago.

At present, his work excites me every bit as much as Galileo Gold at the same stage, but I'm aware they belong to different generations, and he's going to be tackling a different group of colts, so comparison isn't easy.

Escobar deserves his place in the Guineas, but three and a half weeks is a long time in any walk of life, particularly in young, maturing horses who must keep changing and improving all the time, and he needs to keep going the right way to justify that opinion, and that's also true of the other prospective runners. We will digest what happens at Newmarket before making further plans.

Via Serendipity
3-y-o b c (Ibrahim Araci)

Promised a huge amount at home as a juvenile, and travelled very well in his races, so it was a bit disappointing that he needed three kicks at goal to beat the keeper, although it turns out he ran into a good one at York on debut, so it doesn't look at all bad in retrospect. He's done incredibly well over the winter, and the trip will be well within his range, so I hope he can make up into a high-class miler.

I'm thinking of starting him in the Greenham, and while the ground can get soft at Newbury, both his action and his attitude suggest that all but extremes of ground will be fine for him. His work has been very good, and while it's debatable whether the Guineas is a realistic option, that's why we run horses in trials, hoping they can come up with a golden ticket, and we'll find the answer after the Greenham.

As with most unexposed horses, we are looking to his races for guidance, and if the Guineas is pitching too high, then it may be we campaign him towards the Britannia Stakes at Royal Ascot with the view to developing into a black-type performer by the end of the year.

Best of Days
3-y-o b c (Godolphin)

Another who is in the Guineas, but no doubt that this is the horse who is fuelling our Derby dreams. It was just his class which saw him win over seven furlongs on debut, and he got caught flat-footed (when beaten a nose) in the Acomb next time before winning the Royal Lodge over a mile. He looks a proper stayer in the making, and will be starting off over at least a mile and a quarter, bringing the Derby trials into play, and the Derby itself is the ultimate aim.

He's by a King George winner in Azamour out of a mare by High Chaparral, who has a Derby, an Irish Derby and two Breeders' Cup Turf wins on his CV. Looking at his pedigree and his demeanour, it's clear what his trip will be. He has done very well over the winter, and I'm very pleased with what he's showing me at home.

Manchego
3-y-o b c (C Humber/D Davidson/Mrs T Brudenell)

Runner-up on his only start, and a maiden should be a formality, but I expect such races to be even more competitive than normal this spring. A lot of big yards, including ours, had health issues with their horses last autumn, and as a result a lot of horses capable of winning maidens either didn't run or were limited in their opportunities, and those horses are in the pool of maidens this spring when many of them would normally be in better company.

Manchego's pleased in his work, and if we don't think along ambitious lines we'll never know; with that in mind, we will start off over a mile with him, and ideally he'd then step up to 10 furlongs for a Derby trial.

Three-year-old champions tend to get their act together quickly, and they can develop beyond expectation in the spring. Racing is all about dreaming, and horses like Covert Love show that you never know when and where your star performers are going to appear, so while we can, we will keep dreaming with these promising horses.

Unforgettable Filly
3-y-o b f (Dr Ali Ridha)

She's currently on course for the 1,000 Guineas and the aim is to go there via the Nell Gwyn, provided the ground is quick. She loves fast ground and was third in the Oh So Sharp Stakes at Newmarket in the autumn. That was over seven furlongs, but she shapes as if she will improve for a step up to a mile.

Provided she gives a good account in the Nell Gwyn, then we'll go for the Guineas and see where that takes us. Her work this spring has been very very pleasing.

Castleacre
3-y-o ch f (Saeed Manana)

We think she could be high class, but the question is whether she can get a trip. She does hold an entry in the 1,000 Guineas, but her work suggests she may not stay even seven furlongs. We will start her off over six next week and see how she goes.

She's a very fast filly, but also wants to be in a hurry a lot of the time, and if she wins first time, she might be good enough to go down the three-year-old sprinting route, while she may even have the speed to drop back to five furlongs.

Choumicha
3-y-o b f (Saleh Al Homaizi & Imad Al Sagar)

The first thing to say is that as a full-sister to Galileo Gold, she is potentially very valuable as a broodmare. She's already won her maiden and the aim is now getting black type. In that regard, we'd rather finish third in a listed race than win three handicaps.

She's a bit more relaxed in her work than her brother, so on paper she should stay beyond a mile, which would increase her options. My thinking is that a mile will be an absolute minimum for her this year, and while she's clearly not as good as Galileo Gold, I feel she will do well.

Harlow
3-y-o b c (C I Racing/Newsells Park Stud)

He's been a long work in progress, and although he was a Breeze-Up purchase, his breeder is of the opinion that he was the wrong sort of horse to go that route, and we've had to work hard to teach him to settle. He won on debut and I'm not discouraged despite him being beaten at Chelmsford last week, as he got too far back and didn't quite have the gears to get on terms. It was great to see him relax, though, and that's a bigger positive.

He's maturing all the time, and the immediate plan is to take in a 10 furlong handicap at Sandown where I think the uphill home straight will suit. If he wins, we might raise our sights, with the Dante a possibility - Jack Hobbs won the same Sandown race before taking that route a couple of years ago. He might need a bit more time than that affords, with the Tercentenary at Royal Ascot appealing as an alternative target for him in that scenario.

Fibonacci
3-y-o ch c (Al Asayl Bloodstock)

Just about the biggest horse in the yard at this stage, and while he looks strong enough to carry his frame, that can be deceptive. He was only third on his reappearance at Chelmsford where Ryan reported that he still felt very weak. It can take a lot more work to bring a horse with his physique to point where they can give of their best, and you only really find out when the chips are down. He ought to win a maiden sooner rather than later, but might not hit his peak until he's five. As a result, we'll take things gradually and not ask him too much before he's ready.

Omeros
3-y-o ch c (Chris Humber)

Won his only start last year, and has done well over the winter, but we didn't think it was appropriate to throw him into a classic trial. He is an intended runner at Kempton on Saturday, and we'll learn more about him there. He'll head down the handicap route all being well, but I'd be hopeful he could make up into a stakes horse by the end of the year.

Koropick
3-y-o b c (Ibrahim Araci)
Second in the Sirenia Stakes and ran well when fifth in the Middle Park, both times behind The Last Lion. He's grown over the winter, and I hope he can make up into a Commonwealth Cup contender. We won the Pavilion Stakes at Ascot last spring with Gifted Master and will campaign Koropick the same way, with the Sandy Lane Stakes at Haydock being the next obvious stepping stone.

Afandem
3-y-o b c (Hamad Rashed Bin Ghedayer)
He won four times over sprint trips as a juvenile, and will be campaigned in Group2/3 races at the minimum trip where we hope he can pick up a nice prize.
***

Hugo will be back next week to preview the Craven meeting, but he has also spoken exclusively to betting.betfair about his older horses for the current season.
Discover the latest articles
Read past articles