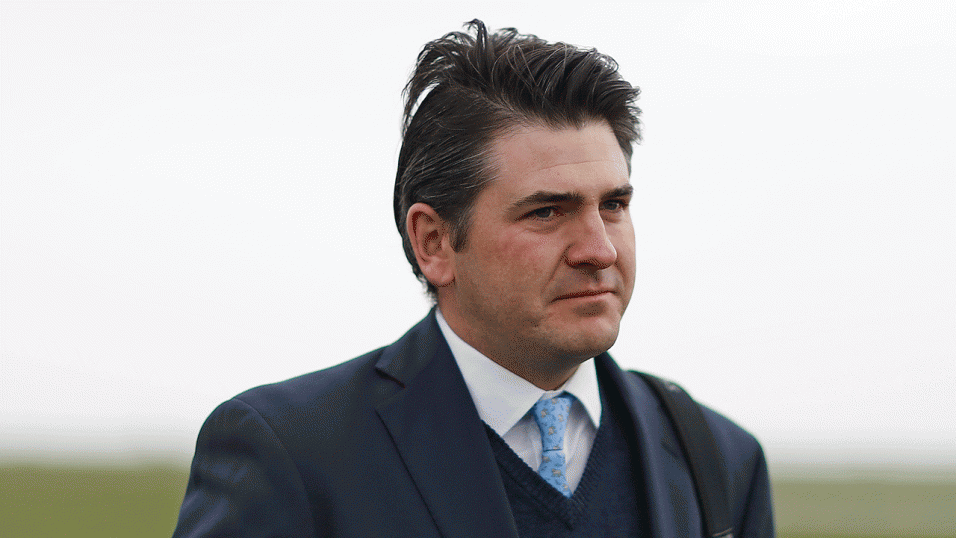 Hugo Palmer sounds a positive note ahead of the 2018 campaign
Hugo Palmer is in confident mood ahead of the 2018 flat season as he spells out in his preview...
"It's often a smug claim in British racing that our middle-distance horses are a match for anything the rest of the world can offer, but there is truth in it, and these are avenues that I will continue to explore."
We begin the season in a good place to beat last year's totals
Last season had its challenging moments, particularly with the horses not being healthy at a crucial stage in the spring, but the thing that gives me most satisfaction was how we as a team rose to that challenge and came through it.
We had our best season numerically with 78 winners, and while that came with a bigger team than in previous years, it wasn't massively bigger. We again broke through the £1m barrier in terms of UK prize money won, which made 2017 our second-best season by that measure, and if you strip out the exploits of Galileo Gold in 2016, the last two seasons are essentially very similar. It was obviously very frustrating that the horses were sick in the spring, but I think that they are in a much better place to start this year, and that augurs well as we look to beat last season's totals.
More than enough horses to be getting on with...
Winning another European classic with Unforgetable Filly, who gave us back-to-back wins in the German 1,000 Guineas was an obvious high point, although it was a source of frustration that we didn't win any stakes races with our juveniles.
A lot of those two-year-olds have won their maidens and might have progressed to contest pattern races if they weren't held up early in the season, however, so we now have a lot of unexposed, could-be-anything sorts to start the new campaign, and I'm pleased with how we coped with those challenges last year, and with the shape we are now in for the season ahead. In terms of the size of the squad, we have about 140 horses in, which is less than we had 12 months ago, but a similar number to what we had for our best season a couple of years ago, and more than enough to be getting on with.
We will chase prize money right across the globe
The racing game is increasingly international, and our ambition is to win good races not just at home, but around the world. Unforgetable Filly's win in Germany meant that our international forays in 2017 weren't fruitless despite some frustrations, and I'm determined to increase our haul this year.
Wall of Fire and Mask of Time both went close in Group races at Caulfield in October, which was a huge thrill, but it might have been so much better.
Wall of Fire got no run in the Dubai World Cup, a dreadful ride in the Belmont Gold Cup, and then was injured in the Melbourne Cup. Home of The Brave was undone by the draw in the Breeders' Cup and Gifted Master went to Dubai and got sick. It's great for the owners, and for us, to be able to compete in such races, and we showed with Mask of Time and Wall of Fire that we can take horses who are short of top-class here and be competitive at the top level abroad, at least beyond sprint trips. It's often a smug claim in British racing that our middle-distance horses are a match for anything the rest of the world can offer, but there is truth in it, and these are avenues that I will continue to explore.
Josie a joy
Another pleasing aspect of the last year has been the continued success of Josie Gordon as a rider, and I was delighted for her when she joined the list of jockeys to have ridden a century of domestic winners in a season. She did well for us as an apprentice, and I instinctively wanted to give her my backing when she joined the senior ranks, which although it didn't require a great deal of thought on my part, was quite a bold decision. It's been a relief, and a source of personal pride, to see that decision justified. Josie, for her part, has answered every call and been very much up for the challenge. She's become a key part of the team, and I hope she remains so for many years to come.
James and Josie will get lion's share of rides
In terms of riding arrangements, James Doyle has always been my preferred number one, but obviously he's contracted to Sheikh Mohammed, and William Haggas has recently made no secret of his admiration for him. That means I won't get him as often as I would like, but if and when he becomes available, I will use him.
One jockey whose services I won't have in the immediate future is Pat Smullen, and European racing as a whole will be poorer for his absence. Pat has given me some of the best moments in my life when he's ridden for me, with particularly happy memories of Covert Love winning the Irish Oaks and Prix de l'Opera under his handling, as well as several significant successes on stable stalwart Gifted Master and a brilliant effort on Short Squeeze at York - I wish him the speediest of recoveries, as I'm sure everyone does.
Josie will again come in for a significant share of the rides, but with so many meetings, we need others to call upon, and there are a team of jockeys who come down to ride out regularly. Ben Curtis, who rode out this morning, has ridden successfully for us in the north, and will continue to do so I hope. Danny Brock rides out every day and will get his chances, as will Jack Mitchell and Louis Steward.