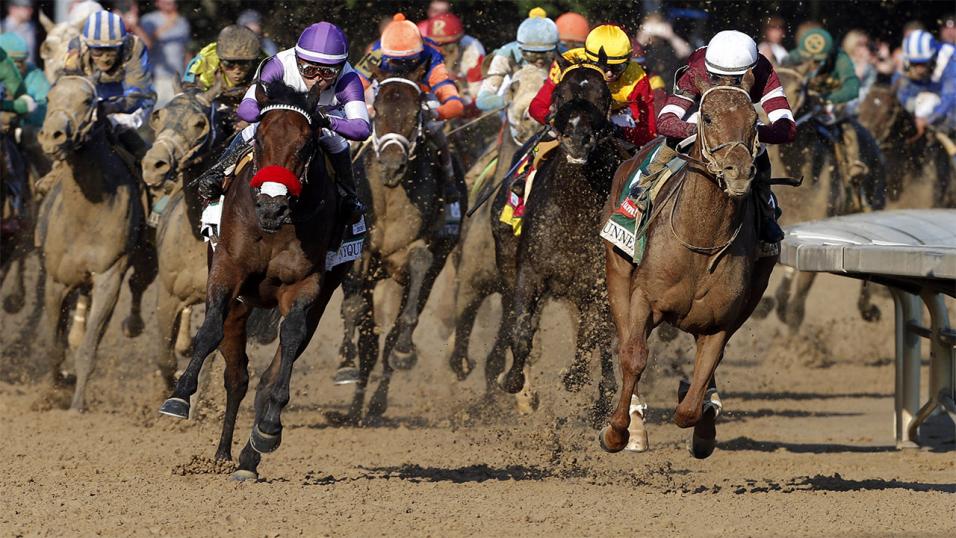 Jamie Lynch examines Justify's Triple Crown claims
Timeform's Chief Correspondent Jamie Lynch outlines the questions for Justify in the Preakness, as well as highlighting a potential Oaks contender for Epsom who's still under the radar...
"...horses aren't supposed to win a Kentucky Derby when pushing a pace that almost breaks 22 seconds for the first quarter-mile..."

Jamie Lynch on Justify
If you don't like an answer, ask a different question. Much of racing is creative problem solving, of trying to solve the right problem with a creative approach.
Take the two horses embarking on the Triple Crown trail on either side of the Atlantic. The pedantic pendulum has swung right across for Saxon Warrior, going from being too slow to win a Guineas to too fast to win a Derby, while the role reversal for Justify is hard to fathom, fathoming that he mightn't have been hard enough for a Kentucky Derby going in, but had too hard a race coming out.
Horses weren't supposed to win a Kentucky Derby without a two-year-old foundation, and horses aren't supposed to win a Kentucky Derby when pushing a pace that almost breaks 22 seconds for the first quarter-mile, as Justify did. Here we are, a fortnight on from Churchill Downs, with conditioning queries from a different perspective, his aggression assured after that, the question now of the impact of a fierce three months, wondering whether the flame can be so intense again so soon or if it may be extinguished by exhaustion, at least in part.
It's perhaps more an intrigue than an issue, given the mind of the master who trains him, Bob Baffert having masterminded the Derby-Preakness double with every one of the four horses who've been in that position, though there are no wider reference points for Justify, who's breaking new ground after breaking age-old records in terms of profiling a Triple Crown contender.
It's a black-and-white matter in the Preakness at Pimlico as it is in the Derby at Epsom, revolving around one horse, no sleep deprivation for Saxon Warrior from what he's seen in the trials, though Roaring Lion signposted in the Dante that he may be more the rival for him that he was at Doncaster as opposed to Newmarket, but the corners and contours of Epsom may be tricky for a horse without much of a steering lock.
It's a different picture in the Oaks, however, where Lah Ti Dar is clear favourite via a three-part mixture: by pedigree, by potential and by default.
The way is open in the Oaks for something to still come from left-ish field, even at this late stage, which brings us to the tucked-away 4.50 at Newbury on Saturday. Three years ago, a filly trained by Sir Michael Stoute and owned by Sir Evelyn De Rothschild reappeared in this Newbury listed race and went off as short as 7/2 at Epsom. Crystal Zvezda spoiled her chance in the Oaks by pulling hard and wasted her talent thereafter, but lightning needn't strike twice, with another Crystal for the same team.
The Oaks trials in Britain have felt like GCSEs rather than full-on graduations, but Give And Take's hard-fought win in the Musidora- with Highgarden back in fourth - was significant for this latest uncut crystal, Crystal Hope, who had smashed them both up in a novice event at Sandown last month.
It's difficult to win by as far as Crystal Hope did - by three lengths - when they went as steady as they did that day, not least when there was at least one Group-class filly amongst the opposition, and her surge up the hill in the last 100 yds was striking and stirring in equal measure, qualifying for a big upgrade on sectionals analysis.
Crystal Hope isn't entered in the Oaks, but the owner's recurring spot on the Sunday Times Rich List means that funds can probably be found if there was cause to supplement her into the Epsom field, and Newbury could turn a cause into a contract.
On Saturday, it's up to Hope to justify the hype, and up to Justify to add hope to the hype that he's the new equine superstar.