Jamie Lynch's Weekend Preview: True Mason remains with true potential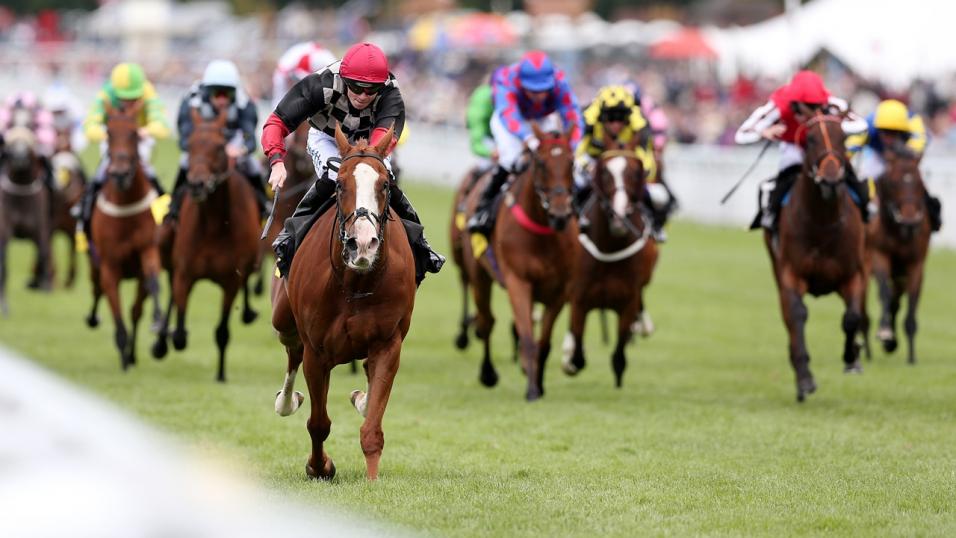 Jamie Lynch looks towards the Mill Reef this weekend
On his way to singling out one in the Mill Reef, Timeform's chief correspondent Jamie Lynch takes an overview of the classy cast of two-year-olds we've got this year, in the context of some of the heaviest-hitting juvenile crops in history.
"True Mason looks like he's still building up, for a stable on the crest of a wave, one that won the Mill Reef in 2014..."

Jamie Lynch
A benchmark is a pathway to the future and a partnership for the past. Frankel is racing's benchmark, the monster measurement against which everything before him, and everything after, is compared. Frankel's peak rating of 147 is beyond compare, though we have not - and maybe dare not - compare it to Secretariat, whose era was before Timeform made transatlantic calculations, but Frankel's first-season figure, of 133p, is unusual if not unparalleled.
Nor is it out of reach for the current crop, given the power-players that are stacking up, the front-liners beginning to bang heads and the second-wavers pushing them up, a collective strength amongst two-year-olds that's as rare as it is riveting.
If this turbo-charged group was a boy band, based on the stereotypes within the magic formula, Too Darn Hot would be The Dreamboat (sexy and stylish), Quorto would be The Bad Boy (bearded, tattooed, slightly smouldering), Ten Sovereigns would be The Mysterious One (unmanufactured, with a subtle suaveness that sets him apart), Anthony Van Dyck would be The Loner (strong and silent type who seems that bit older than the others), and Sangarius would be The Boy Next Door (naïve optimism that tends towards vulnerable). And Calyx 'did a Robbie' and left the stage at the peak of his powers...but will be back.
All these are on a collision course, maybe next year, but maybe next month, the makings of an epic Dewhurst, potentially like the 1984 renewal for standard and star quality when two heads was all that separated Kala Dancer, Law Society and Local Suitor at the line, earning Timeform ratings of 129, 129 and 128. But even those numbers look lightweight when put against the top trio of two-year-olds of 1970.

When history talks about Mill Reef, the words are the pictures of his middle-distance majesty, in the Derby, King George and Arc, but to focus fully on that is to underestimate what he did as a youngster, in the company of others, as 1970 produced not one, not two but three powerhouse juveniles who each broke the 130 barrier, Mill Reef rated 133, which was 1 lb behind My Swallow and 1 lb ahead of Brigadier Gerard. Beyond Frankel, those boys are still the brotherhood benchmark for the two-year-olds.
None of the juveniles entered in the race named in his honour will be threatening that threshold on Saturday, but what goes into the Mill Reef sometimes bears little resemblance to what comes out, such as Ribchester in 2015 and Harry Angel the following year, while only Polydream's pretty head prevented James Garfield from winning a Group 1, in France, this summer.
Polydream was the girl who stood up to the boys in the Prix Maurice de Gheest, which has been something of a trend of the past few months if not the past few years, and, as far as the sprinting two-year-olds are concerned, the female of the species is more deadly than the male. Or at least most of the males, Ten Sovereigns and Calyx excepted.
But the beauty and brilliance of both Pretty Pollyanna and Signora Cabello sends us towards True Mason in the Mill Reef, because he beat all bar that powerful pair when third in the Group 1 Prix Morny at Deauville last month, prior to which he'd been beaten just a length, again by Signora Cabello, in the Prix Robert Papin. That form is about as good as anything brings to the Mill Reef, and True Mason looks like he's still building up, for a stable on the crest of a wave, one that won the Mill Reef in 2014.
Everything begins and ends with Frankel, including this article. Without Parole surfed to significant success early in the summer, but, in general, the three-year-old tidal wave hasn't materialised, regards Frankel the stallion, meaning he's still resting and relying on his first crop, the light of which has gone out a little in Cracksman, therefore thrusting the weight of creeping expectation upon his slower-burners, Mirage Dancer chief amongst them.
Patience is the go-to word when describing Sir Michael Stoute's MO, but that undersells what he does and when he does it, and in 2018 he's certainly hurried Mirage Dancer along to get him where he needs to be, running as much this season as his first two combined. But the pushy plan is working given the detectable difference in Mirage Dancer at Goodwood, of less thought and more action.
He's not ready for the deep end as yet, hence his participation in the Legacy Cup, under a penalty, but it's a day of high importance to him, to Stoute and to Frankel, needing to pass this test to map out something altogether more meaningful for him as a five-year-old, in the style of Poet's Word, who has left his shoes outside Mirage Dancer's box for him to fill them.

Minimum Bet Guarantee
Betfair's 'minimum bet guarantee' on all Class 1 and 2 races in the UK and Ireland - which means all customers are able to bet to win a minimum of £500 - has been extended to cover all races at selected meetings this week. T&Cs apply.
Read past articles