Jamie Lynch King George VI Chase Preview: Might be a cracker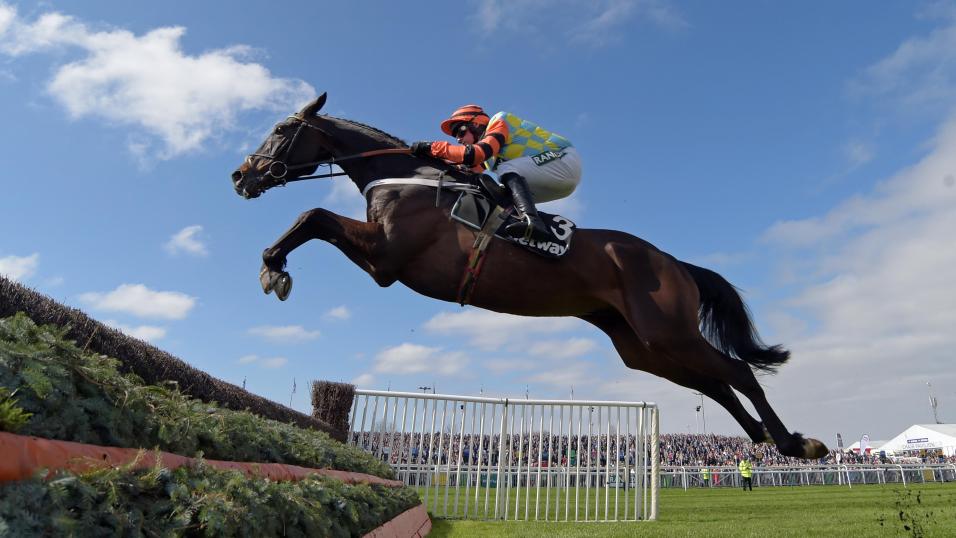 Might Bite bids to get back to winning ways in the King George VI Chase - a race he won last year
Timeform's Jamie Lynch previews the big-race action this Christmas, including the King George VI Chase...
"...looks a monster in the making, a dotted line already connecting him to the 2020 Gold Cup, via the 2019 RSA..."

Jamie Lynch on Santini
The range of enthusiasts, the range of excitement and the range of expectation about racing's festive menu next week can be encapsulated in a corrupted version of the Twelve Plays of Christmas, concentrating on the quality quintet at the end of the Christmassy countdown, where the highest-profile horses assemble.
Twelve doubters doubting, eleven punters punting, ten triers trying, nine not-offs nudging, eight bets requested, seven refers to traders, six layers not laying...
Five Would Be Kings
The beauty of this year's King George is its strength in depth, not the normal monopoly or duopoly. Twelve of the last thirteen King George favourites have gone off at shorter than 2/1, including four odds-on shots, but it can't happen this time around, not when there are five would-be kings - in fact make that six - and not when the favourite is coming in cold.
If anything, the consummate comebacks from the other two of Henderson's Holy Trinity, Buveur d'Air and Altior, make Might Bite's dull display at Haydock that bit more bewildering and bothersome. It might have been the fences, it might have been his fitness, as we've been here before with Might Bite, who was beaten first time out in his first three seasons, at odds of 6/5, 9/2 and 1/2.
All the same, he was a little too toothless for comfort, and the King George is a little too close for comfort, only four weeks on, making the odds a little too short for comfort, his present price and position in the betting seeming to overlook Haydock and underplay the opposition, four of whom are within 4 lb of Might Bite on Timeform ratings, while another, Native River, is ahead of him, having finished ahead of him the twice they've met.
They all have a conjectural cross to bear, the pressure point for Native River being that the King George will be around a full minute shorter in the completion than when he won the Gold Cup, and the hard yards are his best yards. The opposite is true for Politologue, who may be literally and figuratively cruising for a bruising by galloping for a minute or so longer than he ever has before, and though this course and distance was a greatness generator for Thistlecrack in 2016, still his peak performance, the very fact it's still his peak performance is a cause for some concern.
Then we have the two contenders that are the hardest to assess and therefore price up: Bristol de Mai because his resting rate is different to his superstar spikes, and Waiting Patiently because we don't know how fit he is and, moreover, we don't know how brilliant he is, undefeated so far over fences, including taking care of Politologue in his earlier days and Cue Card when he was last seen.
In practice, diving straight into the shark-infested deep end after a ten-month absence may be a shock to the system but, in theory, he's got the tools and talent for the job, at a track and a trip that should serve him very well, and there's a chance - probably more than a 17% chance that the odds imply - that this is the day that Waiting Patiently has been waiting patiently for all along.
Four Stalling Birds
Christmas brings family together, but a drone can keep them apart, and Gatwick grinding to an absolute halt spells despair and disaster for the millions of people who have to watch on the news those vacuous vox pops of commuters complaining that they're stuck, like nobody has ever been stuck before, like it was done for public humiliation and not for public precaution.
Christmas is equally a crucial time for some headline horses whose flight path isn't as planned, four of them in particular at a career crossroads, either grounded by the ground or not yet at at the anticipated altitude.
Samcro is the first one that springs to mind, from the second coming last season to coming second this one, the reason being that a) he's not a two-miler; b) he's not as good as we all thought; c) he's not yet at full power.
The popular theory is 'a', in that whatever he is he's not a Champion Hurdle winner, especially after being taught a lesson by the current champion hurdler at Newcastle, and yet Gordon/Gigginstown are sticking steadfastly to that original plan, though alternative avenues will surely have to be explored if the golden goose fails to lay a golden egg this Christmas, hence the seriousness and significance of the Ryanair Hurdle to Samcro's season. It's now or never.
For Footpad, it's simpler, less of an MOT and more of a repair job, following his focus-free fencing at Naas, making the Grade 1 Chase at Leopardstown on the 27th a critical checkpoint, but we know from certain days, and certain data, last term that he's championship class, perhaps the only agitator to Altior in the division. Finding fault with Faugheen is harder, for all he's done, but the Christmas Hurdle is the mother and father of tests for him, to see if indeed Mother Nature and Father Time have combined to catch up with him.
If it's the beginning of the end for Faugheen, last spring was only the end of the beginning for Laurina, ready to follow in his footsteps, but time is pressing for her to show it this season, delayed time and again, not to say that Christmas is the point of no return for her, though she'll need to strut her stuff sooner rather than later if she's to bang heads with Buveur.
Three Fresh Heirs
Laurina looks an heir apparent, though she fits better in the stalling birds category at this stage, but there are umpteen up-and-comers in various divisions who are destined for the top, for whom Christmas is a crucial checkpoint in their climb, shortlisted here to three.
Getabird could be classed as an underachiever so far, suffering from Festival stage fright over hurdles, but there was a dynamic difference in him in his first foray over fences, looking a natural, and looking to have the Grade 1 (over 2½m) at Limerick on the 26th at his mercy, though only then can it be determined if his line-fluffing days are behind him.
Part of the reason he's going to Limerick, rather than Leopardstown, is perhaps because Mengli Khan had already ringed the Racing Post Novices Chase in his diary, following a faultless chasing debut at Punchestown which confirmed that his build matters more than his blood, bred for the Flat but built for fences. Coeur Sublime likewise has a Flat pedigree, but one run (and win) in that game was enough for him to be whisked away by Gordon Elliott, to become a juvenile hurdler and potentially the juvenile hurdler, his narrow defeat at the hands of stablemate Chief Justice at Fairyhouse just a bump in the road, more a means to an end, as he'll prove in the Grade 2 at Leopardstown on the busiest of Boxing Days.


Two Head-to-Heads
Everything about Laurina also applies to Presenting Percy, time running out for him to be out running in time for Cheltenham, but all being well and wet he'll head to the Savills Chase (formerly the Lexus) for a heavyweight head-to-head: Presenting Percy vs Road To Respect.
If it materialises, the former will have to be at the top of his game to beat the latter, as Road To Respect had a mechanical merciless about him at Down Royal that suggested he had improved again since finishing fourth in last year's Gold Cup. Presenting Percy has never been orthodox, and taking part at Leopardstown probably matters more to him than taking down Road To Respect, to get him where he needs to be.
The standard so far isn't that high amongst the novice hurdlers, Quick Grabim the current chip leader, and he's the only horse to have beaten Triplicate this season, making him a meaningful measurement for Tornado Flyer if they square up in the Future Champions Novice Hurdle on the Saturday.
In between wins, finishing third in the Champion Bumper at Cheltenham was some achievement by Tornado Flyer, considering his immaturity, and his silky-smooth success on his hurdling debut at Punchestown barely scratched the surface of his ability. That was 2½m, but he has gears aplenty, and Tornado Flyer has 'Supreme Novice' written all over him, more so than team-mate Quick Grabim.
And a Crack Chaser Called Santini
Santini looks a monster in the making, a dotted line already connecting him to the 2020 Gold Cup, via the 2019 RSA, but, odd as it may sound after that sort of fanfare, he could be vulnerable in the Kauto Star Novices Chase at Kempton on Boxing Day. That's partly because he's full of substance and stamina, not speed and swagger, which means Kempton may be his Kryptonite, especially in a field where virtually every novice chaser who has looked above-average this season has a date with this Grade 1, chief amongst them La Bague Au Roi and Bags Groove, both nimbler types than Santini, and packing more experience.
Santini could lose and still win, in the sense of getting a vital lesson in jumping at pace that will sharpen him up for his main objectives ahead, specifically Cheltenham, where he can gallop and grind to his full extent. The Kauto Star could be the race of Christmas, and, whatever happens, Santini could still be the horse of the season, and maybe the era.
Minimum Bet Guarantee
Betfair's 'minimum bet guarantee' on all Class 1 and 2 races in the UK and Ireland - which means all customers are able to bet to win a minimum of £500 - has been extended to cover all races at selected meetings this week. T&Cs apply.