Jamie Lynch's Glorious Goodwood Preview: Super subs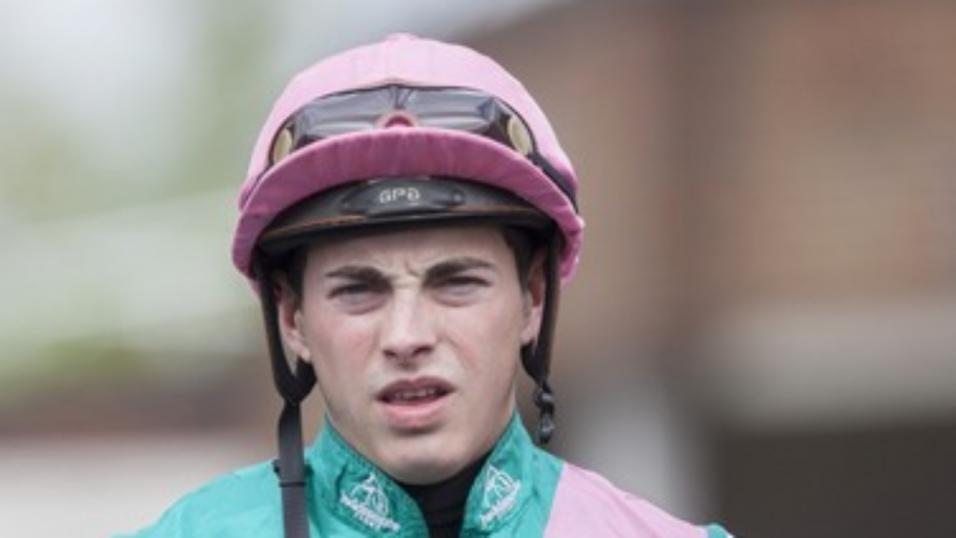 James Doyle is one of the super sub jockeys in action over the next week
Timeform Chief Correspondent Jamie Lynch takes a look at the super sub jockeys taking part at in the King George and Glorious Goodwood 2018...
"For James Doyle to be matching him [Ryan Moore], on 72 classy call-ups, says something about his roving role but more about his art and craft..."
Because of Frankel's abundant ability, the 2011 St James's Palace Stakes was the one he got away with rather than the one that got away, but horse, trainer Sir Henry Cecil and rider Tom Queally probably needed that misstep in order to never again put a foot wrong, resulting in an unblemished and unparalleled career that proved the power of an exclusive relationship, the jockey and the juggernaut fusing for an unbreakable unit.
For Frankel and Queally, knowing and growing each other, it was a case of familiarity feeds intent, the way it also was for Sea The Stars and Mick Kinane and, the debut apart, for Justify and Mike Smith, the plug prematurely pulled on Justify's electric era but one of those for whom the more time that passes the more appreciation there'll be for his accelerated achievements.
These days of big-money retainers for the top jockeys, on behalf of owners as much as trainers, is for precisely that reason, a team-building exercise designed to oil the wheels of equine development, whereby a regular rider's input can augment the horse's output, but there are inevitably times when the link is broken, on grounds of injury, suspension or, sometimes, favour. That's when a 'super-sub' is sought, and this is the week of the super-sub, prompted partly by Frankie Dettori's ban, but also the simple fact that never in the field of racing history was so much owned by not many to focus on so few.
Here's the super-sub list from the last five years, determined by jockeys called upon to ride (for the first time) an established Group-class horse, rated 115 or higher on the Timeform scale.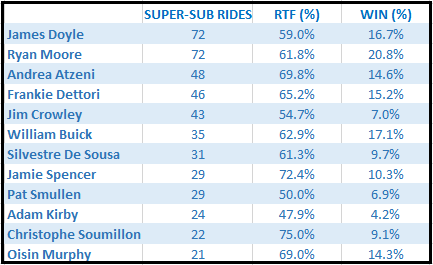 It's clear, looking at the index, which includes the percentages for running to form (RTF) and winning in the spelled-out scenario, why Doyle, Atzeni and Buick are the in-frame names for the superior spares. William Buick steps in for the Coolmore-contracted Ryan Moore aboard Crystal Ocean in the King George, Andrea Atzeni is the beneficiary of Dettori's ill-discipline by sitting atop Gosden's twin turbos of Stradivarius and Without Parole at Goodwood, while James Doyle fits the 'best available' bill for Juddmonte, becoming the fourth different rider of Expert Eye in just seven starts.
Formerly retained by Juddmonte, and presently ingratiating himself with Sir Michael Stoute via his work on Poet's Word, Doyle had an 'in' with Expert Eye, but he's the go-to guy anyway, as the numbers show.
The advantage of being the world's best rider, or Ryan Moore as he's also known, is that he can jump aboard O'Brien's and Stoute's (to name but two) heavy-hitters as and when they start to throw the big punches, explaining his high number of 'super-sub' rides in the past five years, to do with his position, prestige and pulling power. For James Doyle to be matching him, on 72 classy call-ups, says something about his roving role but more about his art and craft, encompassed by his exhibition at the Curragh on Saturday, not only the poetry in motion of Sea of Class but also the other compositions in his Group-race treble, riding both Marie's Diamond and Larchmont Lad for the first time.
In these higher-profile cases of new relationships, more often than not, when a door is opened and a different rider is put up, a 'do not disturb' sign is also put up, in the simple sense - and simple objective - of not undoing all the good work by one or more other jockeys in getting the horse to a stakes-class standard, and, by definition, a horse of that calibre is usually, by then, fully formed and fully armed. Forewarned is forearmed for the incoming rider.
To that end, the task elementary and even enjoyable for Buick and Atzeni aboard Crystal Ocean and Stradivarius respectively, as both horses are at the peak of their powers, facing courses - and, in Stradivarius' case, horses - that they've conquered before. What's more, this won't be the first meeting of Stradivarius and Atzeni, as they've previously teamed up twice, successfully so, including in last year's Goodwood Cup.
It's the other saddle switches, colliding in the same race, where all the interest and intrigue lays, as the influence of the rider increases when their horses are less robust. Without Parole is a developmental horse and Expert Eye might just be a mental horse.
Such a slanderous comment is, of course, unfair and unjust on Expert Eye, but the wiring isn't - or at least wasn't - right somehow and somewhere, because how else do you explain the depressing dip between the pinnacle points of the 2017 Vintage at Goodwood and the 2018 Jersey at Royal Ascot?
The latter, one of the performances of the week, puts Expert Eye, on Timeform terms in Wednesday's Sussex Stakes, just 1 lb behind Without Parole, who has visibly had his hand held by Dettori through both the Heron Stakes and the St James's Palace, which he won, all out, by less of a margin than Frankel did in his wobbling way in 2011.
Andrea Atzeni has the highest RTF ratio but the lowest winning percentage out of the super-sub riders in focus, and he has the most pressure from the riding rearrangements; pressure that comes with a favourite, pressure that comes with an unbeaten horse, and pressure that comes from the other horses and jockeys that are painting a pre-race target on his back, including Expert Eye and Doyle.
It's a matter of forward defensive for Atzeni, the corridor of uncertainty between being not so forward as to enlarge the target but not so defensive as to ask for trouble, while for the supplemented Expert Eye, and his supplemented rider, it feels like a free hit and a big swing of the bat, something that chimes with the all-or-nothing horse and the confidence-swelled rider. This could be Sea of Class mark II.
Read past articles