Jamie Lynch's Weekend Preview: Dewhurst pointers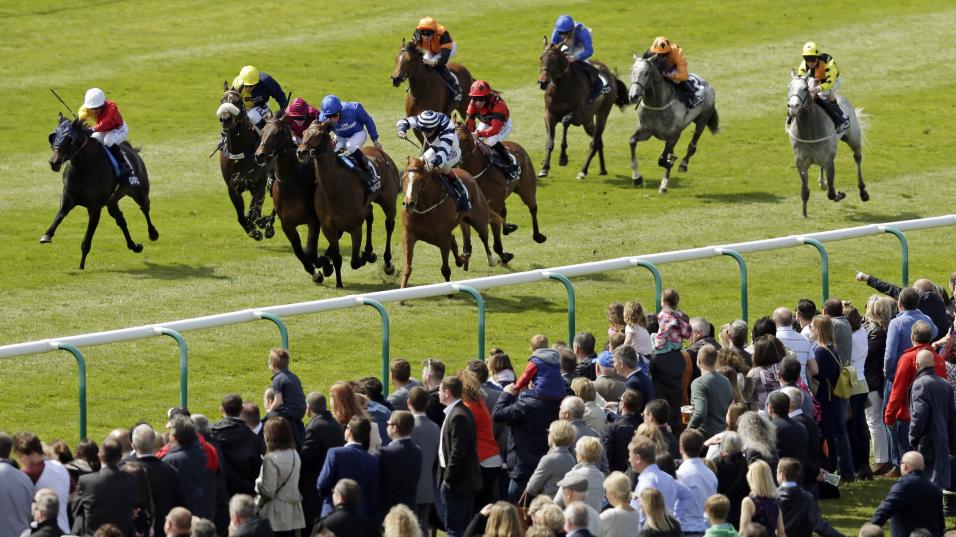 The Dewhurst Stakes is one of the big races at Newmarket this weekend
Timeform's Jamie Lynch paints a bigger picture of the two-year-olds ahead of Saturday's Dewhurst Stakes at Newmarket...
"In the last quarter of a century, this is only the fourth time that two juveniles rated 120+ have squared up..."

Jamie Lynch
The power pyramid below illustrates the beauty of this batch of juveniles, and the dynamic dimensions that mark this generation out from most others, because of the strength in depth: the strength at the top end with four two-year-olds already rated 120+, and the depth of heat from the pressure pot underneath them with so many simmering starlets turning up the temperature.
Interactive and inter-connecting, some of the personnel and positioning will change within the pyramid in light of the Dewhurst, hence its importance, as a part of the sum. But the sum of the parts is the pyramid itself, as well as the equation to the Guineas, requiring all the pieces of the juvenile jigsaw to clarify the picture, not just the fragments from the Dewhurst, however finite it feels.
Two of the fearsome foursome at the peak of the pyramid are running on Saturday, but why aren't the other two? It might be mind games, of one being minded, and a mind already made up for the other, seeing him as a class horse but perhaps not a classic horse.
The perception is protection for Quorto. Tis better to have loved and lost than never to have loved at all. But Charlie Appleby may still be subconsciously scratching the scars of loving Emotionless and effectively losing him in the Dewhurst. Quorto has more to lose than gain by diving into the Dewhurst, as he's already a Group 1 winner, in the National Stakes, with a rating (and a matching timefigure) out of it that would have made him the top two-year-old in four of the last five years.
It's not the hope that kills you in the present but what killing the hope does for your future, and Godolphin aren't about to do that with their prized possession. Plus they've got a vested interest by proxy with Anthony Van Dyck acting as ambassador for the National Stakes, a National Stakes that Aidan O'Brien understandably used to gear up a glut of Gallileos, with Christmas and Mohawk in support of Anthony Van Dyck. So what was Land Force also doing in there?
If it looks like a sprinter, runs like a sprinter and is bred to be a sprinter, then it's probably a sprinter, and O'Brien duly campaigned Land Force as such, through the Norfolk and the Richmond to the Prix Morny, before a sudden and surprising switch to seven furlongs at the Curragh. It may have been less of a target and more of a trial, not for Land Force but for his father's force.
Aidan O'Brien has unwrapped six sons of No Nay Never so far, running 33 times between them, and all over five or six furlongs, bar once when Land Force tried (and failed) in the National. By then, mid-September, Ballydoyle knew what was coming with their nuclear No Nay Never warhead, Ten Sovereigns, but perhaps not where he was going. Is it possible that Land Force over seven furlongs was as much a genetic test? It's certainly possible, given how forward-thinking Coolmore is in its dedication of making blueprints and not just blue-bloods.
In the aftermath of Ten Sovereigns' playful power-grab in the Middle Park, where he treated Jash as more of a pest than a threat, Donnacha O'Brien made it pretty clear that his speed is his strength. Donnacha O'Brien also rode Land Force in the National, when you might have expected him to get to grips with one of the Galileos going spare, either Christmas or Mohawk.
The input of the rider, and the influence of the sire, as well as a lesson learned from U S Navy Flag, may mean that the Guineas is already off the table for Ten Sovereigns, otherwise he'd have dipped into the Dewhurst for a stamina steer. It's all about the Guineas for Quorto, whereas the Guineas is probably not what it's all about for Ten Sovereigns, different sides of the same chip that neither is calling with this weekend, instead folding for another day.
But, without them, we've still got a doozy of a Dewhurst. Taking the average of the top three on pre-race ratings, there have been only three higher-standard juvenile races than this season's Dewhurt in the last twenty-five years, and two of those were from the same crop, in 2007, involving New Approach, Raven's Pass and Rio de la Plata, who individually and collectively boosted that year's National and Dewhurst. And then there was the 2010 Dewhurst, in which Frankel, on 129p, wasn't even Timeform top-rated, because Dream Ahead had run away with the Middle Park by nine lengths a fortnight earlier.
In the last quarter of a century, this is only the fourth time that two juveniles rated 120+ have squared up, Too Darn Hot and Anthony Van Dyck coming from different directions but packing the same sort of heavy-weight punch. And the magic of this Dewhurst is that it blends proven power with planetary potential, because Sangarius could likewise be something special.
Too Darn Hot is likely to be too darn streetwise for him, and too darn speedy for Anthony Van Dyck, but the power pyramid, though coming to a point in the Dewhurst, still points towards the Guineas, and any of those who may not match Too Darn Hot this weekend could easily have transformed by next spring.
Galileo is the light to the darkness around the data for No Nay Never, in the sense that O'Brien knows exactly what they do, and exactly what to do to get it out of them, and Anthony Van Dyck looks very much Galileo's son.
Take the Dewhurst for what it is - a juvenile race of rare quality - but don't take it as read that whoever wins it is in pole position for the Guineas, because this two-year-old tide has waves behind waves and some big sharks not yet breaching the surface. The Dewhurst is decisive, but it's not definitive, and this particular power pyramid will take months if not years to complete for a golden generation.
Minimum Bet Guarantee
Betfair's 'minimum bet guarantee' on all Class 1 and 2 races in the UK and Ireland - which means all customers are able to bet to win a minimum of £500 - has been extended to cover all races at selected meetings this week. T&Cs apply.