Point-to-Point Scene: Time to find another Denman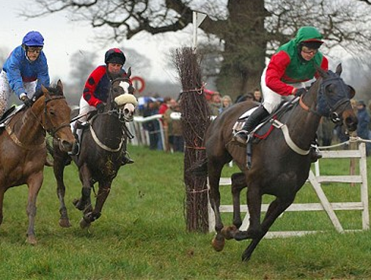 Irish Point-to-Pointing is a source of many winners under rules
Richard Pugh provides us with his horses to follow this weekend that have emerged from the Point-to-Point scene...
"With the second and third now track proven and both bumper winners The Nephew must have a real live chance."
Irish Point-to-Pointing has been the source of top class racehorses for many years now. Nine of the last 14 Cheltenham Gold Cup winners including Best Mate, Denman, and Imperial Commander, all began in Irish Point-to-Points.
And that's not all, current Champion Chaser Finians Rainbow, along with Simonsig and many other star names all made their first steps to greatness in the Point-to-Point fields of Ireland.
What many punters do not realise is that this provides form information which is not always appreciated by everyone. Does a horse jump well, does he handle certain ground conditions and can a horse go left or right-handed.
As the track fraternity argue whether Flemenstar will stay or whether Simonsig will jump a fence I myself have had the pleasure of watching both of those instances in Point-to-Points having called Flemenstar to success in a three mile maiden, and called both of Simonsigs wins.
There are however not simply a small number of top class horses winning from the Irish Point-to-Point fields. Last season 810 horses who won in Ireland and the UK on the track were ex Irish Pointers. In October alone 106 winners emerged from Irish Point-to-Point fields.
The ability to identify which of these are likely to run well and which are not has become much easier to do with the addition of ratings systems and video form on p2p.ie which is available to all members. It is also easier to assess a horse's chances on the track given that so many pointers are making the progression. Once a maiden starts to show form then it can be a real treasure trove for punters.
Finally the four-year-old maiden of Irish Point-to-Points is deemed to be the most competitive arena for young horses. This therefore means that horses who win these races tend to do well immediately on the track. To date of the 38 four-year-old maiden winners from last season to have run on the track only five have not returned prize money ensuring that even blindly following them each way would produce a healthy return.
Cherry picking them to ensure the better horses are followed is an even more lucrative hobby.
With 810 winners a season who have credible past form. One in every five horses at a Cheltenham Festival also emerge from Irish Point-to-Points. This means that true pointers can no longer ignore this market. In fact they should see it as the most likely type of horse to represent true value.
Each week I will update you on the Point-to-Point scene as best I can, highlighting horses that have impressed in recent months, those that have been relocated to big yards, and possibly highlight a future star.
I'll also be recommending some ex Point-to-Pointers to follow over the weekend, starting with the four listed below.

Haydock 13:25 - Baltimoar
This fellow was trained by Colin McKeever who once had Forget The Past, Imperial Commander and Truckers Tavern so he can introduce a top class horse given the right type. He looks a chaser in the making who was briefly caught for toe in his Point-to-Point before rallying to lead close home.
His dam Greenflag Princess was a top class racemare for Jimmy Mangan and although a stayer, won a bumper by a wide margin as she had a high cruising speed. This fellow would not be an obvious bumper type over the minimum trip but with testing conditions on this occasion and his high cruising speed and toughness for a battle he could well be the one in this contest. If nothing else he is a proper long term chasing prospect.

Ascot 15:40 - The Nephew
Is most interesting as he won at Oldtown in a maiden where the runner up was Thunder And Roses who has since won a Naas bumper and has been second twice, to Bonisland in a Roscommon bumper and most recently to Tennis Cap in a Cork maiden hurdle. Back in third in that maiden was Pure Style who has also won a bumper since so it looks a reliable maiden and this fellow should be taken very seriously indeed.
The Nephew was trained by Sam Curling, son of equine artist Petet, an ex-jockey who was highly thought of. He is a perfect example of how Point-to-Point form can be trusted to make decisions for a track debut. With the second and third now track proven and both bumper winners The Nephew must have a real live chance.

12:25 Navan - Kashline (Sunday)
Kashline looked very promising last season when scoring twice for Colin Bowe. He had impressive Cork Hunter Chase winner Mandy Carroll well adrift at Monksgrange and had the makings of a decent sort. Having been off for some time he returned to action at Ballinaboola a couple of weeks ago and looked set to make a big impression before a bad mistake ended his chance and indeed his race as he pulled up. That should leave him spot on for this assignment which does not look overly competitive and he could represent some real value here.

15:25 Navan - Ittimetogo (Sunday)
This mare looked very classy in winning her maiden at Ballingarry. This black type contest should be a step too far as she makes her racecourse debut. However given that she is out of a Buckskin mare and is sure to be a real honest test she could be worth the minimum wager at a big price for a place.
Read past articles