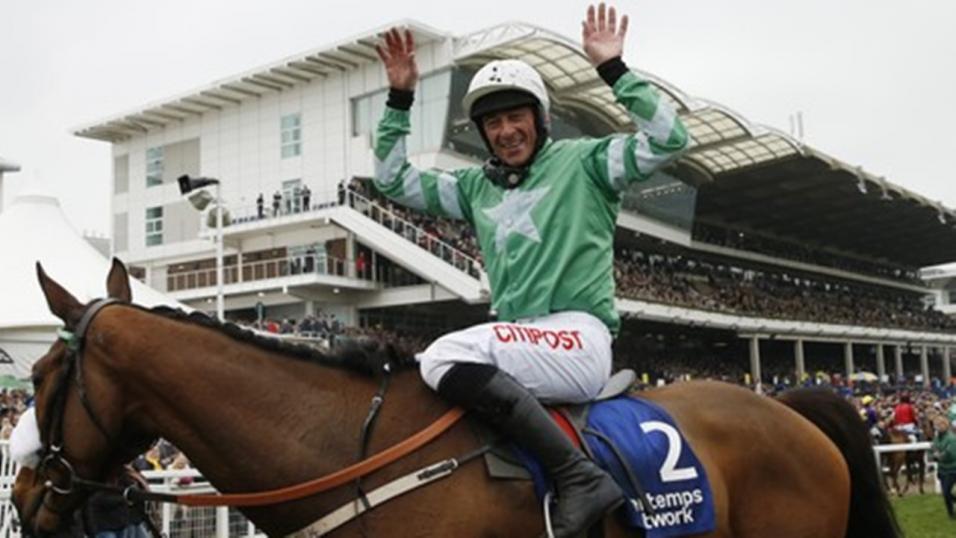 Will Davy Russell's good form continue at Leopardstown this weekend?
Timeform chief correspondent Jamie Lynch takes a look at five crucial match-ups at this weekend's Dublin Racing Festival...
"...whose future is still luminous if his back issue is sorted, and he's one in the Irish Gold Cup field, perhaps the only one, with the weaponry to worry Might Bite..."
In analysis, context is king. Cheltenham is the contextual barometer for all personnel and performance through the season, and why wouldn't you use and abuse it as such when there's a wealth of data to determine what a champion should look like? And, when we get there, Cheltenham itself bows to a greater, generational frame of reference in the historical setting.
'C' stands for Cheltenham, but also for context and champion. So when the Irish Gold Cup is immediately interrogated by way of the Gold Cup, or the same for the Arkle and the, erm, Arkle, think of it a little less of an intrusion by Cheltenham and more of an inclusion of the other 'C' words, for a matter of perspective.
The National Hunt production is too entrenched and too established for Leopardstown to be cast as the lead actor, but the best supporting role is a prestigious prize for this February Festival to campaign for, as the prince, if not the king, of context.
Cheltenham is going to permeate Leopardstown like it runs through this shortlist of the five biggest head-to-heads of the Dublin Racing Festival:
1. ESPOIR D'ALLEN vs STORMY IRELAND
There are five faultless juveniles at the top of the division, 13 from 13 over hurdles between them, and the Irish pair on that hit list are facing off in the Spring on Sunday. In analysis, context is king, someone stupidly once said, but there are no contextual boundaries for these two, in the dark for how good they are, Stormy Ireland having won by 58 lengths (vidiprinter: fifty-eight lengths) on her debut for Willie Mullins and Espoir d'Allen having barely come off the bridle in four races for Gavin Cromwell.
What we know, or think we know, from the scant evidence is a separation in styles, Stormy Ireland haring off at Fairyhouse and Espoir d'Allen cultivating the stalk-and-pounce technique, powered by his high cruising speed. Espoir d'Allen has never before faced a rival like Stormy Ireland, who has the added advantage of the 7 lb fillies' allowance, but it might just be what he's wanted all along: a full-throttle front-runner to tow him deep into a race. If she plays catch me if you can, and he does, I think Espoir d'Allen will be the new favourite for the Triumph, over his team-mate Apple's Shakira, but then the game of 'guess the target' might begin.
2. IRISH GOLD CUP vs MIGHT BITE
Rightly or wrongly, but thematically, the Irish Gold Cup has that feel of a contender-chooser, rather than a title bout in itself, more of a fight for the right to bite Might. It's worth remembering that Timeform had Our Duke 1 lb ahead of Might Bite in the novice chase rankings at the end of last season, which didn't devalue Might Bite's Grade 1s, instead reflecting the exceptional performance by Our Duke in winning the Irish Grand National as a novice, by 14 lengths, off a mark of 153.
It's a case of back to the future for Our Duke, whose future is still luminous if his back issue is sorted, and he's one in the Irish Gold Cup field, perhaps the only one, with the weaponry to worry Might Bite. Missing mid-winter could have been a blessing in disguise for Our Duke, who can fill the Sizing John void for Jessica Harrington, and for Ireland.
3. MIN vs YORKHILL
A Grade 2, but prospectively the clash of the weekend in the Dublin Chase, and almost a trial within a trial. It's reflective that something, somewhere has gone awry when Willie Mullins is resorting to putting two of his supercars on the same grid for a qualifying lap, Yorkhill needing to be reprogrammed after seizing up over three miles at Christmas, the day after Min did more wrong than right in gifting a Grade 1 to Simply Ned.
Paul Townend, the stand-in captain, is aboard Yorkhill, though that may say more about the handful the horse is, and if anything the race is more important to Min as a pre-Cheltenham practice, as there are things for him to learn, whereas Yorkhill just needs to concentrate. Both can get something out of this rare shared study session, potentially a masterstroke to pick two locks in tandem with one key.
4. SAMCRO vs SHARJAH
The plot twists have added to the drama of the Dublin Festival, from the unlikely meeting of Min-Hill to the late swerve of Samcro, from the cakewalk of the staying novice to the speed test versus Sharjah. Let's deal with Sharjah first, as he'd already be a Grade 1 winner but for falling at the last in the Future Champions Novices' Hurdle over this course and distance, having tanked through the race like a high-class contextualiser, which is exactly what Samcro - and we -need to determine whether he is indeed the second coming.
The perils of an extended trip on testing ground, with Cheltenham around the corner, was the paraphrased reason Gordon Elliott gave for re-routing Samcro, but equally it's a statement of faith in the horse's gears and gathering greatness that he's happy to let him square up so soon to one of Sharjah's pace and power. The ripple effect of Samcro in the Deloitte could last for years, as the true point of take-off for him.
5. FOOTPAD vs PETIT MOUCHOIR
There's a touch of the Samcro vs Sharjah about this battle, for taking a good one to show one: a special one. There was three lengths between Petit Mouchoir and Footpad in last year's Champion Hurdle, in the former's favour, but rarely if ever has a horse taken quite so spectacularly to chasing as Footpad, improving in leaps and bounds, thanks to his leaps and bounds.
It's unreasonable to expect Petit Mouchoir to give him all he can handle, at least not on this occasion, returning from an injury-enforced absence, but he'll give some all-important context as to just how high Footpad can climb, and context, like Footpad, is king.
Want to know how these horses get on? You can find horse racing results on the Timeform website.