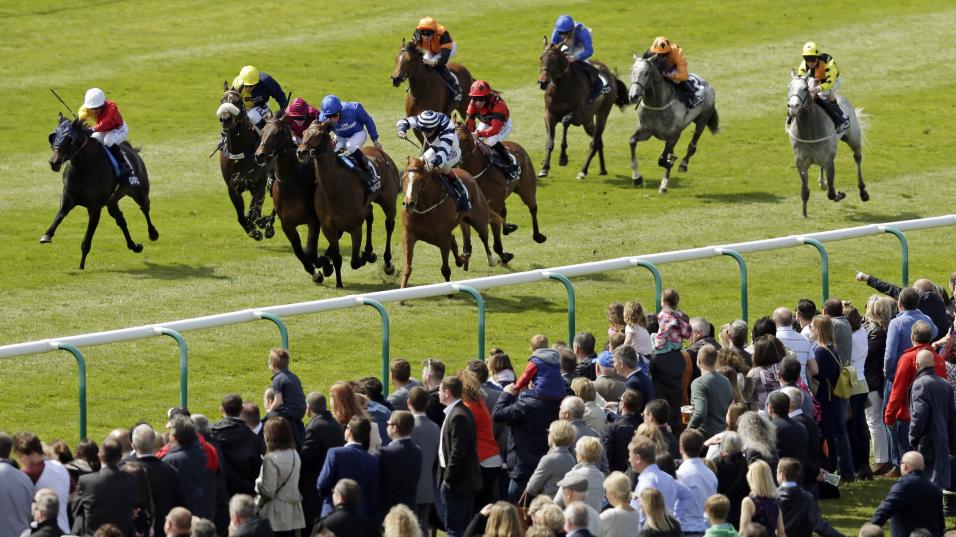 Jamie Lynch looks ahead to a big Saturday of sport
Timeform's Chief Correspondent Jamie Lynch looks ahead to a Saturday of sport which includes top-class racing action and an England World Cup play-off, and tries to combine the two.
"If Dee Ex Bee was a squad member, he'd be Ruben Loftus-Cheek, big, brawny and direct, and yet to get the full rewards his talent deserves.."

Jamie Lynch on Dee Ex Bee
If there was an equivalent horse in 2018 to the England team then it might be Young Rascal, who likewise went further than maybe originally expected, without quite knowing the value of the wins along the way, before falling short against better opposition.
In fairness to Young Rascal, with the benefit of hindsight, Dee Ex Bee and Hunting Horn took more beating in the Vase than Columbia and Sweden did in the Cup. Dee Ex Bee is, on Timeform ratings, almost as far clear in the Grand Prix de Paris at Longchamp on Saturday night as Alpha Centauri is in the Falmouth at Newmarket on Friday.
Whether it was the ground at the Curragh of the grind from Epsom, we got a diluted version of Dee Ex Bee in the Irish Derby, but the Coral-Eclipse put the Derby form back in vogue with the furious finish between Roaring Lion and Saxon Warrior, the pair directly behind Dee Ex Bee at Epsom.
Reducing the French Derby to ten furlongs, from twelve, seems to have negatively impacted upon the Grand Prix de Paris, so much so that there are more O'Brien attackers than home defenders this year, a duo from Aidan - the winner and third from the Queen's Vase, Kew Gardens and Nelson - and one representing Joseph, Downdraft taking a leap in class, but so was Latrobe at the Curragh, both by Camelot.
Permian lost out on the nod in the 2017 renewal, for the same team, and Dee Ex Bee is half-a-stone a better horse, partnered for the first time by William Buick at Longchamp. This up-for-grabs Group 1 is Dee Ex Bee's for the taking, on the road to the St Leger, and the Derby might just look better still by Saturday evening.
If Dee Ex Bee was a squad member, he'd be Ruben Loftus-Cheek, big, brawny and direct, and yet to get the full rewards his talent deserves; or he'd be locked in his stable by his zealously Scottish and Scottishly zealous manager, tied up with the flag of St Andrew, not tied into St George.
But, for fun, we can try to match up the English first XI with appropriate English-trained thoroughbreds likewise shining this summer, who share some similarities:
JORDAN PICKFORD - CALYX. They said he was too inexperienced for the big stage, but not a bit of it. Precocious, prodigious, and set to be at the top for a long time.
KYLE WALKER - STRADIVARIUS. I knew he was good, but I didn't know he was that good. Has more gears than most in his orbit.
HARRY MAGUIRE - ROARING LION. A joy to watch his week-by-week development that has made a bit of a beast of him.
JOHN STONES - MASAR. Virtually the same as Roaring Lion, just a touch classier.
KIERAN TRIPPIER - WITHOUT PAROLE. Humble beginnings, and look at him now, getting better and better and better...
ASHLEY YOUNG - LIGHTNING SPEAR. Admirable, adaptable, but a job-doer rather than anything more.
JORDAN HENDERSON - CRYSTAL OCEAN. Has slowly but surely become a powerhouse.
DELE ALLI - BATTAASH. Haven't quite seen his explosive best this summer, but you know it's in there.
JESSE LINGARD - BLUE POINT. Has done his improving in fits and starts but announced his arrival at the top table this summer, outshining Battaash/Alli in the process.
RAHEEM STERLING - EXPERT EYE. Has his issues, which are discussed more than his talent, because of his poor strike-rate, but brilliant on his day.
HARRY KANE - CRACKSMAN. The main man at the start of the summer, but has misfired in recent starts.
While Jesse Lingard is playing in the most meaningless match in sport, the third-place play-off, akin to two bald men fighting over a comb, on Saturday, his reciprocal racer, Blue Point, has got a destiny-defining date in the July Cup.
He's the highest-rated horse in the race, but it's the finer points of that figure, coming from Royal Ascot, put a slight question mark against his supposed superiority, as he almost jet-skied his way to the King's Stand, pulled along by the twin turbos of Lady Aurelia and Battaash, wearing down the leggy latter in the finish.
As many as six three-year-olds, amongst them the one-two from the Commonwealth Cup, as well as the non-miler U S Navy Flag, add a dynamic dimension to the July Cup, and the hardest to price up of all the fourteen runners is Dreamfield, who was the easiest to price up in the history of the Wokingham, his second there still a graduation to all intents and purposes.
The second-favourite in the aforementioned Commonwealth Cup was Invincible Army, whose form was showcased by others in the race, but not himself, looking for redemption in the July Cup, coming a long way since his first win in a Newmarket two-year-old novice last June, a race won this year by Quorto, the sexy one in the Superlative on Saturday.
By Dubawi, out of a 113-rated mare who needed a mile to win as a juvenile, Quorto ran to a big figure for a newcomer, all the more encouraging and exciting that he did so over six furlongs, in the context of his princely pedigree. The seven of the Superlative should add a lot more fuel to Quorto's fire, and he could be the next big thing for Charlie Appleby.
Recommended bets
Betfair's 'minimum bet guarantee' on all Class 1 and 2 races in the UK and Ireland - which means all customers are able to bet to win a minimum of £500 - has been extended to cover ALL races from Newmarket this week. T&Cs apply.