Jamie Lynch's Trials Review: Right time and Place?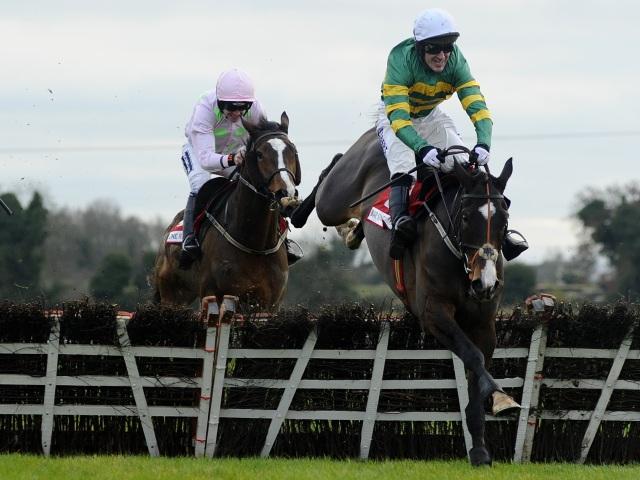 Jezki's owner J. P. McManus has another star in the hurdling ranks
The recognised trials from Cheltenham and Leopardstown did their thing, clarifying in some cases and exploding in others, writes Timeform's Jamie Lynch.
"On his fourth start of his life, Mahler ran in the Derby. On his fourth start over hurdles, Sutton Place ran to a Timeform rating of 160."
Farage wouldn't like it, and Mark Johnston doesn't, but the advantages of racing's European Union were emphasised this week when the pattern committee made subtle but significant changes to the stayers programme, for the better, with specific reference to the new dynamics of the Queen's Vase. The rise and fall of the Queen's Vase - the rise in class to a Group 2 and the fall in distance to a mile and three quarters - gives renewed and required relevance to a race that was always something of anomaly, its two-mile trip an illogical appointment for three-year-olds in June. Random makes way for reason with the different dimensions put in place, certainly a case of less is more; less of a test and more of a trial, mutually beneficial to the Queen's Vase and the St Leger that the autumn classic story starts sooner with the trip brought into line. There's little to be gained and a lot to be lost when the 'trial' is a stiffer test than the main event. Just ask Thistlecrack.
Just four of the last fifteen Queen's Vase winner went on to contest the St Leger, and only Leading Light did the double. The best besides him was Mahler, who was runner-up at Doncaster, and third in the Melbourne Cup, in 2007. Standing as a jumps sire at Coolmore's National Hunt wing, Mahler hadn't much paternal pride, producing little of note and in danger of being ushered out of the Stallion Savoy as bigger swingers like Champs Elysees, Walk In The Park and Getaway were welcomed in. Mahler needed a top horse to speak up for him and his genes, and now he's got one.
On his fourth start of his life, Mahler ran in the Derby. On his fourth start over hurdles, Sutton Place ran to a Timeform rating of 160. To put that into context, no horse in the Champion Hurdle field achieved that level within four hurdle races, bar My Tent Or Yours who did it in the Betfair Hurdle, which tells a tale of the natural cap in novices but still says plenty about Sutton Place. Furthermore, a Faugheen-free season so far has meant the championship bar isn't so high as it might have been, as can be seen from the following list of the best two-mile performances over hurdles in 2016/17:

For maximum effect, Sutton Place was left out so that you can fit him in yourself, Timeform's assessment of 160 - with a 'p' - putting him right in their league. Unlike them, it wasn't recorded in a Grade 1, nor a Grade 2, but a Grade 3, though that shouldn't undermine what he did and who he beat, and it was hardly out of the blue.
One namecheck, on the Monday View on ATR, is not enough for Matthew Mantle, who deserves another one for coming up with 'The Irish DebArkle' following Sunday's shenanigans, but what was clear amid the game of ring a ring o' roses was that Royal Caviar looks a 150s chaser, and he was twice brushed aside by Sutton Place over hurdles last season. What matters more, of course, is what he overcame on Saturday at Naas, and the answer is threefold: a ten-month absence, a penalty and Supasundae.
The more you watch it, the more impressive Sutton Place was, in every regard; getting through a rust-related rough patch half a mile out, then getting upsides easily once getting his second wind before the second last, then getting away in a sky-limitless style on the run-in. Giving Supasundae 5 lb, and a seven-and-a-half-length thrashing, translates into a 15 lb beating, and there's no doubt whatsoever that Supasundae is a mid-140s hurdler.
He was the wink-wink-nudge-nudge horse at many a Cheltenham preview night ahead of last year's Supreme, where he went off 12/1 and came back seventh as a clumsy round took its toll, but was bang there with Altior and co at two out. Supasundae looked useful from the very beginning, winning his first two bumpers, including at Ascot where he defeated none other than Yanworth, the latest ripple-making stone chucked into the murky Champion pool.
It may not be the only one, but Yanworth's small setback is part of the reason Buveur d'Air has been repositioned. The question is this: on the Champion chessboard, is J.P. McManus moving the wrong piece at the wrong time, when alternatively he's got the exactly right piece in exactly the right place, the Sutton Place?
He's not even entered in the Champion Hurdle, but neither was Annie Power at this stage last season, and, increasingly so, this looks the year to pay £20k to find out if you've got what it takes, as what it takes may not be that much. Unlike his ability, his target is all conjecture, but watch this space, and watch this Place.
On a day of trials, Sutton Place's was more of a statement, but there were also some hidden trials, those by proxy, as certain winners over the weekend gave a lateral lift to others that should be on your Cheltenham radar. Here are five of them:
1. MIGHT BITE
An obvious one, but there's no other starting point, not after Royal Vacation's gung-ho show in the Timeform Novices' Handicap Chase at Cheltenham. The best just got better, as Might Bite was already our highest-rated staying novice (betting without Thistlecrack, naturally), and, by normal back-handicapping processes, he's now been edged up to 156p in light of Royal Vacation, who was the thick end of 20 lengths behind Might Bite at the last in the Kauto Star on Boxing Day. All the data around Might Bite, including the time he was in the process of clocking at Kempton, has him right on point for the RSA.
2. CONEY ISLAND
Anibale Fly couldn't pick his legs up in the Kauto Star, but he certainly did in a Grade 3 at Naas on Saturday, when he kept the Genie in his bottle, the pair 30 lengths clear, and that reflects well on Coney Island, who had seen him off in the Drinmore before running Our Duke (who's bypassing the Festival) so close in the Topaz over Christmas. The strength at the top end of the Irish novices was emphasised when A Toi Phil - a flagging fifth in the Topaz - won a valuable open handicap back at Leopardstown a fortnight ago, all stacking up favourably for Coney Island, who'll give Might Bite plenty to worry about in the RSA if they meet.
3. WAITING PATIENTLY
Malcolm Jefferson has always stressed that Waiting Patiently needs the mud, hence Cheltenham is up in the air, but it's not all about the Festival - well, it is, but we say it's not when it suits us - and the grounds for concern are making way for swelling grounds of optimism, given the strength of his form. Politologue, whom he beat at Haydock, had trounced Royal Vacation at Ascot, and in his second easy-coming chase Waiting Patiently had barely registered the rival presence of Forest Bihan, who won the Grade 2 Lightning Novices' Chase at Doncaster on Saturday. Waiting Patiently has always had the style, and he's increasingly gaining in substance, his rating of 150p putting him in the premier league of novices.
4. SHATTERED LOVE
Let's Dance has looked more powerful by the month in completing a four-timer, culminating with her Grade 2 romp against the males at Leopardstown on Sunday, and the only one to give her a race during that streak was Shattered Love. She gave her a fright, and also gave her 3 lb that day at Punchestown, since when Shattered Love went in at Thurles, looming upsides odds-on Asthuria when that one came down three out. She was one place behind Augusta Kate, with far less experience, when the pair were second and third in the mares Grade 2 bumper at Aintree last spring, a springboard, and quotes of 20/1 for the mares novice at the Festival slightly underestimate her progress and potential. She's pencilled in for Fairyhouse on Saturday.
5. RED JACK
Unusually, there was no Mullins nor Elliott representative in the bumper at Naas on January 8th, but there was a silky-smooth winner in the shape of Red Jack, in what still smelt of an above-average race at the time. A smell has quickly become a stench, first when sixth-home I See You Well sprung up there on Saturday and more so when the second and third, Debuchet and Le Richebourg, had another bumper to themselves at Leopardstown on Sunday. Noel Meade had already been very complimentary about him, prior to the double-bubble boosts, and Red Jack is suddenly appearing on the Champion Bumper radar.
And one more thing: Red Jack is by Mahler. Things really are looking up for him.
Discover the latest articles
Read past articles