Jamie Lynch: Coleman's mustard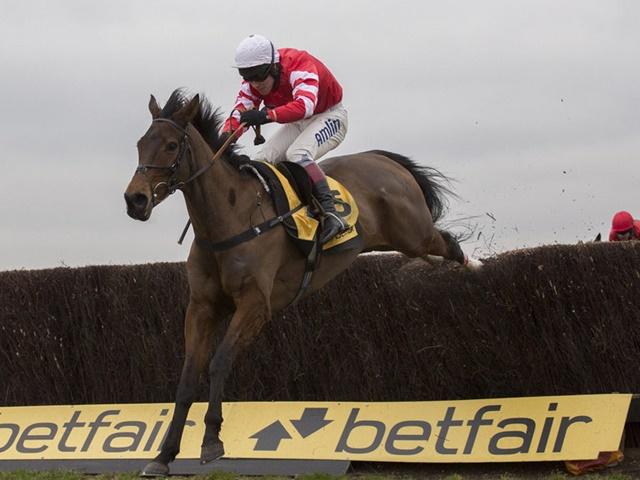 Coneygree is back in action in Saturday's Betfair Chase at Haydock
Timeform chief correspondent Jamie Lynch analyses Coneygree's jockey(s) as he looks ahead to Saturday's Betfair Chase.
"If Mark Bradstock wanted a like-for-like replacement for Nico de Boinville, he couldn't have got two better riders on side than Coleman and Johnson for this particular pacing job..."
Regeneration is the challenge ahead of Coneygree, from his position between mountains; not a position of strength, but not necessarily a position of weakness, considering the former position of his trainer, as deputy to the master who wrote the rules on winning at this particular game.
Rising from stable lad to assistant trainer, Mark Bradstock spent a decade with Fulke Walwyn, and the time-travelling trick of the training trade was a secret safely passed on, the art of hitting the bullseye with a long-range, long-absent missile. Just look at Coneygree.
Imagine Paul Nicholls and Donald McCain sinking a few in a blues bar somewhere, chatting over some past disappointments. 'I remember when we paid £160,000 for Dannanceys Hill after his point win,' says McCain, 'and we couldn't see him beat in a bumper, but something hammered us. And another time I thought we had a good'un going to Uttoxeter with Corrin Wood and he was smashed by 20 lengths.'
'I've rarely been more gutted than when Saphir du Rheu buckled under the pressure and unseated on his chasing debut,' replied Nicholls, 'and I more or less lost Southfield Theatre for a full season when he got steamrollered on his return.'
The common denominator wasn't just Coneygree but a reappearing Coneygree, who's mustard when he's fresh, successful on his debut every season, at the expense of the aforementioned, once off a 22-month absence. A fierce first-time record is a nod to the past, to the Walwyn school, as well as a big pointer to Saturday, when the argument that he'll be conceding race-fitness to Cue Card and co may be more theoretical than practical, knowing what we do about him and his family.
The 22-month absence prior to Newbury was supposed to be 21, but the vet at Plumpton, Stuart Wallis, controversially put paid to that, enforcing the withdrawal of Coneygree after he was deemed to be lame at the start, incurring the wrath of the Bradstocks, who could be forgiven for having vetaphobia.
'She's got really ropey old legs and the vets told us to retire her when she was only four, and now she's nine and doing this.'
The speaker was Sara Bradstock, the date was New Year's Day 2001, after a good handicap chase at Exeter, and the subject was Plaid Maid, the dam of Coneygree.
He's his mother's son alright, as that day, following a long absence, Plaid Maid was ready and raring to go, attacking the race and the fences in a strikingly same style to which Coneygree has become synonymous. No DNA test required for him, nor for Carruthers, who bulldozed his way to a Hennessy...from the front...after a break.
Coneygree harmonizes with the Bradstock family, and the Bradstocks harmonize with the Coneygree family. And Nico de Boinville has proved to be the perfect partner for Coneygree, but he's out injured, which brings us back to the second of the introductory quotes:
'If Richard Johnson is available he would be the obvious choice to ride.'
Obvious because he has ridden - and won on - Coneygree once before, and obvious because he's Richard Johnson. But is it so obvious from the Timeform data that can be generated from the EPFs (Early Position Figures) to calculate potentially the best ally for front runners?
Yes, it is obvious.
Johnson is, in fact, the very best of the available riders for doing exactly what a front runner like Conygree needs. At the time of writing, though, Johnson only gets up if Menorah steps down, and Aidan Coleman is the jockey with one leg across Coneygree as things stand.
But here's the interesting thing: Coleman too is in the top five riders for delivering the specified goods on predicted pacesetters by Timeform's reckoning. In fact, Coleman and Johnson are two of just four jockeys ahead of Nico de Boinville when an issue, and a pace, needs forcing, the others being Henry Brooke and Tom Scudamore.
Have a look at the graph below, with de Boinville, Johnson and Coleman plotted against the average jockey (grey area), and see for yourself how those three are ahead of the pack when it comes to racing ahead of the pack.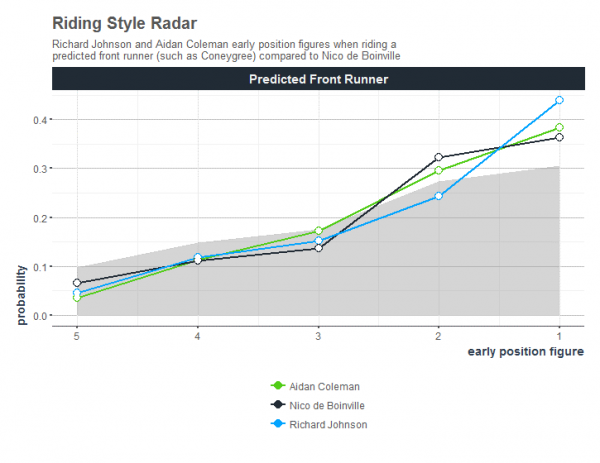 If Mark Bradstock wanted a like-for-like replacement for Nico de Boinville, he couldn't have got two better riders on side than Coleman and Johnson for this particular pacing job, to take charge, to enable Coneygree to take charge.
Of course, who's on top of Coneygree is less relevant than what's within Coneygree. What's behind Coneygree is a Gold Cup win, in his novice season, an outstanding achievement, but even the high altitude of that rating is still beneath Cue Card's flight path of last season, though it's been a more turbulent take off this time around for him.
If it is indeed a case of Father Time slow-dancing with Mother Nature for Cue Card, then we'll find out on Saturday, or, more to the point, Coneygree will find it out on Saturday. Coneygree is the unofficial hide-and-seek champion, as he seeks to dominate, leaving no place to hide.
The Betfair Chase is three miles, with two sensations, to crown one horse. The key to the Betfair Chase is three letters, with two senses, around one horse. Fit. Will Coneygree be fit, and will a different rider be the right fit? His history, intertwined with racing's history, suggests Coneygree will be fighting fit, and the Timeform data proposes that his jockey - whether it's Coleman or Johnson - is a formidable fit for a formidable front-running force.
Read past articles